La Jollans: Airplane noise isn't going anywhere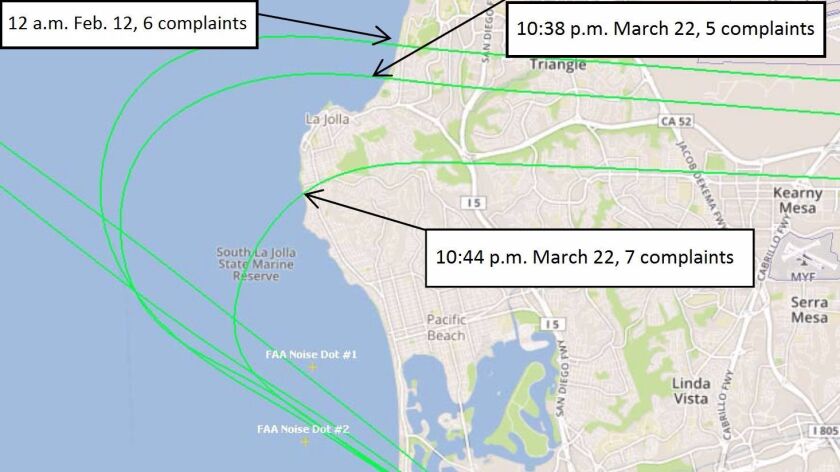 The Airport Noise Advisory Committee (ANAC) meeting April 26 at the Portuguese Hall in Point Loma was evidence that the aircraft noise issue in La Jolla remains ... and is growing. A total of 85 households from different areas within La Jolla logged airplane noise complaints this year through March 31 — La Jolla, 44; La Jolla Mesa, 21; La Jolla Shores, 12; Bird Rock, 8.
"The number of households from La Jolla (85), is greater than the sum of all the other communities in San Diego put together (67)," said Bird Rock resident Matthew Price. "Most people (at this meeting) are from La Jolla, and overwhelmingly, the people affected by the noise are from La Jolla." He put forth a request for a local rep to be added to the ANAC board.
A new demographic of complaints — composed of younger people with small children — showed up at the meeting. Bird Rock resident Krishna Ratnam told attendees the first word from his 2-year-old was "airplane."
"We would go to the Bird Rock Coffee Roasters and watch these silver objects over the ocean. Now, when we see the planes from the coffee shop, I can read Southwest and United Airlines on them," Ratnam said.
Committee members discussed an agenda item about the ANAC subcommittee's request to send a letter to the Federal Aviation Administration (FAA) seeking a high-level representative at their meetings, alleging the currently designated person doesn't have the level of answers or access they desire to make progress. "Without substantive FAA representation, our community's recourse to noise pollution will be severely degraded," the letter reads. La Jolla recently gained a representative on the ANAC subcommittee, Chris McCann, who voiced his support for the letter.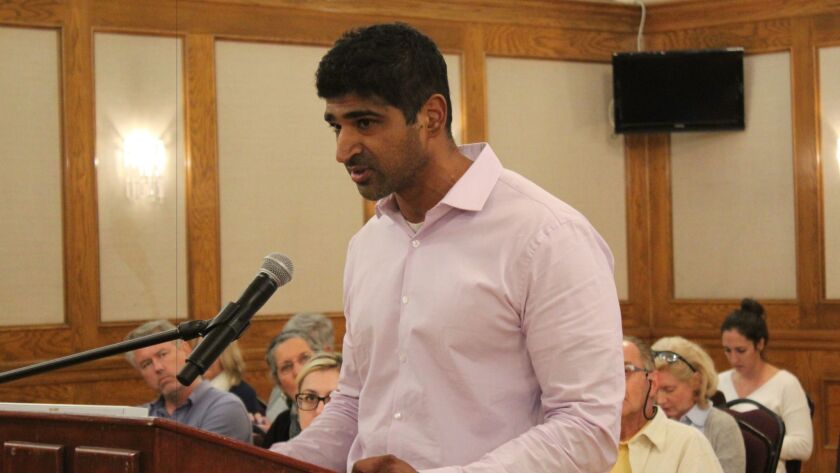 But at the ANAC meeting, board members began showing uneasiness toward its message. Congress member Scott Peters' board representative Brian Elliott, was the first one to break the ice. "I think our relationship with the FAA has been good so far. I read through the letter and wanted to throw some alternatives to submitting it to the FAA, to maintain the relationship we have with them," he said.
But subcommittee representative Deborah Watkins replied, "(At our last meeting) we did not get answers at all, that's why there was frustration. We need to have someone who can answer our questions on a regular basis."
The motion to approve the letter was rescinded, and the discussion was tabled for the following meeting (June 28) with the plan that Airport Authority staff member Sjohnna Knack would contact the FAA and ask them informally for a higher-up representative to attend ANAC subcommittee meetings. During public comment, La Jollans expressed their dismay with the board's lack of action.
"I'm extremely disappointed with this committee," La Jolla resident Kasia Navarro stated. "Shame on you all. Now, I have to go home to explain to my kids why they have to close their windows tonight," she said, adding that "the noise starts at 6:30 a.m. and continues every couple of minutes. It's like a blender, it's incredibly unsettling even with our windows closed."
La Jolla rep McCann proposed, "(FAA's Southern California air traffic manager) Barry Davis needs to be there, or someone like him needs to be there. If the FAA doesn't show up with someone who can be a part of the solution, they're part of the problem."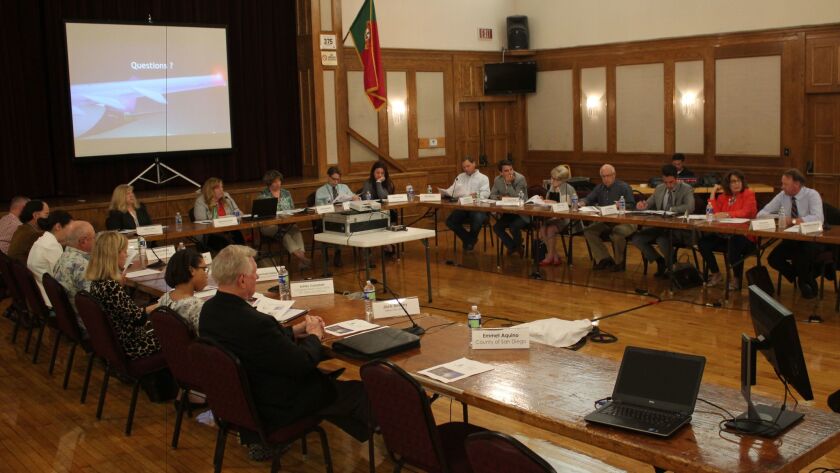 Bye Bye Webtrack
The Airport Authority has substituted Flight Tracker (accessed at flighttracker.casper.aero/san) for its web-based flight tracking system Webtrack. It's a similar platform from a different vendor. As of April 27, the San Diego Webtrack website was switched off and all web-based complaints must be received through Flight Tracker.
Knack explained the vendor was selected through a public tender years ago, and airport staff has been working with the company to enhance the service and make it more useful for San Diegans. "With Flight Tracker, the delay is 15 minutes (as opposed to 30 minutes with Webtrack), so we get a bit closer in time," she said. Other advantages include a more complete set of data for each airplane.
For many, the downside is the change comes along with ANAC's removal of e-mail complaints. McCann asked, "I'm curious as to how many (complaints) were received by e-mail? Since you're going to cease e-mail on May 27, many of those complaints are going to disappear, I think we will see a (false) decrease in complaints at the next meeting."
Knack replied that the new system will come with an adaptation process for users. "But that way, when we get that info, we can do some investigation, when now, all we're doing is inputting data. What this new process allows us to do is go into the system and instantaneously provide statistics, and we can analyze data any way we can, so we can move into case management."
Instructions on how to use the new system can be found at bit.ly/SDFlightTracker
Flight noise after dark
Airport Authority staff showed a study of the five events that logged the most complaints thus far in 2017. All five of them flew near or over La Jolla, but the three top hitters (with seven, six and five complaints respectively) were nighttime noise abatement procedures or curfew violations making a right turn over La Jolla after 10 p.m.
"What's happening after 10 p.m. it's particularly egregious," Bird Rock resident Price said, "between 10 and 11:30 p.m. the noise is nonstop because flights heading east, are going north, and keep flying north as far as La Jolla Shores. … And that's only a minority of the problem."
FAA responds
La Jolla Light contacted FAA public affairs manager Ian Gregor about the continuance of airplane noise in the 92037 ZIP code. Here are his answers:
Q: La Jollans were told by FAA staff that the March 2 changes in the San Diego Airport flight paths were going to lessen noise levels. However, complaints are on the rise. How do you explain that?
A: I do not believe anyone from the FAA made any such statement.
Q: La Jollans were told by FAA that the changes weren't going to be implemented until March 2, yet everybody agrees that they started hearing the noise in November, and have felt no changes since March 2. What happened?
A: We did not implement any new flight routes in November. We implemented the new routes in March. We send representatives to the ANAC meetings to try and understand noise concerns, and try to identify possible causes of those concerns.
---
Get the La Jolla Light weekly in your inbox
News, features and sports about La Jolla, every Thursday for free
You may occasionally receive promotional content from the La Jolla Light.