La Jolla Shores residents rally against airport noise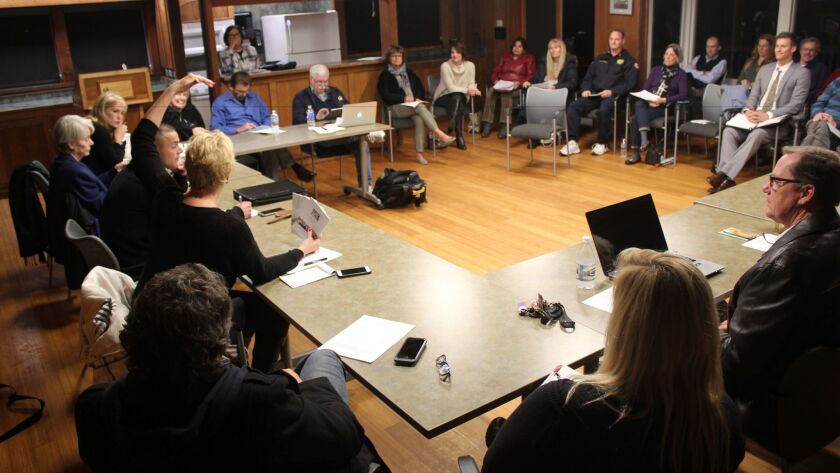 Shores resident Karen Marshal first noticed the noise from airplanes flying over her home in November, she reported at the La Jolla Shores Association (LJSA) meeting Jan. 11. During her research on the problem, Marshal said she found that changes in the Federal Aviation Administration (FAA) flight paths were directing jets taking off from the San Diego International Airport over La Jolla Shores.
"They used to take off right to the ocean, now they're coming over La Jolla Shores from Mount Soledad, making a turn in Mira Mesa and University City," she explained.
Marshal's remarks were received by a roomful of people participating in the discussion. Another resident commented, "We have had tremendous noise, so much so that it wakes me up at night, and then Fed Ex flies over at 3 a.m., and it's right overhead, and it feels like we're in an airport control tower."
Marshal informed her neighbors of how to make a complaint through the website webtrak5.bksv.com/san "There's 30-minute delay (on the site) with the outgoing planes, but you can still see the paths and the patterns they make," she added.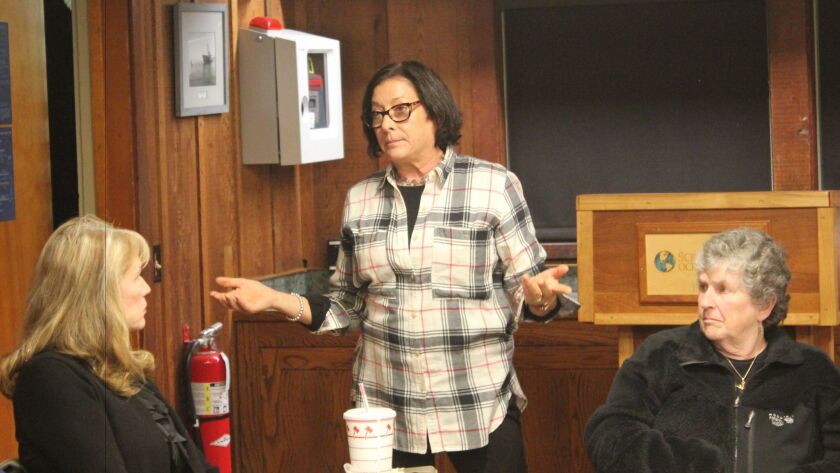 LJSA board member Dave Gordon, who is also a pilot, said he doubted the residents' claims, alleging that commercial airlines can't fly below 6,800 feet over La Jolla Shores. "The only air space over La Jolla is between 1,800 and 3,200 feet, and that's reserved for Miramar," he said. Neighbors replied that, regardless of the technicalities, they hear the noise the same, and one woman extended an invitation to Gordon to visit her backyard during peak plane hours.
District 1 Council member Barbara Bry's representative, Daniel Orloff, told the group there are further changes to FAA policy coming in March. "I don't know (the cause of the noise), nor does the Airport Noise Authority, but they think there may be issues with planes on take-offs," he said.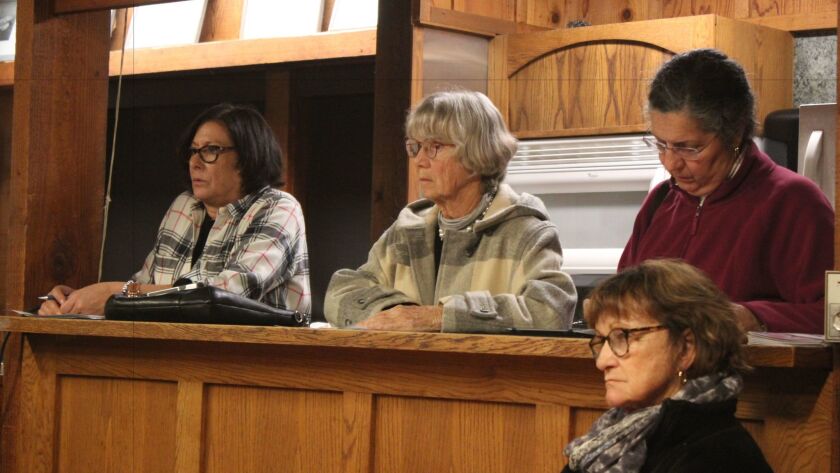 Gillian Ackland, a Bird Rock resident who attended the meeting to assist Marshal with her presentation, insisted that the only way to fight against the flight path noises is by uniting the different communities affected. "This is happening all around town, in La Jolla Village, Bird Rock, Mission Beach and The Shores," she said.
Ackland prompted all interested parties to attend the next Airport Noise Advisory Committee 4 p.m. Wednesday, Feb. 15, 3225 N. Harbor Dr., Administrative offices.
In other Shores Board news:
Avenida de la Playa construction: City of San Diego Senior Engineer Steve Lindsay gave board members an update on the construction underway since 2013 at various Shores locations. On Avenida de la Playa, where the City is replacing the pipeline and stormwater infrastructure that blew apart in a storm shortly after it was installed, the work has already begun again.
"We're going to start on the east end of Avenida de la Playa (where it intersects Camino del Sol) and make our way to the west (toward the ocean)," he explained, adding that the road would be torn up in segments of 200 feet to allow traffic to pass through the rest of the street.
Lindsay insisted that the project will be done before May.
"Maybe the City was guilty in not reviewing the design the first time, but we will not go through that this time. My team and I are working with the design engineers. This thing will work, there's no question about it. And it will be done on time, too," he assured those present.
Citing the appearance of Shores neighbors and business owners at the San Diego City Council meeting Jan. 9 to protest the construction delays, Lindsay wanted to clarify some topics addressed. "The original contract was actually two projects. One was the water sewer group replacement, and the other the stormwater replacement. We combined the two, but the bulk of the job was this water and sewer replacement. That was successful, and everybody mixes both of them and thinks that it was a waste of time," he said. Lindsay pointed out that the low flow isn't being discharged into the ocean, but directed to the sewer to be treated in Point Loma.
Shores resident Nicole Goedhart confronted Lindsay saying that a pipeline and a layer of concrete have blocked the access to her house on Avenida de la Playa. "I'm scratching the bottom of my car and people are tripping over it. We're here to help and support you, but please let us know when you're going to start construction in front of our homes," she said.
Lindsay apologized for the inconvenience and referred her to The Shores Hotel, where the City is granting free parking to construction-affected neighbors.
DecoBike: LJSA unanimously passed a motion to reject, once again, the installation of DecoBike rental stations in The Shores. Every advisory board in La Jolla voted "nay" to the project in 2014, but regardless, the City of San Diego has announced that a proposal to install DecoBike stations is on its way.
Shores boardwalk : LJSA chair Nick LeBeouf said the board will start raising private funds for a collaboration project with the City Park & Rec Department to repair the La Jolla Shores seawall and its adjacent boardwalk.
Changes at Scripps: UC San Diego representative Anu Delori announced that a project to repurpose the old fisheries building, now known as Building D on the Scripps Institution of Oceanography campus, will be coming before the LJSA and the La Jolla Community Planning Association in March. Details are forthcoming.
— La Jolla Shores Association next meets 6:30 p.m. Wednesday, Feb. 8 at 8840 Biological Grade. ljsa.org
---
Get the La Jolla Light weekly in your inbox
News, features and sports about La Jolla, every Thursday for free
You may occasionally receive promotional content from the La Jolla Light.