Airplane noise protestors up their game; La Jollans escalate community action in effort to change flight paths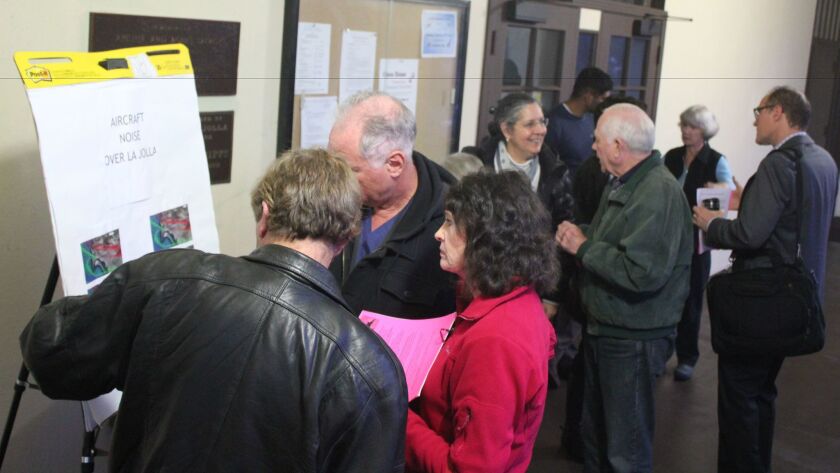 A group of La Jolla residents, who are fighting an increase in airplane noise in various neighborhoods in the community, were busy last week spreading information, taking the floor at community meetings, circulating a petition to "stop commercial jetliner noise in La Jolla" and drafting a document answering residents' questions about the issue.
La Jolla Light had access to one of the document's final drafts, which reports how arriving aircrafts flying over La Jolla Shores have, over time, followed the Federal Aviation Administration (FAA) procedure more closely. Flights used to enter the local airspace from different points up and down The Shores coast and now they are concentrated in one straight line. "The long-term 'concentration' of tracks over The Shores is clear," the document reads.
However, the research didn't find an explanation for the noise experienced by Bird Rock neighbors from San Diego International Airport departures.
The document references factors, such as the increase in airplane size, increase in the number of flights and the possibility of a change in the air traffic controllers operations that contribute to the overall feeling of "living in an airport."
"It may be that we have reached a 'tipping point' due to many of the above factors," the document states.
Last week, protesters attended the meetings of the La Jolla Village Merchants Association (LJVMA), La Jolla Shores Association (LJSA) and La Jolla Town Council (LJTC). During the latter, they set up an information booth in front of Rec Center Room 1, where the meeting took place, and requested signatures for their petition.
Bird Rock resident Beatriz Pardo said the petition has 500 signatures so far and they intended to reach 1,000 by Wednesday, Feb. 15 when the Airport Noise Advisory Committee meets.
During the LJTC meeting, resident Len Gross encouraged attendees to sign the petition, adding that the goal is "to make the FAA and the Airport Authority aware that we have an increasing noise issue in La Jolla and we would like them to help us understand why the noise is increasing and what the options are that the airport and the FAA may have for reducing the noise."
Residents are dealing with the fact that the FAA's Southern California Metroplex Project changes (which will affect the area) won't kick in until March 2, while witnessing the uproar generated by those who've noticed an increase in airplane noise that began in the fall of 2016.
At the LJTC meeting, resident Margo Schwab said, "(People) have compared the airplane noise with a heavy metal band. If you like that kind of music, good for you, not me. Wait for summer when the windows are open."
A factor for the increased noise, according to FAA personnel at past meetings, was the unusual overcast weather that magnifies the sounds produced by air traffic.
Controversy continues
At the LJSA meeting, disagreement arose when board member David Gordon gave a presentation that showed, according to his research and own experience, there have been no changes in flight paths or the levels of noise in La Jolla. "There is one exception, the (FAA) changed a standard arrival route slightly, but that's 5 miles off the coast," he said.
Gordon, who is a pilot, said that even though Shores neighbors swear they are constantly bothered by the airplanes arriving at San Diego International Airport from the east, he hasn't noticed any changes, nor is he disturbed by the passing flights. "When it's cloudy, you're going to hear the jet noise a lot more. When it's sunny, the noise dissipates in all directions. From what I've seen and the air traffic controllers tell me, there has been no significant change," he explained.
Bird Rock resident and attorney Jan Chatten-Brown took the floor after Gordon. "I've been very anxious to hear what people are experiencing. I'm four houses away from the ocean and I now must sleep with ear plugs. At 6 a.m., when (the airplanes) start, I put a pillow over my head," she said.
Chatten-Brown told attendees that the increasing noises were a consequence of the FAA's Metroplex Project implementation, "which started in November." However, FAA personnel have assured that changes in San Diego International Airport routes will be implemented starting in March 2.
"Any time a federal agency takes action that has a significant impact on the environment, they have to prepare an environmental analysis," Chatten-Brown continued, adding that the reports prepared for the Metroplex Project weren't enough. "Basically, they modeled what they were going to do," she said.
In a press release, the FAA stated, "During our environmental analysis for this project, we modeled noise at about 300,000 locations throughout Southern California. Our modeling found that some areas will experience slight noise decreases, some will experience slight noise increases, and some will experience no changes."
Lawsuits pending
Chatten-Brown said the deadline to file lawsuits against the Metroplex Project has passed. The period to sue the FAA is 60 days after the agency reveals its final decision, which happened Aug. 31, 2016. That made the last day for filing complaints Oct. 30, 2016, just before La Jolla residents started feeling a spike in airplane noise and long before they became organized.
"There is a very short statute of limitations, but we could conceivably intervene, although it would be difficult," she explained, adding that some options for jumping on the lawsuits, would be to file a Friend-of-the-Court brief or just have somebody coordinate with the three jurisdictions that have already filed suits.
La Jolla Light spoke to attorney Steven Taber, who specializes in community representation on aviation and airport development cases, and who has filed a Petition for Review against the Southern California Metroplex Project on behalf of a Point Loma resident.
Taber said the FAA noise calculation system is outdated and needs to be updated. "(The FAA) needs to realize that their actions are having real effects on people on the ground — especially in situations like this when their interest is the efficiency of aircraft in the sky without respect to the people they may be affecting," he stated.
Does airplane noise affect health and well-being?
International research has showed that air traffic noise isn't just an annoyance for residents, it can also be dangerous:
"Aircraft noise and cardiovascular disease near Heathrow Airport in London: Small area study," (2013, Imperial College London) investigated the association of aircraft noise with risk of stroke, coronary heart disease, and cardiovascular disease and concluded: "Hospital admissions showed statistically significant linear trends of increasing risk with higher levels of both day time (7 a.m. to 11 p.m.) and night time (11 p.m. to 7 a.m.) aircraft noise."
"Residential exposure to aircraft noise and hospital admissions for cardiovascular diseases: Multi-airport retrospective study," (2013, Francesca Dominic, Harvard)researched whether exposure to aircraft noise increases the risk of hospitalization for cardiovascular diseases in older people (age 65 and up), and found a link between exposure to airplane noise and risk of hospitalization for cardiovascular disease.
---
Get the La Jolla Light weekly in your inbox
News, features and sports about La Jolla, every Thursday for free
You may occasionally receive promotional content from the La Jolla Light.