Airport noise board reps get answers on La Jolla airplane noise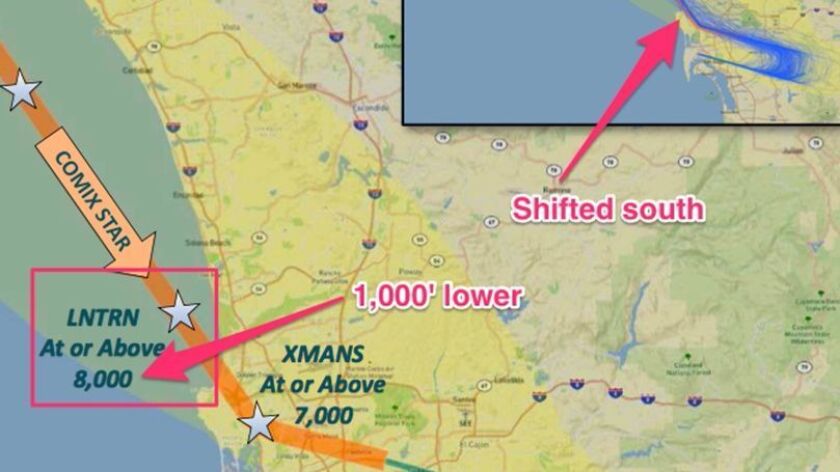 After repeatedly soliciting the attendance of Federal Aviation Administration (FAA) Southern California air traffic manager Barry Davis, members of the Airport Noise Advisory Committee (ANAC) subcommittee were delighted to have his presence, knowledge and solutions at its May 17 meeting in Point Loma.
"We hear your concerns and La Jolla is something that resonates with me, and we are going to do something when we can," Davis started, "But folks, this is what we have," he said, referring to the growing number of noise complaints since the FAA enacted Metroplex, a system-wide change in how airplanes fly over cities across the country.
Bruce Bailey, Wooded Area representative, expressed content with the subcommittee's session. "We have made more progress tonight than in the past (few meetings) together," he said, seeking Davis' presence at all the bimonthly meetings.
However, Davis politely declined the proposal explaining, "Our commitment is going to be having a representative from the FAA in all meetings (who) brings back feedback."
Waypoints and Procedures
Also in attendance, flight path consultant Garry Boyce related the process of flight procedure design and approval to help representatives understand how they can better influence change and improve airplane noise in their communities. "We have rules of the road that need to be followed," he said, "If we want to make a procedural change, anything we design must meet the rules of the road and the engineering guidelines."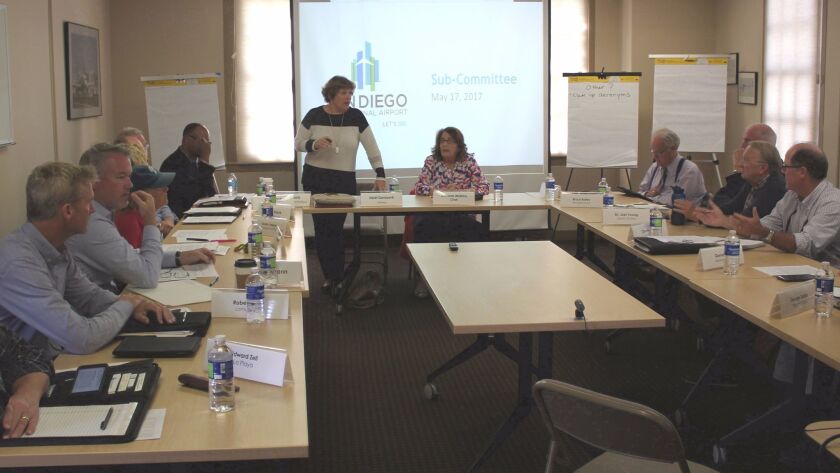 The "rules of the road" are a massive set of criteria compiled in several official documents that deal with standards for altitude, distance, energy, airplane separation, different air spaces, among other measurements. However, what these documents don't cover, are the nuisances to communities near airports. For that, an environmental study is needed.
"(For Metroplex) the 'Feds' didn't do a whole lot of environmental study because these were huge changes," he said. He then he went over some of the changes the ANAC subcommittee is studying to recommend to the Airport Authority, and said that small "nudges" would be easier to accomplish, where moving waypoints (intermediate points along airplane routes) or changing procedures could be a long, drawn-out process.
Nighttime Early Turns
As it was revealed during the April ANAC meeting, of the top five airplane noise events that garnered the most complaints January-March 2017, three were right turns over La Jolla, two of them after 10 p.m. "That's concerning to me because I want to make sure that if we're making a right turn, is at a reasonable (place)," Davis shared.
These planes have in common filing the ZZOOO departure route, which normally turns left after takeoff and heads south before heading east, but instead of going south they're turning right after takeoff over La Jolla. Eventually, all these planes head to a waypoint called MTBAL in north eastern San Diego.
For Davis, the reason for clearing a pilot to turn right directly to MTBAL is separation. "When there's traffic down there (or a slower airplane flying the ZZOOO departure), air traffic controllers make a conscious decision to go right over La Jolla. Do I like that decision? No," he clarified.
La Jolla representative on the ANAC subcommittee Chris McCann told La Jolla Light taking the right turn directly to MTBAL is quicker than following the ZZOOO departure. "It's simple, efficient for the pilot. Unfortunately, it has the airplanes flying at 5,000 feet over La Jolla."
Davis said the FAA is working on solving this problem. "What I'm looking at is, can we develop a procedure that would allow us to have some night departure back into the ZZOOO? And we're going to pursue it, but it's not something we can do like that (snaps his fingers)."
For McCann, that solution involves having the airplanes fly over the ocean longer before they go south to the ZZOOO departure route. "This is one of these simple things that cost one or two more minutes in the air, at the risk of being a terrible neighbor," he said, adding that Davis had assured him post meeting that he had instructed air traffic control to watch the problem. "There we are at least 20 (incidences) in April, (Davis) said he had been addressing this with his people since last month, and he hoped that we would see a decrease, so I'm watching the data."
Landings over La Jolla Shores
The number of households complaining about air noise in La Jolla Shores rose to 12, according to information provided at the April ANAC meeting. Most of those complaints are, presumably, from airplanes that fly over La Jolla Shores in the COMIX landing procedure. The two crucial waypoints of this procedure are LNTRN and XMANS.
LNTRN, located off the Torrey Pines State Beach coast, sits 1,000 feet under the pre-Metroplex waypoint LCOVE. McCann asked Boyce what drove the altitude change from 9,000 to 8,000 feet above ground, "because the difference in terms of noise is vast."
Boyce replied there are many stakeholders involved in the design of a flight path, and for a landing procedure like this, the design usually starts with the airplane touching ground, and then goes back. He ventured that this particular change could be "because before (airplanes) were coming with a very high energy, if they come at a lower altitude (lower energy), that's easier to manage."
One of the change proposals the ANAC subcommittee is studying involves moving the XMANS waypoint to the I-805 and CA-52, where as North Pacific Beach representative Alan Harris explained, the airplanes wouldn't bother anyone.
Boyce noticed that to make the change planes would have to fly over Torrey Pines State Natural Reserve, "That would trigger a quick look at environmental process. Is there an environmental reason why we can't fly more planes there?"
Bird Rock and the PADRZ
Another hot area for noise complaints within La Jolla, and the first area to notice the changes, is Bird Rock. McCann said that the cause of the problem in this area isn't any deviations, but "airplanes flying to the (PADRZ) procedure," he said. "Wherever they're headed, they're going out to the PADRZ, they're paralleling the coast for a long times, ringing with noise the whole area. … It seems like a simple solution for that particular problem would be (to go back to the former waypoint) 0.5 miles off the coast."
Boyce suggested getting together a group of stakeholders, including Miramar Airport, to look into what that change might look like and if it's possible.
What's Ahead
The Airport Noise Advisory Committee (ANAC) next meets 4 p.m. Wednesday, June 21 at a place to be announced. Look for meeting agendas at bit.ly/AirportMeetings
Congress member Scott Peters' former ANAC rep moved on to another job, so Kiera Galloway, who's been his field rep in La Jolla and Bird Rock for the past two years, was appointed to the board.
San Diego Airport Authority recently switched to a different system for logging complaints. To submit a noise complaint, visit bit.ly/SDFlightTracker
---
Get the La Jolla Light weekly in your inbox
News, features and sports about La Jolla, every Thursday for free
You may occasionally receive promotional content from the La Jolla Light.