Four La Jolla projects funded in Mayor's budget plan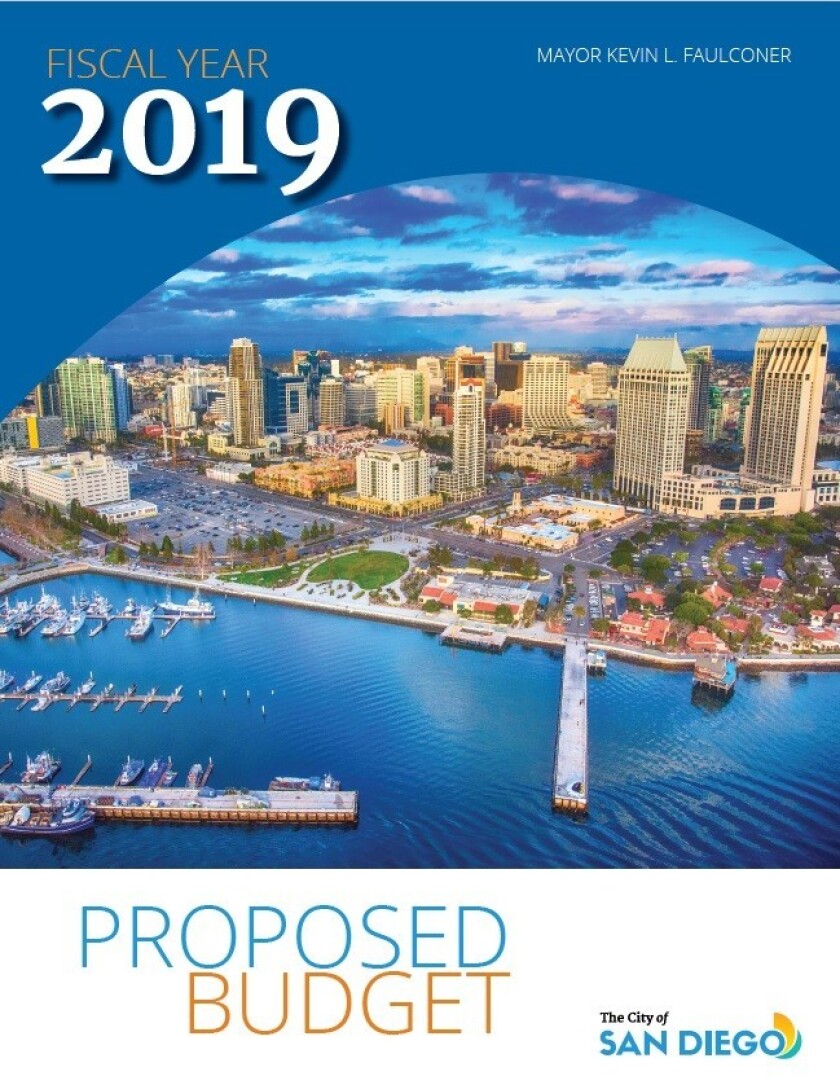 In early April, San Diego Mayor Kevin Faulconer released his Fiscal Year 2019 budget proposal and boasts that it "funds the largest infrastructure investment in City history while prioritizing funding for public safety, quality-of-life issues, homelessness, street repair, recreation centers and libraries."
The $3.8 billion budget proposal for Fiscal Year 2019 — which begins July 1 — credits "budgetary belt-tightening," with funding "the highest level of operating hours at libraries and recreation centers in a decade, and key initiatives such as the Climate Action Plan, Pure Water San Diego, Vision Zero safety measures, Clean SD and several homeless programs."
District 1 City Council member and Budget Committee Chair Barbara Bry told La Jolla Light about the proposed budget, "The Mayor is proposing zero impacts to core services and Fiscal Year 2019 looks strong."
Citywide, the proposed budget includes $75.9 million to pave, repair and replace 390 miles of streets; and $28 million in salary and fringe benefit increases for a San Diego Police Department recruitment and retention package.
To address homelessness, $8 million will go to programs and services, including three bridge shelters to serve up to 700 individuals per day with beds and supportive services, and two safe-parking zones with capacity for 120 cars that will continue to provide people living in their cars with a safe place to park at night; and $12.9 million in anticipated Community Development Block Grant (CDBG) program entitlement allocations and CDBG program income for the City's Reinvestment Initiative to fund homelessness programs.
Locally, the City's proposed budget looks to dedicate funds to physical improvements and replacements throughout town. Projects slated to begin or finish construction in Fiscal Year 2019 include: the Coast Boulevard Improvement information (aka Children's Pool Walk Beautification Project), Ellen Browning Scripps comfort station restroom replacement project, the La Jolla portion of the Coastal Rail Trail project, and the Torrey Pines Road Corridor Project Phase II.
La Jolla Projects Funded:
1) Regarding the Coast Boulevard Improvement, the budget outlines: "This project provides for the design and construction of widened walkways, enhanced paving, curb and street paving, and various improvements including, but not limited to, bollards, railings and landscape along Coast Boulevard in the vicinity of Children's Pool from the lifeguard tower to Jenner Street. This project represents the final phase of work outlined in the 1989 Preliminary Plan for the La Jolla Coastline." The project's total budget is $694,000.
2) The Scripps Park Pavilion project, the budget adds: "Provides for the design and construction of a replacement comfort station located in Ellen Browning Scripps Park adjacent to La Jolla Cove. The project also includes the demolition of the existing comfort station and installation of associated path of travel improvements. Construction will begin in Fiscal Year 2019 and is anticipated to be completed in Fiscal Year 2021. The $629,594 increase in total project cost reflects a revised cost estimate. $1.45 million in Regional Park Improvement Funds will be added to this project in Fiscal Year 2019 and $443,306 in Commercial Paper financing is anticipated in Fiscal Year 2018."
3) The La Jolla portion of the Coastal Rail trail project includes "the Gilman Drive segment of the regional 40-mile bicycle corridor. The proposed alignment will follow Gilman Drive between La Jolla Village Drive and Interstate 5, installing a one-way protected cycle-track in each direction and a continuous sidewalk on the west side of the road. Construction in La Jolla is slated to begin in Fiscal Year 2019 and scheduled to be completed by Fiscal Year 2022. This schedule is contingent upon the identification of funding to complete the project."
4) The Torrey Pines Road Corridor project (currently underway), began construction under Fiscal Year 2018 and will be completed in Fiscal Year 2019. "This project provides an additional path of travel for pedestrians on the south side of Torrey Pines Road between Hillside Drive and Amalfi Street, a safe pedestrian crossing of Torrey Pines Road just westerly of Princess Drive, increase safety of bicyclists utilizing Buffered Bike Lanes along Torrey Pines Road from La Jolla Shores Drive to Amalfi Drive, and provide gateway into the La Jolla Village area by installation of a painted stamped asphalt median between Roseland Drive and Hillside Drive."
Bry added there would be local opportunities to weigh-in on the budget.
"This is the beginning of the budget process and as Budget Committee Chair, I want to encourage San Diegans to actively participate in this process. Public testimony is welcome at any and all of the hearings from May 2 to May 9, as well as at an evening meeting of the full City Council on May 14.
"In addition, I will be hosting a District 1 budget town hall, 10:30 a.m., Saturday, May 5 in the Community Room at La Jolla Village Square, 8657 Villa La Jolla Drive. It is critical to have your voices included throughout this process."
---
Get the La Jolla Light weekly in your inbox
News, features and sports about La Jolla, every Thursday.
You may occasionally receive promotional content from the La Jolla Light.