Our Readers Write: Windansea Beach fence, Senate Bill 10, seagull chicks
Letters to the editor
Unsightly Windansea fence blocks access and creates safety risks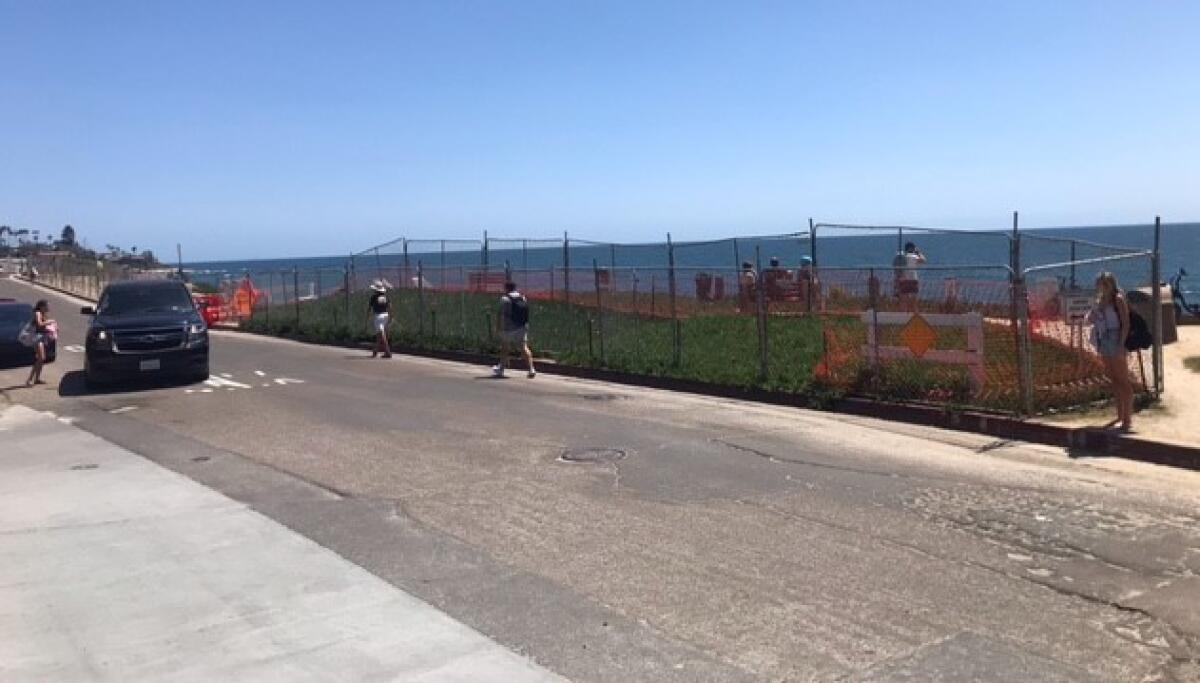 I'm a local Windansea beach-goer, a member of the Windansea Surf Club and a local La Jolla resident and I'm really concerned about the fencing the city [of San Diego] installed on the beach sidewalk.
The city failed to repair the beach storm drain at Westbourne Street and instead they decided to put a fence blocking access to the beach. This fence does not only look horrible, it also interferes with the dynamic of the foot traffic at Windansea and it creates traffic jams and safety risks due to pedestrians walking on the street to go around the fence ("La Jolla traffic board hears request for 'critical' temporary no-parking zone in Windansea," May 25, La Jolla Light).
It is obvious there was not good thinking or knowledge of the area by the city officials that decided this was going to be helpful in any way.
Luis Villaverde
— — —
Hold politicians who support Senate Bill 10 accountable
Keith Kelman is spot-on with his comments regarding SB 10 ("Senate Bill 10's housing density will be damaging to San Diego," June 22, Our Readers Write, La Jolla Light). While we single-family residence owners must do as he wrote and "rise up and stop this," we should also hold the airhead politicians who created this unfolding disaster accountable.
While we do that, we also need to support Neighbors for a Better San Diego as they fight this on behalf of all of us.
"Illustrious" state Sen. Toni Atkins of San Diego is the co-author of it and local endorsers include the mayor and five City Council members who voted recently to expand the area allowing denser housing and more accessory dwelling units to one mile from a mass transit line instead of a half-mile.
These misguided pols can't be allowed to create tenement districts in our residential neighborhoods.
Lou Cumming
— — —
Look out for seagull chicks
Seagull chicks are now leaving their nests from rooftops and other heights around La Jolla and other coastal communities. These chicks can't yet fly well. They are gray and you will see them walking through streets of La Jolla until their wings are strong enough to lift them up. They are not very able. We should avoid them the best we can.
The San Diego Humane Society Wildlife Center says it will take a few weeks before they can fly upward after leaving their nests. Parent gulls will come to feed them until the chicks get stronger to fly well and find food on their own. So do not remove them from areas where they have landed. Waving them off roads may be helpful, but please use caution as these birds develop to be on their own.
Seagulls are protected under the Migratory Bird Treaty Act of 1918. It's illegal to harm, kill, capture, trade, sell or transport them, including their nests or eggs, in the United States, Canada, Mexico, Japan or Russia.
For injured birds, call the San Diego Humane Society at (619) 299-7012 (press 1).
Tina Mertel
— — —
What's on YOUR mind?
Letters published in the La Jolla Light express views from readers about community matters. Submissions of related photos also are welcome. Letters reflect the writers' opinions and not necessarily those of the newspaper staff or publisher. Letters are subject to editing. To share your thoughts in this public forum, email them with your first and last names and city or neighborhood of residence to robert.vardon@lajollalight.com. You also can submit a letter online at lajollalight.com/submit-a-letter-to-the-editor. The deadline is 10 a.m. Monday for publication in that week's paper. Letters without the writer's name cannot be published. Letters from the same person are limited to one in a 30-day period. See the full policy at lajollalight.com/policy. ◆
Get the La Jolla Light weekly in your inbox
News, features and sports about La Jolla, every Thursday for free
You may occasionally receive promotional content from the La Jolla Light.