Guest commentary: Enhance La Jolla focuses on streetscape, news racks, hanging flower baskets, board election
July 1 marked the beginning of a new fiscal year for Enhance La Jolla and the La Jolla Maintenance Assessment District. Janitorial, landscaping and sidewalk pressure-washing activities continue, along with several new projects that will improve the appearance and enjoyability of the district.
The Enhance La Jolla board of directors met July 15. During the meeting, the La Jolla Community Foundation provided a status report on the La Jolla streetscape project.
LJCF hired a design/build construction firm that is now working with an engineering and design group on the design of a proposed project to create a public plaza at "The Dip," located at the north end of Girard Avenue at Prospect Street overlooking La Jolla Cove. LJCF provided a grant to Enhance La Jolla for the investigative phase of the project, which includes preliminary reviews with the city of San Diego. More details about the project are available at enhancelajolla.org.
The July 15 meeting also included an update on Enhance La Jolla Day 2022, which will be held in April following the reopening of the Museum of Contemporary Art. The event's theme will center around art and butterflies.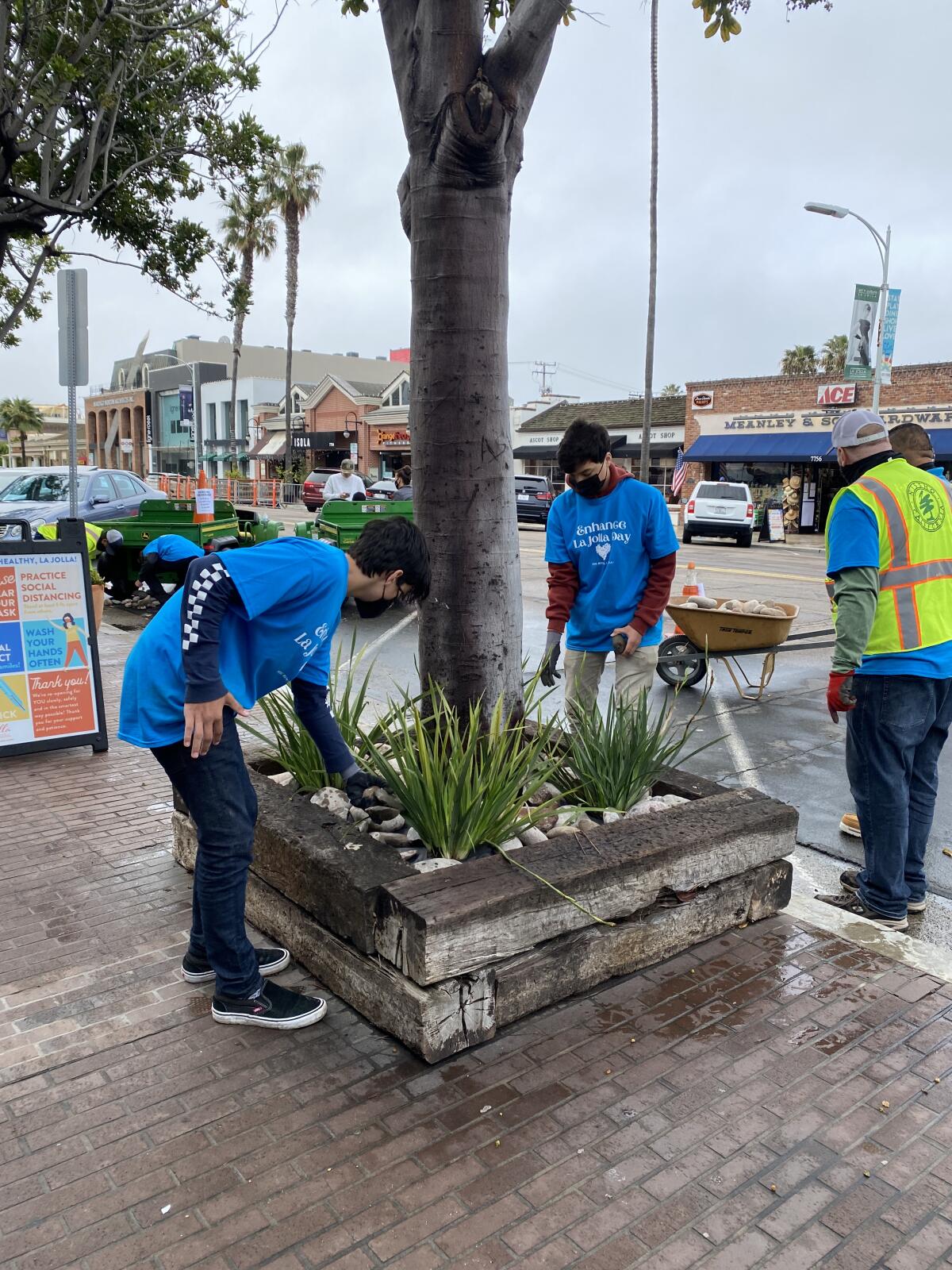 Another report during the meeting stated that a complete survey of all news racks in the district has been completed. Early in 2021, efforts were made to consolidate the number of news racks within the MAD and to enhance their appearance. In April, a letter was sent to each news rack owner with specific requests for action. To date, all news rack owners have acted along the lines requested, taking corrective action to relocate, replace or improve the appearance of their racks in The Village.
A project to replace declining floral arrangements growing in hanging baskets in the district began in July. The condition of these hanging flower baskets will be improved with the planting of red zonal geraniums. These evergreen perennials have clusters of scarlet-red flowers that can grow up to 5 inches in diameter. With the right environmental conditions and care, these flowering plants can thrive in small containers. Zonal geraniums, already seen in some baskets suspended from lampposts on Girard Avenue and Prospect Street, are very vigorous and drought-tolerant once established.
An election to fill several Enhance La Jolla board positions will be held in September. All applicants, including current board members seeking re-election, will be required to submit detailed applications. The application form is available at enhancelajolla.org/about-us/enhance-la-jolla-board-of-directors and must be returned via email to manager@enhancelajolla.org by 5 p.m. Sept. 5. Voting will occur online, and election results will be announced during the Oct. 21 board meeting, which is scheduled for 4 p.m. in the Community Room of the La Jolla/Riford Library.
If you see an issue needing attention in the district, please call Enhance La Jolla at (858) 444-5892 or email manager@enhancelajolla.org.
Mary Montgomery is district manager for the La Jolla Maintenance Assessment District. ◆
Get the La Jolla Light weekly in your inbox
News, features and sports about La Jolla, every Thursday for free
You may occasionally receive promotional content from the La Jolla Light.