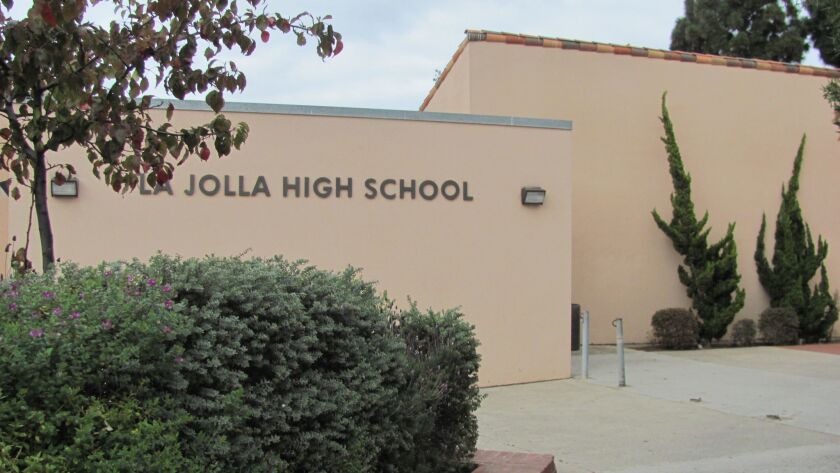 My name is Fran Shimp, I have three children who currently attend La Jolla High, and I am also the school's PTSA President. During the past few days, I have been contacted by several concerned parents asking about our children's safety on La Jolla High's campus. It has become clear that more information needs to be shared with our community and the abundance of misinformation needs to be addressed.
Since the Parkland, Florida shooting (Feb. 14), school districts across the country, including San Diego Unified, as well as local law enforcement agencies, have been reassessing school safety plans and procedures in case of an active shooter on campus. This past Tuesday (March 6), our School Site Council (SSC) and our Site Governance Team (SGT) held a joint meeting where our school police officer shared our school safety plan and answered questions. Please keep in mind that the exact protocol law enforcement will follow if an active shooter were to be on campus will not be shared as then any potential aggressor would have that information and could plan accordingly.
Also note that the SSC and SGT meetings are always public and are advertised in our eNews, on our website calendar, and in the La Jolla High School Community Reports. There was even a special bullet point regarding this School Safety meeting under the "Principal News" portion of both publications so more parents would attend.
Aside from the assessments at the district and law enforcement level, there have also been meetings at La Jolla High with administration, school police, and parents, to go over our campus' current safety needs and concerns.
Some of the safety requests we're currently working on are:
• Fixing broken blinds in classrooms and/or installing blackout shades.
• Fixing hard-to-lock doors in classrooms or installing door stoppers that will prevent someone from entering.
• Addressing concerns from teachers regarding potential classroom exit pathways.
• A texting system to address teachers and staff during emergencies so there is less reliance on the "bell" system.
• A texting system to address students directly so they have accurate information during emergencies.
• Fixing broken cameras on campus and possibly installing more.
• Addressing lighting concerns on campus.
• Advertising an anonymous tip line through social media, e-blasts and our website.
As many of you know, our campus will begin its Whole Site Modernization Plan at the end of this calendar year, but it is not expected to be completed until 2021-2022. As a part of this plan, LJHS will be getting a new PA system as well as a fenced-in campus with one main entry point on Westbourne.
We realize the immediate need for both a PA system as well as a fenced-in campus, and therefore we have already:
• Officially submitted a request to the district to have the fence installed as soon as possible and not wait for the construction to be completed.
• Have received bids to install temporary PA systems until the permanent ones are in place.
We will do our best to keep you informed as we proceed with these requests. If you have other safety concerns that are not listed above, or have the ability to assist in implementing any of the above tasks, please do not hesitate to e-mail me at FranandTodd@aol.com
I would also like to discuss the threat last week as there has been an exorbitant amount of misinformation.
Here are the incident facts:
• On Wednesday, March 7, a student was accused of making two threats; one was made verbally, the other on social media. A fellow classmate reported the verbal threat to administrators, which prompted SDUSD police to investigate and they determined the threat was not credible.
• A letter was sent from the administration to parents about the matter on Thursday. When parents were notified, they spoke about it with their children after school, which led to evidence of additional threats.
• The San Diego Police Department arrested the student on Friday morning.
• Police searched the student's home and did not locate any guns.
• The threat was still considered "not credible" and students were not believed to be in any danger.
• The student will not be on campus while there is an ongoing, active investigation.
• No gun was ever on campus.
• The suspect was not on campus in the middle of the night, nor was he on campus at any time on Friday.
• The initial threat does not appear to be in retaliation to any type of bullying.
• The suspect was not targeting African-American students.
• No student brought a gun to campus to protect themselves from the suspect.
We have no reason to believe the suspect was running from police Friday morning. The police went to detain the suspect Friday morning at his father's house, but the student was with his mother. Police located the suspect within the hour without incident.
At no point was this ever considered a credible threat. I would like to applaud all the students who came forward and shared the initial threat on Wednesday, and subsequent threats on Thursday, as well as all of the parents that took the time to have serious conversations with their children once they were informed of the situation.
Tragedies happen when threats like these go unreported. In recent weeks, there have been at least six arrests related to a school threats in San Diego County. Please continue to stress with your students the importance of the "See something, say something" protocol.
Unfortunately, even though the school sent out a letter about the threat not being credible, misinformation shared on social media Thursday night caused a number of students to believe going to school on Friday would be unsafe.
Please take this time to speak with your children about the power of social media. Due to the unwarranted panic that caused low attendance, the one thing that could have helped our campus plan for a real active shooter — the lockdown drill — had to be canceled.
We live in a complicated, fast-paced, and sometimes dangerous world. We have different views on politics and parenting styles. We prioritize different aspects of our lives and have different expectations for our children. But we all want our kids to be safe. We want to know that when they leave the house in the morning, they will be returning that night. Anything else would be unimaginable. While I will never be able to say La Jolla High, or any high school for that matter, is 100 percent safe, I can say we are working together as a community to make it the best it can be. We hope you will join us.
---