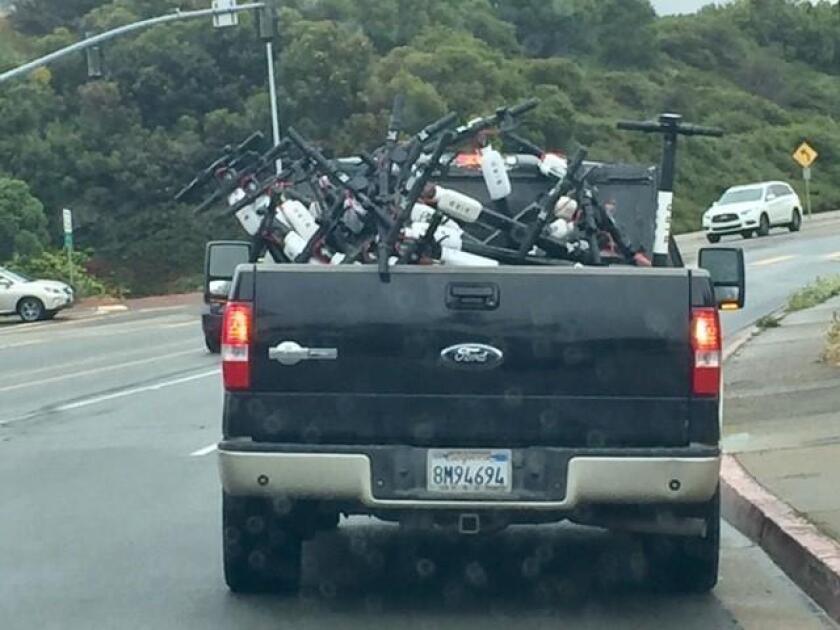 Opinion / Letters to the Editor / Our Readers Write:
The following are Letters to the Editor from recent issues of La Jolla Light as La Jollans speak out on local issues. Letters published in La Jolla Light express views from readers in regard to community issues. To share your thoughts in this public forum, e-mail them with your name and city of residence to editor@lajollalight.com or mail them to La Jolla Light Editor, 565 Pearl St., Suite 300, La Jolla, CA 92037
———
Seething over scooter scofflaws
In addition to the clutter and hazards the actual electric scooters cause, their drivers apparently don't think the laws apply to them! (See photo above.) They constantly stop in the road and block traffic while dropping off their Bird stuff. Putting on emergency blinkers doesn't mean you aren't a hazard. All this aggravation and our City decided on an annual fee per scooter of $150 for these companies — that's not even two days of rental revenue! How was this amount arrived at? There is no deterrent to keep the clutter at a minimum and who knows where the paltry revenue goes ...
Chris Cott
———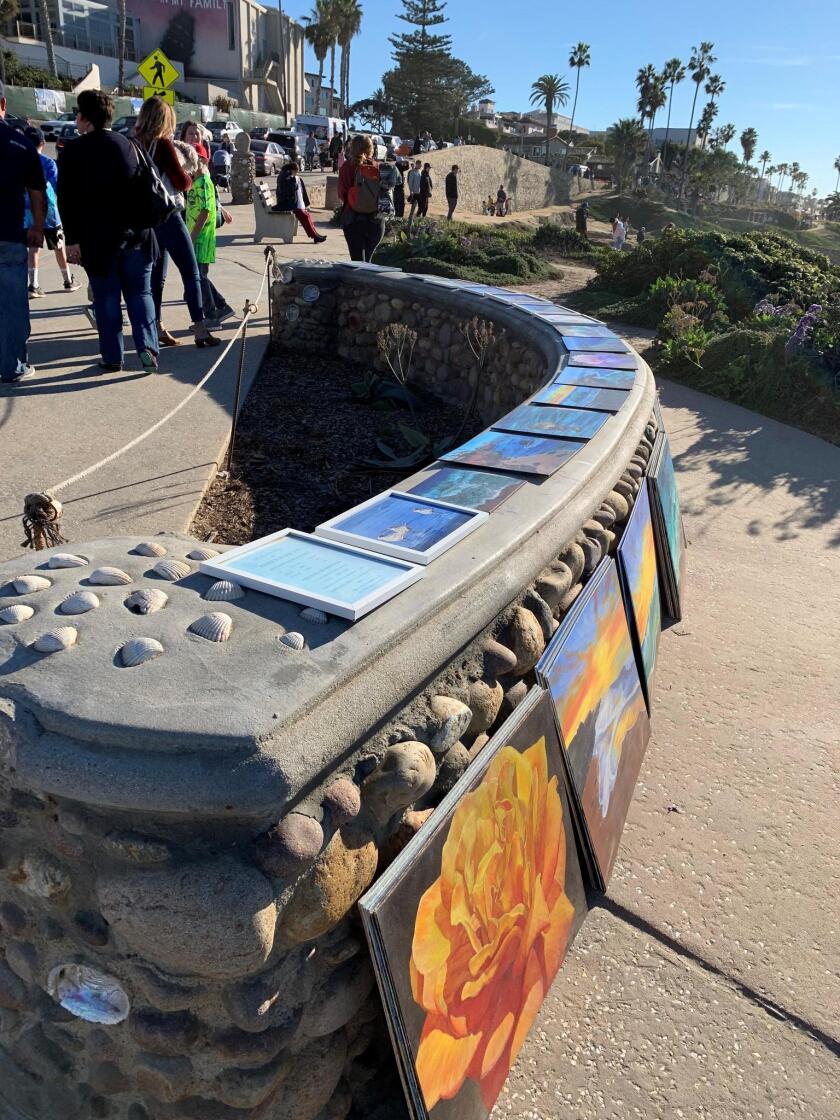 Tarnishing Our Jewel
WRONG IN THE RIGHT-OF-WAY? Is it permissible that this sidewalk vendor can block public seating along Coast Boulevard?
Billy Pitts
———
Ecology of Children's Pool beach may be too complex for some
As I read the Light reporter's summary of action recently by the La Jolla Parks & Beaches (LJP&B) advisory group regarding the harbor seal rookery at La Jolla Children's Pool Beach (aka Casa Beach), I began to wonder what motivates the majority of individuals on this committee. It is co-signing a letter approved by the La Jolla Community Planning Association (LJCPA) earlier this year asking the California Coastal Committee to "reject the City's application for beach closure permit extensions without imposing intended improvement standards," and "Instead require a better beach management plan that accommodates all users of the beach with clean sand and water."
This letter in nothing more than yet another effort by a few uninformed or misguided people to destroy the seal rookery.
The guideline rope during the shared-beach (between humans and seals) portion of the year and the beach closure during the crucial pupping/nursing season have functioned extremely well as intended by the Coastal Commission to protect seal habitat and allow our public maximum enjoyment of the seals and the beach throughout the year.
Conflicts between those humans who wish to seal-watch or simply want to protect the rookery and those individuals who feel they must use that patch of sand and water for themselves have diminished to the satisfaction of all parties.
My concern lies with the extreme ignorance or lack of caring exhibited by those who insist on "clean sand and water" without any understanding the coastal ecosystem. Our harbor seals feed primarily offshore, but defecate wherever the need arises, including on the beach and in the shallow waters adjacent. In essence, these seals are transporting nutrients (gut-processed seal food) from offshore to inshore waters and sand, where these cast-off nutrients are used by other creatures down the food chain.
For example, blue mussels (commonly found near the seawall), which are a favorite food of spiny lobsters, filter-feed whatever comes, including seal particulate matter, only to be eaten later themselves by the lobsters that our divers and commercial fishermen find so plentiful in immediately adjacent waters.
The ecology of a natural sand beach such as Children's Pool Beach is perhaps more complex even than the interconnected ecological web of nearshore waters. The numerous species that live in the sand and rotting kelp are involved in the biodegradation of seal fecal matter left behind by the seals. Birds feed some of these species, as do smaller fish when the sand is washed by waves.
To ask the City and the Coastal Commission for "clean sand and water" at Children's Pool Beach is to express a human fantasy unrelated to any ecological understanding of how things work in our interconnected world. If we give our polished letter-signing representatives at LJCPA and LJP&B the benefit of the doubt, they only need further education. If we attribute ulterior motives to them, we might want to populate their committees with more wildlife-oriented individuals who see and understand the need for us to live in harmony with our natural world.
James Hudnall
———
Time to change the Christmas parade name
We are writing in regard to Melinda Merryweather's recent letter "An Independent La Jolla will take people, money and let's-do-it votes." This such action will require an immediate effort by Independent La Jolla to contact the powers that be who produce La Jolla's December parade. The T.I.D.E. (Tolerance-Inclusiveness-Diversity-Equality) changed many decades ago. All other local communities changed their parade names in the 1970s and '80s. Unfortunately, those involved in La Jolla's December event have refused to discuss this matter with us.
Because ethnicities and religions tend to celebrate separate December holidays, our La Jolla parade must have a faith-neutral name. Two of many names that come to mind are the "La Jolla Holiday Parade" or the "La Jolla Jolly Jewel Parade."
If those involved with Independent La Jolla hope to have their efforts bear fruition, they need to have maximum cooperation, support and understanding of our entire community. Changing the name of La Jolla's December parade will provide an immediate jump-start to their efforts to arrive at an Independent La Jolla.
Howard G. Singer, La Jolla T.I.D.E. Group
———
Hillside Drive access continues to frustrate
I'm the Neighborhood Watch Captain for the Lookout Drive/Soledad Avenue loop and I've been fielding complaints about the newly renovated section of Hillside Drive that meets Torrey Pines Road. For years, that dip has been snagging trucks and buses (like the one the Light had a picture of in the May 2 edition). A couple of weeks ago, as part of the Torrey Pines Road expansion project, the City re-graded and repaved "the dip" and we all thought: "How great, we won't be bottoming out our cars anymore, FINALLY!"
But lo and behold, it's WORSE! It used to be that if you approached slowly, at just the right angle, you could make the transition from Torrey Pines to Hillside and vice-versa with only a whisper of paint being scraped off your spoiler and who cares right? (sorry Porsche owners) but now it's full on bottom-of-the-bumper scraping, and it's so painful that we have all taken to using Amalfi instead (much to the dismay of our neighbors there for the increased traffic down their block).
So this is a big shout out to whatever genius engineered that blunder: You blew it! Thanks for wasting taxpayer dollars. Now please, go fix it right.
... Maybe in a couple decades they'll do just that.
Bradford Noble
Editor's Note: Light reporter Ashley Mackin Solomon, confirmed that at the May 2 La Jolla Community Planning Association meeting, Hillside-area residents testified that those who drive on the street continue to scrape their bumpers as they make their way up and down the hill. One resident reported that a bus got stuck in the dip since it was repaved. On behalf of City Council member Barbara Bry's office, field rep Mauricio Medina told those assembled: "The intention of that work, from what I understand, was not to fix the dip, but to fix the cross gutter for drainage. I believe we're going to schedule a meeting with City staff regarding this project to discuss it. A lot of residents of Hillside prefer this because it deters traffic, so you see the push and pull there." Medina said he would contact residents with the findings of that meeting
———
Lack of parking structure turns out to be a bonus!
How wonderful! People are out walking and greeting each other on The Village streets as they walk to shows at The Conrad. That there would be no on-site parking for this world-class music center once troubled me. I am so glad I kept this worry to myself in deliberate deference to the extraordinary vision and indefatigable energy which imagined and built The Conrad. In reality, having no parking garage at the exquisitely beautiful center works extremely well.
Aesthetically, the center is invitingly well connected with the sidewalk because there is no garage ramp spewing cars across the path of pedestrians.
Socially, it is a major change for the better to have happy groups of people walking along the streets dressed up a bit in joyous mood of expectation, obviously going to The Conrad to enjoy the same show together.
Economically, I expect such walking will benefit restaurants and shops. In the several times I have attended The Conrad there has never been a problem parking on the street, walking to dinner, and then walking to the show. The valet parking works fine, too. My mother told me: "If you don't have something nice to say, then say nothing." I am so glad I took her advice. Happy Mother's Day !
John A. Berol
———
Thanks to all Rotary project participants
On behalf of The Rotary Club of La Jolla, I'd like to publicly thank all the community partners who pulled together to make our club's Rotary at Work Day (April 27) a rousing, collaborative success — 28 people, including Rotarians, San Diego City Firefighters (Stations 9 and 13) and La Jolla High School Interact Club — gathered at a parking lot behind the Post Office to repair and replant 35 dead or dying hanging baskets from Prospect, Girard, Hershel and Wall streets.
In addition to the groups mentioned above, supporting our efforts were Laz Parking (providing our staging area), Sicilia Bella restaurant (providing a water supply for the plants), The Congregational Church of La Jolla (providing work tables), Adelaide Florists (providing professional guidance), and Banner Bank (providing pizzas for the whole crew).
The event was chaired by Rotarian Bill Burch. Other Rotary participants included Dave Brockett, Laurnie Durisoe, Cindy Goodman, Charles Hartford, Dirk Harris, Ken King, Camille McKinnie, Anya Rayes, Diane Salisbury, Bob Schroeder, Rich Velazquez, David and Susan Weston, Craig Schniepp (Interact Club coordinator), and Sue Duong (parent of one of the Rotary leadership scholarship students). We could not have done it without you.
Cindy Goodman; Community Services Chair, Rotary Club of La Jolla
———
Thanks for reporting about La Jolla think tank
I would like to sincerely thank reporter Corey Levitan for correctly attributing the naming of the JASON group to my mother, Mildred Goldberger. Many articles both recent and historical have reported the name as either a deep mystery or of unknown origin. Ann Finkbeiner spent many hours talking with both of my parents as she gathered material for her book and sent me copies of the tapes of those conversations following my father's death in the fall of 2014.
I do not have a personal recollection of my mother naming the group (I was only 7 when the group was founded), but I have clear recollections of conversations later on that recounted the event. The article described Ken Watson as a UC San Diego physicist, though I believe he was at Berkeley at the time the group was founded. He still lives in La Jolla. My father was also on the faculty of UCSD and served as Dean of the School of Natural Science until his retirement. He also remained in La Jolla until his death.
Joel Goldberger
———
Ear-splitting gas leaf blowers are easy target to reduce pollution
La Jolla is still an amazing place to call home, but recent pollution reports put San Diego at No. 6 on the Smoggiest Cities list. Beautiful La Jolla is under a blanket of often invisible smog and we aren't doing enough about it.
We can make an impact for the better right away in La Jolla. An easy target in 2019: gas leaf blowers. These little ear-splitting devils emit more pollution than a car! Couple that with the whining noise, which is up to 100 decibels and can cause hearing damage, and it's a lethal combination. They are not good for the users, or anyone nearby.
There are easy alternatives including electric and battery blowers, or good old-fashioned brooms and dustpans, to create progress literally overnight. The low barrier to change compared to the instant results in pollution and noise reduction make it a double win.
The writing is on the wall, and gas equipment will eventually be killed off. 20 other cities in California including Beverly Hills and Santa Monica, have already succeeded. But La Jollans who care about the air their families are breathing can make a difference right now. Eliminating gas leaf blowers is an easy, small change for the better.
Ditch your gas blower, or talk to your yard service about how you want them to provide a quieter, pollution-reducing solution.
Scott Croydon
———
New website launched for those who stutter
I'd like to ask readers: Do you stutter? Do you know someone who does? Most people do. More than 3 million Americans and 70 million people across the globe stutter, but sadly it is still quite misunderstood. Help us change that. May 13-19 is National Stuttering Awareness Week. To support the stuttering community, the nonprofit Stuttering Foundation launched a website with easy-to-find information like articles, brochures, magazines, videos, research reports and counselor referrals; it has a laptop- and mobile-friendly interface. Please take a look and tell a friend: stutteringhelp.org
Jane Fraser; President, The Stuttering Foundation
———
What's on YOUR mind?
Letters published in La Jolla Light express views from readers in regard to community issues. To share your thoughts in this public forum, e-mail them with your name and city of residence to editor@lajollalight.com or mail them to La Jolla Light Editor, 565 Pearl St., Suite 300, La Jolla, CA 92037. Letters reflect the writers' opinions and not necessarily those of the newspaper staff or publisher.
---