Our Readers Write: La Jollans voice their opinions about homeless encampments on traffic medians, UCSD expansion, La Jolla Parkway traffic soundwall, seals/sea lions and the Coastal Management Plan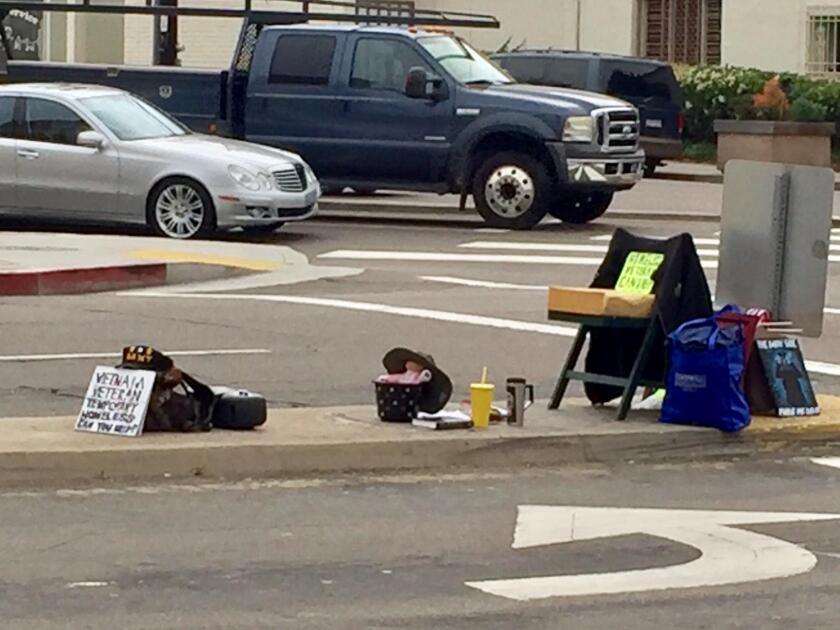 Our Readers Write / Opinion / Letters to the Editor:
Letters to the Editor from the May 25, 2017 issue of La Jolla Light as La Jollans speak out on local issues:
———
••• Who's got cleanup duty here in this median?
How long will City authorities allow this unsafe expanding encampment to exist on the median at Girard Avenue and Torrey Pines Road? Who is responsible for having it removed? This photo at right was taken May 23. During the weekend, there was an empty chair with an American flag draped on it and a cardboard sign at the site. Today (the mess) was larger and there was music playing from some sort of boom box. — Larry McCracken
Editor's Note: Code compliance issues can be reported to the San Diego Police Department non-emergency line at (619) 531-2000 or (858) 484-3154 (press *) or reported online at sandiego.gov/police
———
••• Neighbors want more facts on UCSD expansion
I am a resident of Blackhorse Farms and have a number of concerns related to UC San Diego's expansion plans for its Living & Learning Neighborhood. I'm posing them to university officials with this copy to La Jolla Light.
• Traffic and air quality: While southbound traffic from Muir College Drive to I-5 between 4 and 6 p.m. used to take 15 minutes, it now takes, 30-40 minutes. Once I-5 is reached, the slow-moving traffic results in continued delays for miles. Much of this traffic is UCSD-related. And while its staff at the recent Open House argued that the Trolley will be operative in three years, and that the addition of on-campus housing will allow for fewer cars to be entering/exiting the campus, the addition of thousands more students and, in the case of the Living & Learning Neighborhood's 300 additional cars, will negate any improvement in traffic.
• Additionally, in regard to air quality: I have consulted with three arborists about dying trees in my yard and they all have opined that it is due to the increasing pollution from North Torrey Pines Road and nothing can be done for the trees.
• The condition of North Torrey Pines Road is abhorrent, already. What will it be after two years of heavy construction vehicles moving in and out?
• UCSD used to be a good neighbor. Years ago, the university assigned a liaison to attend our HOA meetings to inform us (among other things) that events would be held at a time and place that would affect our lives. For example, we'd be told that a concert would be given at Muir College next Friday and would end at 10 p.m. This gave us a chance to plan our evenings. Presently, there is no such "warning" given and the music generally goes until later. Additionally, a recent loud gathering at Thurgood Marshall residences resulted in noise well toward midnight and a call to UCSD police resulted in a response to the effect of: "Well, we'd rather have our students in one place on campus and safe, rather than elsewhere." The noise continued. I can't even imagine how an amphitheater across the street — with noise bouncing off of the new tall dorms — will be.
• What consideration has been given to venting the proposed underground parking structure? Obviously, venting in the westward direction is not acceptable.
• Campus police are obviously unable to enforce the "Tobacco-free" regulation on campus, as proven by the number of students and their cigarette butts on the corner of Muir College Drive and North Torrey Pines Road, as well as farther north near the Extension. How will they handle thousands more students, some of whom are smokers?
• Construction noise and dust for two years, 7 a.m. to 5 p.m. Why are there no plans to ameliorate the noise and dust? Bushes on the east side of North Torrey Pines? A wall? Something?
• Home values sinking. Once construction begins (dust and noise) and upon completion (added cars/congestion, and noise from the amphitheater), our homes will be worth a fraction of what they are worth now. We need the names of the UCSD officials to complain to when the noise and the air pollution reach unacceptable levels. — Ann S. Ruethling
———
••• La Jolla Parkway: Two alternatives to a sound wall
Westbound on La Jolla Parkway, which is downhill, there are several signs saying speed 45 mph. Eastbound and uphill, there is one 45 mph sign, at the western end of La Jolla Parkway. Going east, there are no more speed-limit signs, La Jolla Parkway begins looking like a freeway, and it's easy for a driver to think that the 45 mph sign no longer applies.
My wife and I live on Ardath Road, the frontage road on the south side of La Jolla Parkway. In the stretch where the two roads are the same elevation, the distance between Ardath Road and the shoulder of La Jolla Parkway is only 10 feet. Traffic going both directions on La Jolla Parkway is easily heard from Ardath Road. The occasional extra-loud noise appears to be caused by fast-moving and accelerating eastbound vehicles. We frequently walk the full length of Ardath Road, and are always able to converse in normal voices. To us, La Jolla Parkway traffic noise is tolerable.
Many neighbors would like taxpayers to build a sound wall to mitigate La Jolla Parkway traffic noise. I'd rather see the money spent elsewhere. Even if neighbors were willing to build a sound wall with their own money, I still would be against it. I like the views that currently exist, from both La Jolla Parkway and Ardath Road. I prefer that those views not include a wall, no matter how attractive the wall. In a choice of tolerate traffic noise or look at a wall, I choose traffic noise.
A decade ago we were bothered by parties with loud music that began at 10 p.m. The parties were so loud that we had trouble falling asleep. We did something about it — we installed double-pane glass in the windows facing the party house, and that solved our noise problem. I suggest installing an additional speed-limit sign or two on eastbound La Jolla Parkway. And I suggest that our neighbors consider installing double-pane glass on windows facing La Jolla Parkway. — John Ferguson
———
••• Coastal Management Plan misses the mark
I was appalled to read that the recommendations of the Marine Coastal Management Plan amounted to a total cop-out of how to deal with the sea lion problem at The Cove. The report's so called "action items" amounted to lame and totally useless recommendations that there be more signage to warn people not to harass these creatures and we were basically told to learn to live with them. Nothing in the La Jolla Light's synopsis of the report suggested how to get these foul-smelling creatures off one of the most famous beaches in the country.
The authors of the report consider this to be a "living document," which is a code phrase for their willingness to continue to update the report with more non solutions as long as the City is dumb enough to continue to provide funding.
It is not surprising that this same firm authored the long-awaited report on the harbor seal situation at the Children's Pool. As I recall, those recommendations were equally lacking in substantive solutions and nothing has changed as the result of that report. — Ron Weiner
———
••• Time to move the seals, sea lions out of La Jolla
There was an article in The Guardian (London) today, and probably other media, too. Seems we can be attacked by sea lions with rulings by environmentalists that it is not the sea lion's fault. The story reads: "A young girl and her family were left shaken after a large sea lion grabbed her and pulled her underwater near Vancouver. The girl was sitting on a dock in Richmond watching the animal in the water before it grabbed her dress and pulled her into the water. Onlookers at Steveston Fisherman's Wharf screamed and a man thought to be a relative of the girl jumped in and lifted her to safety. She appeared physically unharmed. The sea lion appeared to have been drawn to the dock by people who were throwing bread crumbs into the water."
Why must humans relinquish the two best beaches in California — even the whole West Coast of North America — to seals and sea lions when there are thousands of miles of beaches in isolated areas and on unused islands where they can live undisturbed? Ms. Ellen Browning Scripps had the sea wall at Casa Beach built specifically to provide a place for children, and everyone, to have a safe place to enjoy swimming. I grew up here in the 1940s and '50s when Casa Beach and The Cove were pristine havens for us. Now, they've been allowed to be trashed and destroyed by sea monsters. Ms. Scripps would certainly have not allowed this to happen in her lifetime!
Not only do the sea lions cause a stench so nauseous that it renders a huge area of our beloved La Jolla undesirable to enter, but they have been allowed to take over OUR space. We are also endangered by the increased presence of sharks that the sea lions attract, and apparently, we are also endangered by attacks by these sea monsters themselves. — Erik Holtsmark
———
••• Teens would like skate plaza at La Jolla Recreation Center
Let's support a small area at the La Jolla Rec Center for scootering, biking and skateboarding. Kids are unsafe on the streets and unwelcome on the sidewalks and alleys. They are made to feel bad about themselves and these healthful sports they enjoy. The small skate plaza being proposed would benefit significant age groups and all skill levels. Adults and grandparents will enjoy watching from the sidelines. Let's help facilitate a healthier, happier young teenage community. — Kate Eliot
———
••• CORRECTION
The tree photographed in the news brief, "Renovation plans call for moving Museum tree," in the May 18 La Jolla Light issue was misidentified. It is actually an Araucaria heterophylla, aka Norfolk Island pine, star pine, triangle tree or living Christmas tree.
———
••• What's on YOUR mind?
Letters published in La Jolla Light express views from readers in regard to community issues. To share your thoughts in this public forum, e-mail them with your name and city of residence to editor@lajollalight.com or mail them to La Jolla Light Editor, 565 Pearl St., Suite 300, La Jolla, CA 92037. Letters reflect the writers' opinions and not necessarily those of the newspaper staff or publisher.
---
Get the La Jolla Light weekly in your inbox
News, features and sports about La Jolla, every Thursday for free
You may occasionally receive promotional content from the La Jolla Light.