Our Readers Write: La Jollans speak out on hot topics — airplane noise, new flight paths, DecoBike, sea lions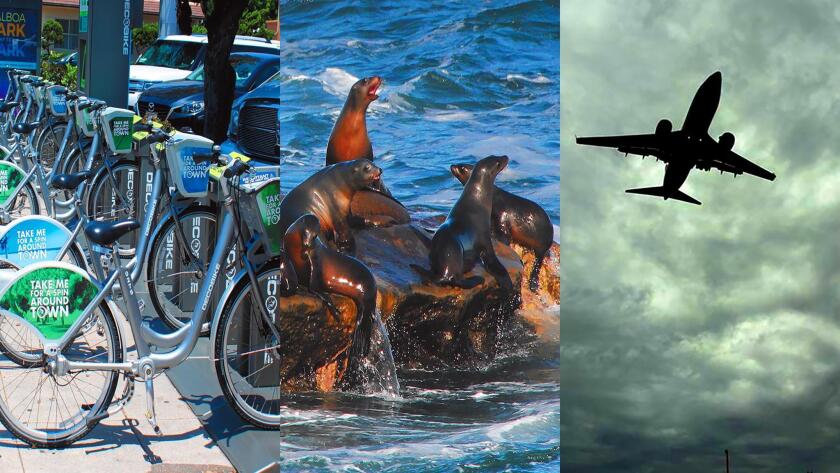 Our Readers Write / Opinion / Letters to the Editor:
Letters to the Editor from the Feb. 2, 2017 issue of La Jolla Light as La Jollans speak out on local issues:
———
•••• The changes in town are disturbing ...
Fellow La Jollans, after reading the Jan. 19, 2017 issue of La Jolla Light, I was shocked and alarmed to learn that our fair town is under siege by land, air and sea. No other community of San Diego faces such a combination of horrors: the threat of DecoBikes prowling our palm tree-lined lanes; seals and sea lions commandeering our best beaches and bringing hordes of tourists that flood our shops and restaurants; flotillas of commercial airplanes buzzing our homes.
Just like the nation needs a Great Wall, we need walls to shutter ourselves from these invaders and surely others yet to be discovered. In my opinion, we have the fairest weather, nicest homes, best schools, brightest students and highest incomes in the City and anything that detracts from this illusion must be removed or stopped.
Look around us and we see other communities struggling to create decent affordable housing (we don't need to be affordable), gridlocked by poor transportation options (we don't need or want more public transit), and contending with unhealthy air quality (toxic-injurious stuff, not odors).
Now is the time to draw the line to save our fair town: Follow the national lead and look inward, not outward. Alternatively, ask yourself, what would Dr. Seuss tell us to do? — Bill Tippets, 25-year resident of La Jolla
———
•••• La Jolla residents must all rally to fight noisy flight-path changes
The recent, astonishing increase in commercial airliner noise in La Jolla has been well documented by La Jolla Light. Simply put, it appears that operating procedures have changed in such a way that the skies above and around La Jolla are now a concentrated corridor for southbound arrivals and northbound departures to and from the San Diego International Airport.
And it is only going to get worse. New flight paths, posted online by the FAA, will bring airliners even lower and closer to our shores in the coming month or two — affecting not only Bird Rock, but homes facing the entire west-facing coast line of La Jolla! See bit.ly/proposeddepartures
So, if you are unaffected now, enjoy your peace and quiet while it lasts.
The citizens of La Jolla must unite to restore and preserve our Jewel. There are three key things that you must do now:
1) When you hear a commercial airliner, e-mail airnoise@san.org to submit a complaint. In your e-mail, you must state your first name, address with ZIP code, the problem (e.g., loud noise), and date and time of the air noise, or it will not be counted. The number of first-time complaints is used by the authorities as a measure of the severity of a noise issue.
2) Attend the Airport Noise Advisory Committee (ANAC) meeting 4 p.m. Wednesday, Feb. 15 at 3225 N. Harbor Drive, downtown San Diego — we need a crowd! The largest possible number of people in attendance is required. bit.ly/anacmeetings
3) E-mail noplanenoiselajolla@gmail.com to join our list of concerned residents so that we can coordinate our response.
While communities near the airport were able to comment and negotiate alternatives to the flight path changes proposed by the FAA as part of its NextGen program nearly two years ago, La Jolla was not "at the table," and as a result, we got the short end of the stick. Now, we must get our voices heard if we have any hope for a quiet future. La Jolla, let's make some noise of our own! — Matthew Price
———
•••• Open letter to airnoise@san.org
Sirs, while we appreciate your recent response, your claim that the flight routes have not change over La Jolla is not believable, nor acceptable. Starting the last several months of 2016, the jet airplane noise over La Jolla has notably increased. This is not a guess, it is a statement of fact. All of a sudden there was a large spike in the number of air noise complaints filed.
The constant noise has become a major concern for most of La Jolla residents. Dozens of letters were written to The San Diego Union-Tribune, La Jolla Light and other local news media highlighting this problem. This is not a conspiracy theory, the noise was noted by hundreds of residents. To try and brush this off by saying that it was helicopter noise, which in no way resembles the sound of a jet, or telling us it may be small passenger planes out of Montgomery Field is preposterous. Small four- to six-seater planes do not generate sounds similar to a jet.
In addition, your own office sent us a copy on another e-mail, illustrating the flight patterns. We provided our address and it clearly shows we are now directly in the flight path, which was not the case for the previous 30 years we've resided in La Jolla Shores.
Aside from this now constant disturbance, the larger issue is the failure of your board and the FAA to deal with our community in an open and honest manner. Your efforts to manipulate flight data in attempts to try and convince us these hourly invasions into our peaceful enjoyment of our homes is not acceptable, nor will it be tolerated. Please do not insult our collective intelligence and be so dismissive of our valid complaints. We expect better of our elected officials and local boards supposedly established to protect the public. We want you to tell us how and when we will see serious steps taken by your board to correct this situation.
We urge our friends and neighbors to register their complaints at airnoise@san.org — John and Barbara Sheridan
———
•••• Correction to group photo names
I had quite a bit of difficulty getting the IDs for all the young men in the group photo that featured the teens in the National League of Young Men who attended the 10th anniversary event. Published in La Jolla Light's Jan. 19 issue on page B8, it turns out I got a couple wrong and I wonder if you can print a correction. In the photo, Luke Tchang and Alex Tchang were misidentified. — Lori Thiel
———
•••• What's on YOUR mind?
• Letters published in La Jolla Light express views and comments from readers in regard to community issues. To share your thoughts in this public forum, e-mail them with your name and city of residence to editor@lajollalight.com or mail them to La Jolla Light Editor, 565 Pearl St., Suite 300, La Jolla, CA 92037. Letters reflect the writer's views and do not necessarily represent opinions of the newspaper staff or publisher. Anonymous letters will not be published.
---
Get the La Jolla Light weekly in your inbox
News, features and sports about La Jolla, every Thursday for free
You may occasionally receive promotional content from the La Jolla Light.