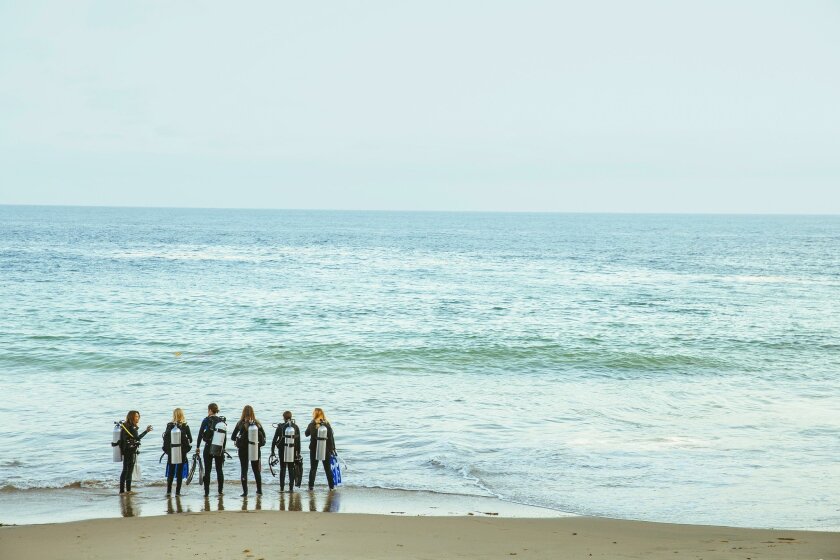 To bring women divers together and even out the playing field in a largely male-dominated sport, the second Women's Dive Day will be Saturday, July 16 in La Jolla Shores. With a chance to chat with certified female SCUBA divers, ask questions, go on a dive or get certified, the event will start at 8 a.m. with a dive at 9 a.m. Breakfast and coffee will follow.
Presented by La Jolla Shores-based Ocean Enterprises, the free event is one of many worldwide help mark Women's Dive Day. Jodie Booras with Ocean Enterprises explained the event started last year to encourage women to become SCUBA certified.
"SCUBA diving used to be male-dominated because old school diving equipment was this big heavy suit, and the sport was seen as dangerous because there wasn't enough research on how to be safe ... it was mostly big bulky Navy men who could get the heavy gear on and go for it," she said. "Now the gear is not as heavy and research is better, so women are getting involved. We're not trying to make it a female-dominated sport, we just wanted to even participation out."
Katie Thompson, marketing director for the Professional Association of Diving Instructors (PADI) said the ratio of male to female SCUBA divers is about 65 percent men to 35 percent women. "We thought we could break down these barriers and create a community of women in diving and balance out that ratio a little bit, so we created a day to get people together."
She added that the sport in general can be intimidating. "It requires unfamiliar environments that you have to be trained to be in, and heavy gear and historically it's been a guy thing. We're trying to show that there are so many women of all ages and abilities, and dispel myths of what it takes to be a diver by showing (demographics) through events like this. There is not a lot of awareness, instead there are pre-conceived notions."
At its inaugural event, different communities hosted different gatherings. Some held dives, some held beach parties or barbecues. At the 2015 La Jolla Shores event, an unexpected storm dampened attendance, Booras said. "We had 65 RSVPs but there were nasty storms, so some people cancelled, but about 38 people showed up. This year we're hoping for about 60-75 people to attend." Worldwide, the goal is to have 500 localized events.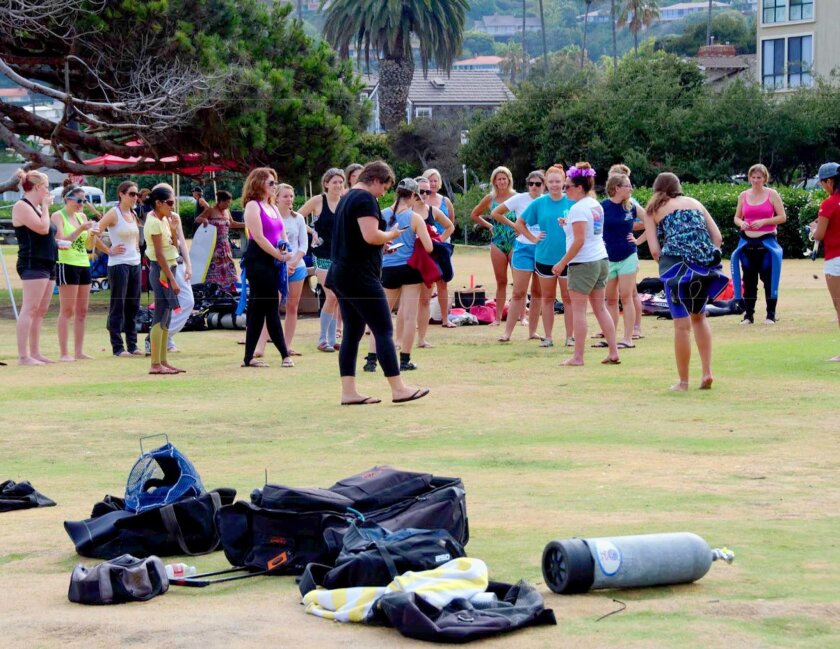 The La Jolla event will open the door to snorkelers as well, Booras said, because a lot of divers started by snorkeling. "You don't need to be certified to snorkel, but you can still get out there and see all the amazing marine life ... the interest is there," she said. Those who want to take the leap from snorkeling to SCUBA diving will have a chance to talk to others who have done the same.
"Online research can be overwhelming and conflicting, but at this event, women can socialize, talk to their would-be peers, ask if they were nervous, say this is what my fears and thoughts are, because the experienced divers might have had those same fears and thoughts."
Booras argues that once a diver gets certified and can go out and enjoy the waters of La Jolla, "It's a really good, relaxing escape," she said. "Once you get underwater, it's quiet and you can't talk to anyone. It's a good time to be in your own thoughts ... not to mention the fact that 71 percent of the Earth is covered in water, so if you aren't a water person, you're missing 71 percent of the Earth."
▪
IF YOU GO: Although the event is free, organizers provide breakfast boxes and take-aways, so an RSVP is required by July 8 at (858) 565-9474 or to jodie@oceanenterprises.com or oceanenterprises.com
---