New sidewalk and benches coming to Whale View Point
Plans for a sidewalk replacement, artistic whale installation and picnic bench repair under the guise of Whale View Point Shoreline Enhancement Project are progressing, it was announced at the La Jolla Parks & Beaches (LJP&B) advisory group meeting March 28.
The overall project — which LJP&B voted to assume management and implementation of from the La Jolla Conservancy in April 2014 — aims to improve the 300-600 blocks of Coast Boulevard, and could take nearly 20 years to complete at a cost of $2.1 million. Although there are several components within the Enhancement Project, from re-vegetation projects to parking reconfigurations, the sidewalk, educational art display and bench repair could yield noticeable results by the end of the year.
LJP&B acting chair Bill Robbins observed, "A couple of presentations will have to be made here before these projects actually start, so those interested should come to our meetings."
Sidewalk replacement
The new sidewalk will cover the current dirt walkways along the parks of Whale View Point, and connect existing segments of concrete sidewalk with an ADA-compliant walkway.
"I'm happy to report that I have a rendering from the City of San Diego detailing what the sidewalk is going to look like," said Whale View Point organizer Ann Dynes. "My contact at the traffic engineering department advises that it will be five-and-a-half feet wide, plus the curb, and they will relocate the signs and the trash cans (that are currently along the walkway)."
Dynes added her contacts at the city "all but promised me this will be ready to roll this fall" after the summer construction moratorium. "It's not an easy design to have in compliance with all the city regulations … so the fact that they have fast-tracked this to get it done this year should really be appreciated."
Because the trash cans would have to be moved to accommodate construction, LJP&B member Jane Reldan questioned whether this would be an opportunity to rework the placement and number of trash cans along that street. "They overflow and it's not just a weekend problem anymore," she commented.
Added member Patrick Ahern, "In between the picnic area and the people's wall (where there are no trash cans), that is a long way to go where people can just throw trash on the street, so maybe one could be added somewhere in between."
Dynes responded, "The transportation department manages the sidewalk and the Park & Rec department manages the trash cans. But they will have to work together because the trash cans currently impede the walkway and will have to be relocated. It's not clear where they are going to put them … but Park & Rec is going to task itself with that."
Although slated on the agenda as an action item, Dynes was not able to distribute the renderings to everyone on the board, so members did not vote on the proposal. The board instead voted to approve the concept to "keep it rolling," with more formal plans to be presented this summer. Dynes also said she would request information about the trash cans.
Educational installation
Another piece of the plan that Dynes is working toward is the "Educational Plaza," which as outlined in the Enhancement Project, would "create a seaside plaza … (with) educational signage, plaques and interactive features (to) establish a greater connection of visitor to site. Outdoor classroom, surfers hangout, community gathering ... the possibilities in this flexible space are endless." The location would be the large flat area around 300 Coast Blvd., where there is currently a sewer station underground.
"The original plan had very elaborate proposals for the area … instead of elaborate art, we would still like to pursue a fairly simple stencil of some kind," Dynes said, adding that in honor of its namesake, they would like an image of a California gray whale.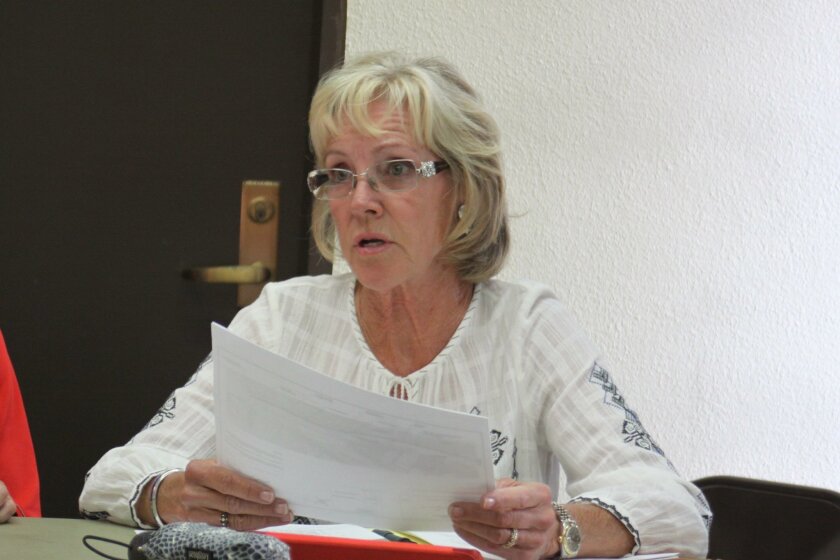 "The idea was to go out with the kind of paint used to paint sidewalks, so it will stay on the ground for a while, and paint a California gray whale with a calf, heading northbound or pointing southbound if its singular (to be in accordance with its breeding and migration patterns)," she said. "The marine art would add a touch of beauty to what is otherwise an ugly piece of concrete. There is also the possibility of a small sign explaining the migratory patterns of the whales." Dynes reported that several artists came forward to carry out the design, but she has not selected an artist or a rendering yet.
Although early feedback has been mixed, the overall consensus of the board was to have Dynes continue on that trajectory, as long as the art was minimalistic and discreet. "My goal is not to have this be something people would drive hundreds of miles to see. It's just a simple thing to beautify the area that you wouldn't notice unless you were right there."
Dynes said she would return with feedback from the city and any other new information, so the educational art display will also be discussed at a future meeting.
Bench replacement
Eyeing a fall target date, Dynes said the picnic benches along Coast Boulevard that have fallen into disrepair could be replaced. "If you go down there now, there's a lot of rebar showing and broken pieces," she said. "I got several offers from families who would like to donate to fix or replace the benches and dedicate them to someone. So finding the money will not be the hard part."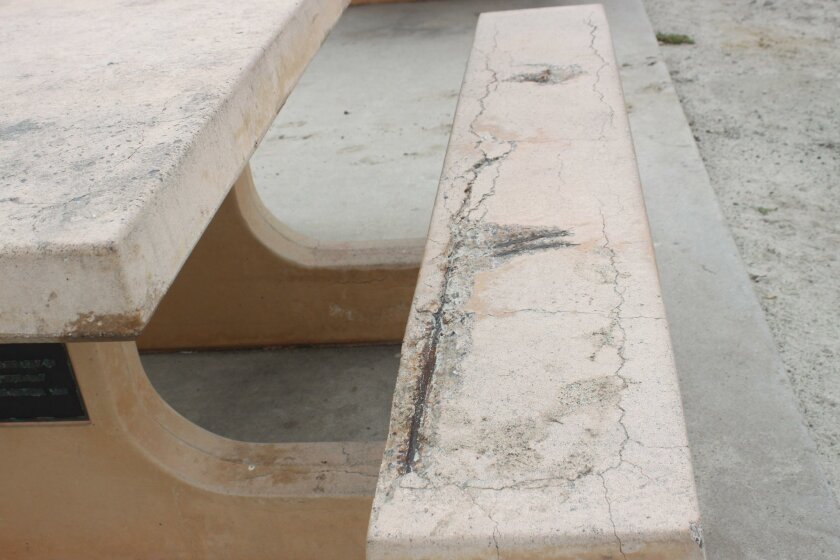 However, to honor the benches that have already been dedicated, Dynes said she would have to research whether they could add new plaques to the benches they plan to replace, or install brand new benches in addition to the ones already there. In the meantime, she said, the city's Park & Rec department committed to making immediate cosmetic changes to the existing benches.
"So we will circle back to the bench project this fall," Dynes said.
— La Jolla Parks & Beaches meets 4 p.m. fourth Mondays at La Jolla Rec Center, 615 Prospect St. Agendas are posted at La Jolla Rec Center, 72 hours in advance of the meeting, and at lajollaparksandbeaches.org/agendas
---
Get the La Jolla Light weekly in your inbox
News, features and sports about La Jolla, every Thursday for free
You may occasionally receive promotional content from the La Jolla Light.