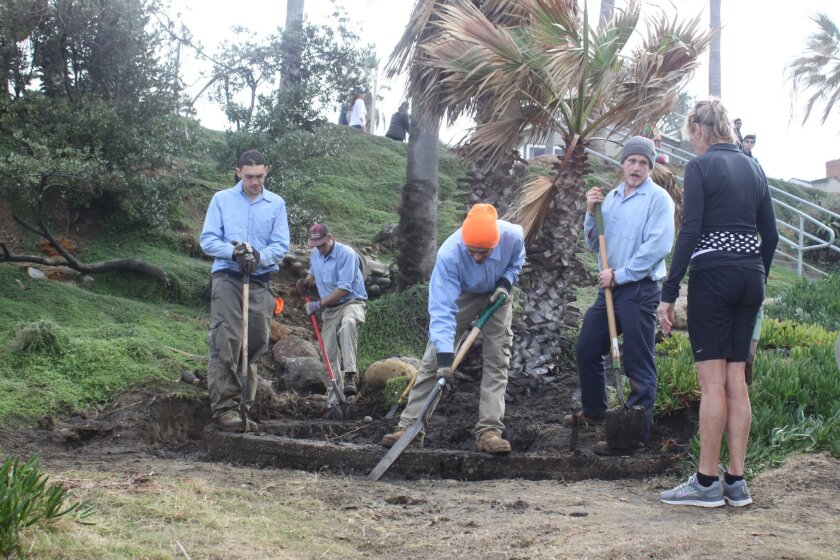 Despite the hazy gray skies this winter, work on the Whale View Point Enhancement Project moves steadily ahead. On Dec. 23, 2015 crews from Black Sage Environmental and Great Ecology were busy excavating the north end of the Wedding Bowl and planting new plants at Coast Boulevard.
Adjacent the Wedding Bowl on the north side of the stairs, there is water runoff area that over the years, erosion had all but covered up. In their cleanup efforts, crews uncovered cobblestone rocks and a planter-like structure likely used by Ellen Browning Scripps, perhaps as a garden or pond.
Project organizer Ann Dynes theorized because Ms. Scripps had a garden at her nearby home (now the Museum of Contemporary Art San Diego at 700 Prospect St.), perhaps the planter served as a satellite garden to overlook the ocean.
Prior to the excavation work, only a small portion of the cement structure was visible. By the end of the day, the entire planter had been uncovered.
Next, the committee will re-vegetate the area in a way that would not be affected by erosion. "We plan to watch the runoff from the drain to see where water flows for the next couple of weeks so that we can make sure to plant where it does not. But that area already looks better with the removal of … the debris," Dynes said, via e-mail.
Additionally, re-vegetation efforts are underway at the Wedding Bowl itself. That morning, 20 large aloe plants were harvested and in subsequent weeks, were stored in Whale View Point project volunteer Bob Evans' garage until they re-sprout and can be re-planted. They would fill the lower area of the Wedding Bowl wall. The upper area would be filled with plants seeded that day. "The ice plant ringing the wedding lawn was trimmed back and strewn with California Coastal Sage seed mix, which we hope the coming rains will germinate," she said.
As soon as the Wedding Bowl work was complete, crews walked a block to the south end of Whale View Point (the residential area of Coast Boulevard) to replace some plants on the hillside. With a flag marking each location a plant would go, 62 plants were installed. The flags are still in place to mark where the new plants are, Dynes said, which need adequate water, especially in its first 30 days.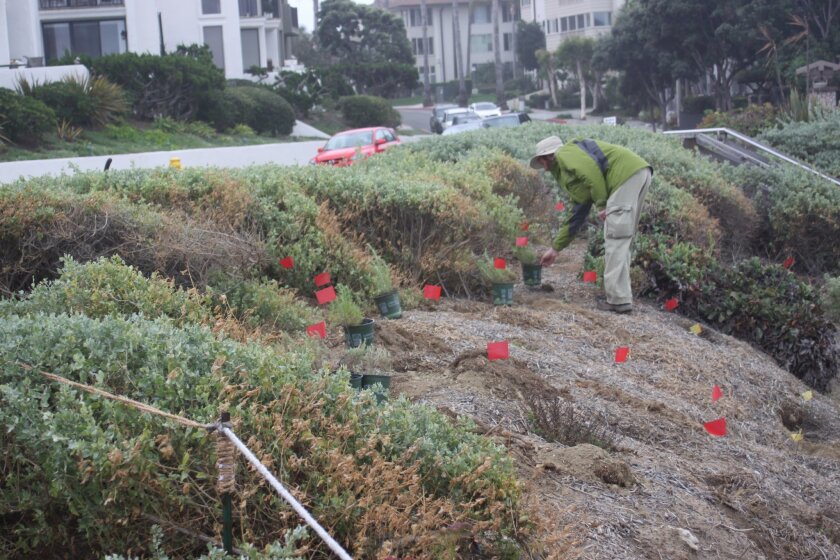 As such, Dynes is considering an adopt-a-plant program through which citizens can water the new plants to help them flourish. "I know someone who brings a bottle of water when he walks down there twice a week and pours it on this one plant. It is doing better than any of the others!" she said. "It costs us $150 for each watering by the professionals, so if we could get more private watering, it would be great!"
For more information about Whale View Point Project, visit whaleviewpoint.org ♦
---