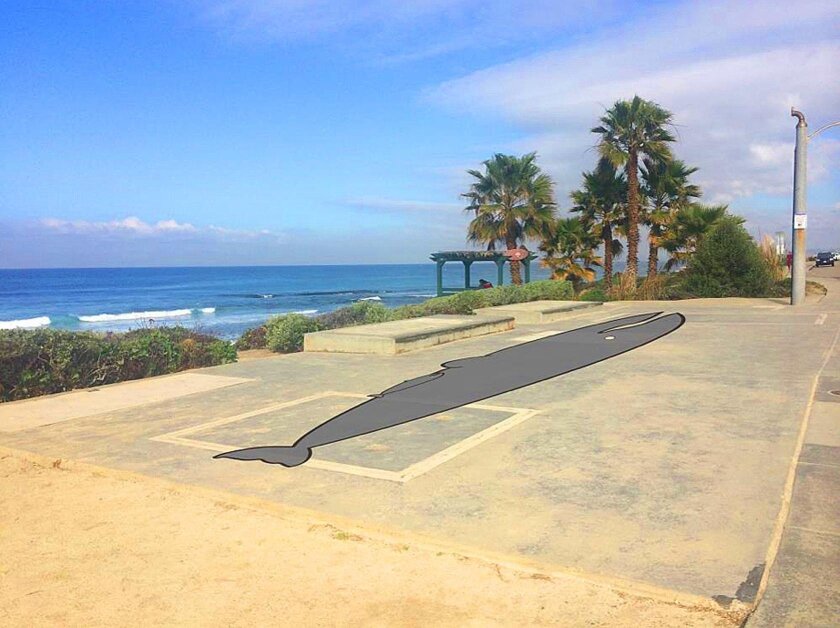 As part of the ongoing Whale View Point Shoreline Enhancement Project to improve the third-mile oceanside stretch between 200 to 600 Coast Boulevard, organizers want to superimpose a flat educational display of a gray whale near the project's southern border.
In honor of the project's namesake — and the view of migrating gray whales along the stretch at different points in the year — project organizer Ann Dynes would like to hire an artist to paint a near life-sized image of a gray whale on the cement, the specifics of which have yet to be announced.
In theory, Dynes said, "We could have the image of a whale facing southbound with a plaque explaining that California gray whales migrate in the fall. Or if we had the room, we could have a gray whale and a calf going north with some small (similar informational) signage."
Presenting tentative renderings at the La Jolla Parks & Beaches (LJP&B) Feb. 22 meeting, Dynes said she wanted to "test the waters" of the board before proceeding with something more formal.
"If the consensus of the group was to say they'd like to run with it, I will meet with artists and the appropriate city entities, and reach out to other La Jollans who should weigh-in on this," she said. "The idea is not to do it right now, but to see if there is support for it."
Thus far, Dynes said she has spoken to nearby residents and those who frequent the area on walks, and the feedback has been largely positive. "Everyone I've talked to thinks it would be charming to put something there," she said. "If you think about the people who walk that stretch every day, some don't even look out into the ocean! They see all the spouts going by (but don't know what that is). Some graphics would embellish the experience of visitors to the area."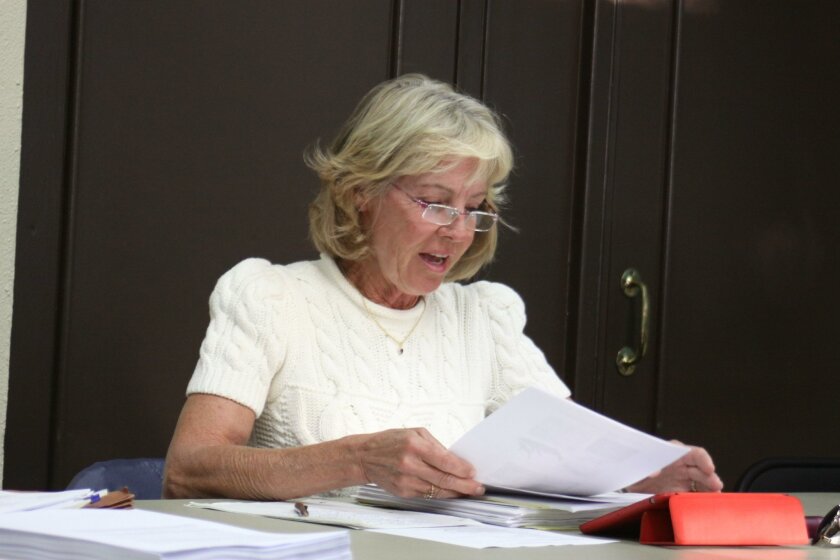 The whale image would be flat to the ground, so as not to be a trip hazard, but something that could be seen from a car on the street or those walking by. The idea to etch the outline of a whale into the cement was previously discussed, but Dynes said due to city constraints, anything that jeopardizes the integrity of the cement over the pump station found underground at that location, is prohibited.
LJP&B member Phyllis Minick noted that at similar sites where there is an educational display, an informational plaque or kiosk is usually present to explain its significance. Agreeing, Dynes said her committee would likely place a small plaque nearby.
Some form of educational display is required as part of the long-term Whale View Point Shoreline Enhancement Project, which LJP&B adopted in 2014 for implementation from the La Jolla Conservancy. The project contains several components in various areas, including replanting the Wedding Bowl, improving the walkway that extends the project area and more. The overall project is expected to take 20 years to complete and cost $2.1 million, with independent tasks tackled as funds become available.
Dynes said the educational whale graphic would not be a permanent display, but last about 10 years. Member Patrick Ahern said he would favor the installation if it was "understated" and "part of the space rather than something that jumps in your face."
Member Judy Adams Halter added, "So much of contemporary art now has people thinking about what's around them. I, too, think it can be understated and provide knowledge."
With overall support, Dynes said she would speak to different city entities to see what is permitted and return with more information. Although artists donated tentative renderings to help the board conceptualize the project, Dynes said she would also consider a call for Requests For Proposals from area artists. "This discussion today was just the first step," she said.
More Whale View Point news
Sidewalk plans coming: At this month's LJP&B meeting, a presentation will be given about the planned sidewalk along the project area. The plans originally included designs for a decomposed granite walkway to connect the northern and southern ends, but in discussions with the city, Dynes said she was able to identify funding for a sidewalk instead. To discuss the design from an aesthetic and functionality perspective before plans are finalized, a city representative will be on hand at the 4:30 p.m. Monday, March 28 meeting at La Jolla Rec Center, 615 Prospect St. lajollaparksandbeaches.org
Bench replacement gets OK: After the February meeting, Dynes reported the City of San Diego granted her permission to replace the benches at Whale View Point. "Three of the four of them have memorial plaques on them which we will retrieve and replace in or near the new benches," she said, but it was not known how much each bench will cost to replace. "This is a very exciting new project for Whale View Point and I hope that our supporters will stay tuned and maybe help us pay for the benches as the scope of the project evolves."
Table replacement plans underway: Dynes also reported that the Whale View Point committee has a plan to replace the dilapidated picnic tables at the site. "I would love to find the donors for these three plaques which are embedded on the current tables so that we can assure them that we intend to perpetuate the memory of their gifts. We would like them to contact me at anndynes@ucsd.edu. Secondly, anyone interested in helping us raise funds to do this project should go to whaleviewpoint.com and chip in. We do not have a budget yet but it won't be cheap!"
---