Let's Review: 'Way Downriver' is downright incredible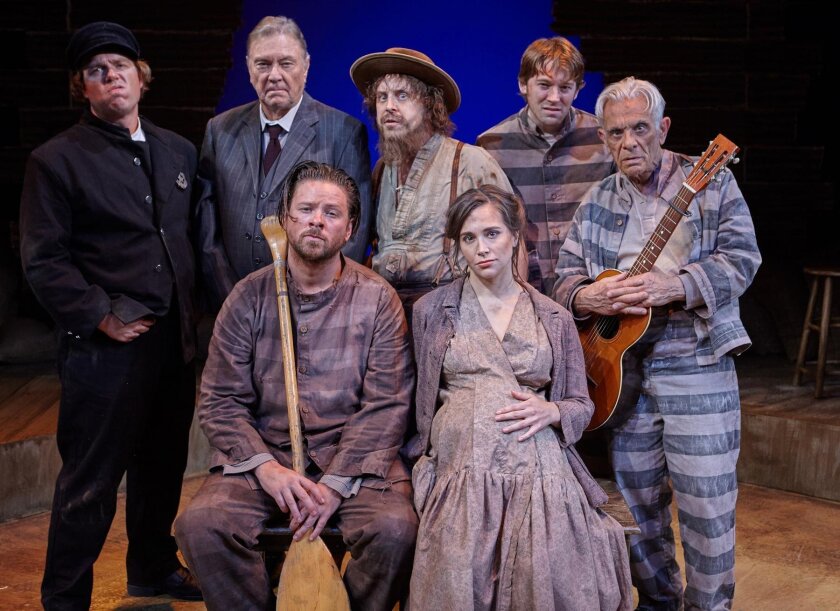 National disasters seem to be on the rise. Nightly newscasts feature tornadoes, typhoons, earthquakes, tsunamis, raging storms and floods. "Way Downriver," Edward Morgan's adaptation of William Faulkner's play "Old Man," is centered on one such disaster — the record-breaking great Mississippi flood of 1927. The story unfolds onstage at the North Coast Repertory Theatre (NCRT) through May 8.
First to draw acclaim is NCRT's Resident Scenic Designer Marty Burnett for his amazing set design, that starts off in a Mississippi jail cell with three inmates. Aikins (Richard Baird) has just returned to this cell after escaping and presumed dead. He paces the cell as he is badgered by questions from young Tommy (Benjamin Cole), who is fascinated by Aikins' bravery at trying such a thing, and he wants to know every detail. Ike (Robert Grossman), an older man glued to his guitar, sometimes answers the question for Aikiens, as if he has had an eye on the tough guy for a long time.
Aikins begins to tell his inmates the long story of what happened to him. He describes how he had to save a pregnant woman (Sara Fetgatter), and survive his capsized boat as the river rolled everything from one side to another and also changed flow direction.
David Ellenstein's clever direction artfully details the many elements of this story, which are surprising, sometimes funny, and a pure pleasure to see so well developed by the wonderfully skilled cast. Cole's youthful yearning to hear about Aikins' adventures is amusing. Grossman's role is very unique as he often fills in the words of Aikins' story, or offers an amusing comment to Tommy about a situation. Grossman is responsible for many of the laughs in this play.
Fetgatter easily transforms Ellie's personalities from a desperate, but strong, mother about to lose her unborn baby to a soft and caring woman who offers Aikins advice and motivates him with her praise. Baird, a veteran of many NCRT productions, can play any character and gives a tour-de-force performance as Aikins. He alters his physicality going from a down-trodden inmate, to a man struggling to amend his deeds, to a recovering soul who knows what he must do when challenged.
"Way Downriver" hits high scores on every level, and is one of the best shows of this season.
IF YOU GO: 'Way Downriver,' runs through May 8 at the North Coast Repertory Theatre, 987 Lomas Santa Fe Drive, Solana Beach. Tickets from $43. (858) 481-1055. northcoastrep.org
---
Get the La Jolla Light weekly in your inbox
News, features and sports about La Jolla, every Thursday for free
You may occasionally receive promotional content from the La Jolla Light.