Trip to Southeast Asia inspires young La Jollan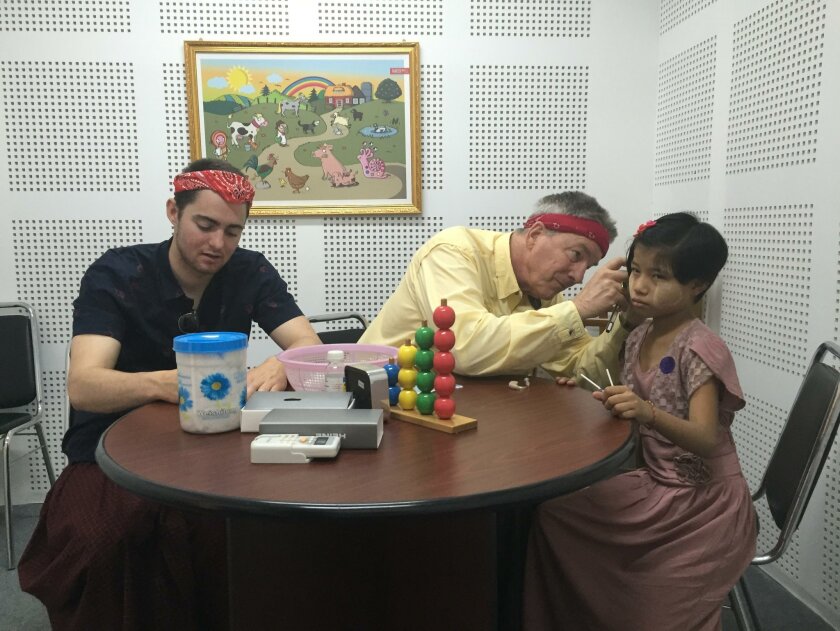 Last March at the Mary Chapman School for the Deaf in Yangoon, Myanmar, 21-year-old La Jolla resident Spencer Kennedy had a life-changing experience. He was touched by the life of a five-year-old who received a hearing aid device two years prior to Kennedy's visit and not only could hear and respond to sounds, but was able to recite the alphabet. "(He) was learning at a similar level to other children and socializing with them. Without the hearing aids he couldn't hear at all," Kennedy explained.
Kennedy spent three weeks in Miammar, Cambodia and Vietnam volunteering with the San Diego organization Americans Helping Asian Children (AHAC). On the trip, he delivered scholarships, hearing aids and helped provide medical attention for children at risk. AHAC promotes two trips per year to Southeast Asia so volunteers can make sure the funds raised by the organization are used to help children who don't have families, live in poverty or have disabilities. The volunteers pay for their own trips.
During his visit, Kennedy had the opportunity not only to help others but see and experience a very different part of the world. "Even coming out of the cab I was overwhelmed with emotion; I was just seeing everything, feeling everything," he said.
Among the experiences he highlighted, was a ceremony he attended at a university in Ho Chi Minh City, Vietnam. There, he ate the fried head of a chicken, which is considered an honor locally. During the ceremony Kennedy also connected with a young man more or less his age, who showed him around and gave him insight into what it means to be a poor child in Southeast Asia.
"He came from a very poor family, and he was able to study thanks to a scholarship AHAC donated … This had given him a sense of affirmation. He was very inspiring," Kennedy said.
Geoffrey Smith is Kennedy's uncle and a retired doctor from La Jolla. Smith has been collaborating with AHAC since the 1990s, and more actively after he retired in 1999. "It's a superb experience," Smith said.
He emphasized how more than 90 percent of the money AHAC raises goes directly to children in need. "Some charities have advertising, marketing budgets … AHAC doesn't. I like that a lot," Smith said.
It was Smith who encouraged his nephew to volunteer and funded most of Kennedy's trip. The rest of his expenses were covered with the wages from his job at a hotel in La Jolla.
Kennedy said he is getting ready to continue his higher education at UC Davis in the fall. He highly recommends other young people take a year off after high school and travel or volunteer before starting college. "This experience has made me mature as a person, and has elevated my determination and maturity in relationships," he said.
▪
WANT TO KNOW MORE? Visit ahac.org or call (619) 297-7575.
---
Get the La Jolla Light weekly in your inbox
News, features and sports about La Jolla, every Thursday for free
You may occasionally receive promotional content from the La Jolla Light.