Sehgal sends Vikings home from Petco as winners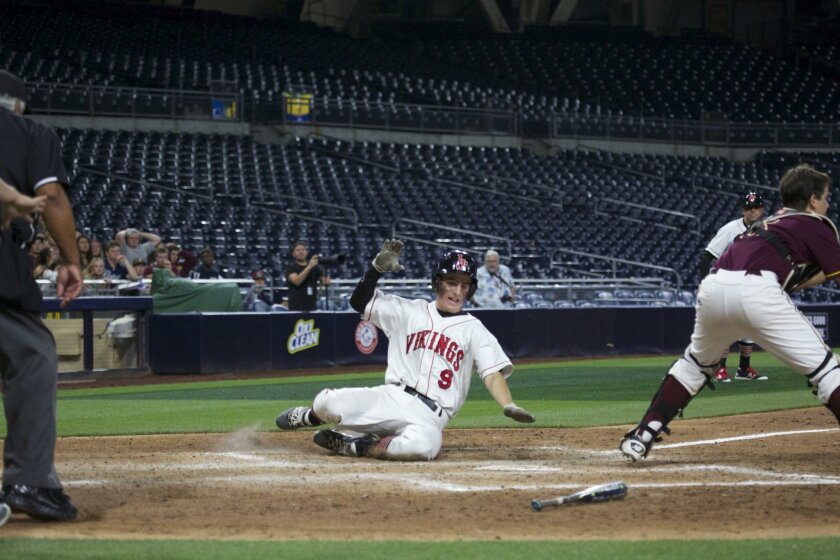 Tickets may have been a bit cheaper on Monday night for the game at Petco Park, but fans watching La Jolla High edge Point Loma, 4-3, got just as much excitement as any San Diego Padres game.
After trailing for the entire contest, the Vikings used an infield single, an error and a balk by a Pointers reliever to tie things at 3-3 in the bottom of the seventh and final inning. Two batters later, junior Zach Sehgal smashed a walk-off RBI single up the middle, sending La Jolla senior teammate Ben Wintringer across the plate for the winning run.
"I knew I was going to come through, that's just the way I play, with confidence," Sehgal said while standing in front of the dugout that his team had borrowed from the Padres for the night.
Sehgal's smash was the second walk-off hit Petco Park had seen in three days as Pads standout Melvin Upton Jr. won Saturday's game with a 14th-inning home run.
"I got my pitch, I'm a lowball hitter. The ball came in, I told myself this is my pitch right here … I stayed short and the rest is history," Sehgal. "(This team) fights. We fight to the end. That's just how we play. I'm happy for the guys. (Playing at Petco Park) was a great experience. Especially with our crowd out here, it's something I'll never forget."
That crowd of more than 300 and the special surroundings may have contributed to some sloppiness for both teams. In the top of the first inning, Point Loma (8-9, 0-3 Western League) put some pressure on the Vikings defense, forcing a pair of errors.
The first Pointers' hitter, Mathew Amberg, led off with a bunt single and teammate Aidan Yackly followed suit. The juniors moved to second and third on a passed ball, then Philip Huber's groundout and an ensuing error by La Jolla (14-4, 3-0 entering Tuesday) allowed both runners to score.
Though the Viking made another error in the inning, La Jolla starter Nick Ferenczy got out of the inning. Then, the junior right-hander started rolling, giving up no runs, just two more hits and striking out four in his four-inning stint.
His Point Loma counterpart, senior lefty Cole van den Helder, was even better, allowing just three hits and one run in five innings pitched.
That one Viking tally came in the bottom of the third after senior shortstop Trenton Fudge earned a one-out walk. Senior Johnny Agbulos followed with a single, classmate Stone Scoppettuolo worked a free pass to load the bases and Wintringer's walk forced home his team's first run.
Still leading 2-1, the Pointers doubled their advantage with an unearned run in the sixth inning. In that frame, freshman Anthony Hall singled against new relief pitcher Agbulos and pinch runner Joe Pasquill scored on an error.
"I think all of the hoopla and all of the extra-curricular stuff (with playing at Petco Park) was kinda taking some of our focus away early on," said La Jolla skipper Gary Frank.
But the Vikings were laser-focused when they needed to be …
With his team still behind 3-1 in the bottom of the seventh, Fudge beat out an infield single to shortstop. Agbulos came up next and sent a single through the middle where it was bobbled by the Point Loma center fielder, allowing Fudge to score and Agbulos to get to third base.
The Pointers brought in reliever Matt Lombardi to settle things down, but the tall right-hander balked home Agbulos on his second pitch, tying the game at 3-3.
With the momentum all in the La Jolla dugout, Wintringer and catcher Garrett Brown hit back-to-back singles to set up Sehgal's winning poke.
"It's what we preach to our kids, it's what they've been doing all year, play all 21 outs," Frank said. "We battle, we fight, we scratch to the very end. We've got a lot of heart on this team and they showed it here (Monday) where they never gave up against a good team.
"To come up with a win, at probably the biggest venue most of them are ever going to play at, made it a fun night all the way around."
Fudge reached base in all four of his plate appearances — finishing 3-for-3 with a double and a walk — while Agbulos went 2-for-3. In addition to his key seventh-inning hit, Brown also threw out a runner attempting to steal in the second.
The Vikings took on Bishop's on Tuesday before a showdown at Madison on Friday.
For the Pointers, Amberg was 3-for-4 and Yackly added two hits. Point Loma hosts Mission Bay on Friday.
---
Get the La Jolla Light weekly in your inbox
News, features and sports about La Jolla, every Thursday for free
You may occasionally receive promotional content from the La Jolla Light.