'Toxic Avenger' onstage at La Jolla High April 22-29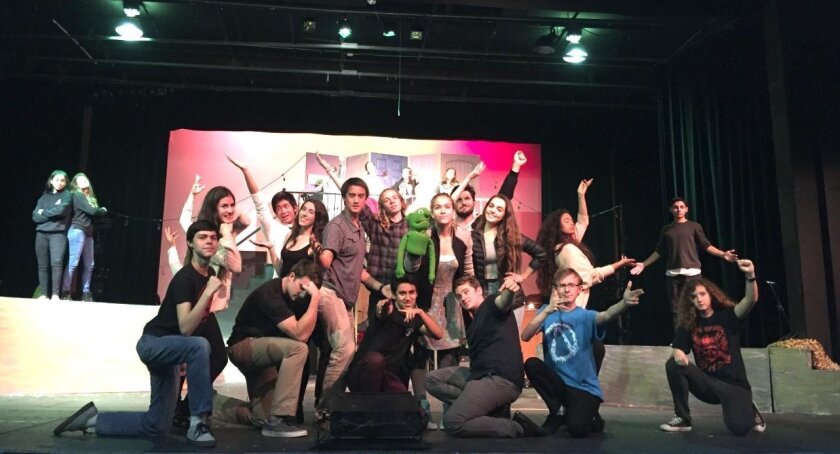 A seven-foot mutant, a blind pretty librarian, corruption, pollution, and rock 'n' roll are the main elements of the La Jolla High School (LJHS) PG13-rated spring musical.
"The Toxic Avenger" premieres 6:30 p.m. Friday, April 22 with performances at the same time on April 23, 28 and 29 in the school's Parker Auditorium, 750 Nautilus St. A special pay-what-you-can performance will be presented at 2:30 p.m. April 27.
"We have some special tricks up our sleeve," said director Marjorie Treger. "I teach the technical theater classes and we have been working really hard to create some special effects, make up and costumes, so I think it's going to be a lot of fun." More than 50 kids are working on the production, including seven students who will play the live music of the show. "Good sound, rock music, nice and loud," said Treger. David Bryan, keyboardist and founding member of the rock band Bon Jovi, wrote the play's music and lyrics.
The musical is based on a cult film from the 1980s that became a comic book and a cartoon series. The storyline is irreverent and covers contemporary topics such as global warming. In the end, it's the ultimate superhero story where everything went wrong.
Melvin Ferd the Third is an unlikely hero. He mutated after being dumped into a vat of radioactive toxic waste. Now he wants to clean up Tromaville, the most polluted town of New Jersey. He will use his super-human strength to fight a corrupt New Jersey mayor, and an ensemble of bullies and mobsters.
"It's a very campy, over-the-top, funny, big show," said Treger. "Last year we did 'Anything Goes' and it was very successful. This year, we wanted to do something that was the total opposite of that to give kids different opportunities to explore big characters in a very contemporary show."
La Jolla High is one of the first schools in the nation to perform this show. "The Toxic Avenger" rights became available last year. The play was first performed in New Jersey in 2008 and since has gone to Broadway, Toronto, Texas and Hawaii. It's been rated PG-13 due to adult language and content.
▪
IF YOU GO: Reserved seats are $18. Advance tickets $7-$12. At the door $10-$15. (858) 454-3081, ext. 4402.
---
Get the La Jolla Light weekly in your inbox
News, features and sports about La Jolla, every Thursday for free
You may occasionally receive promotional content from the La Jolla Light.