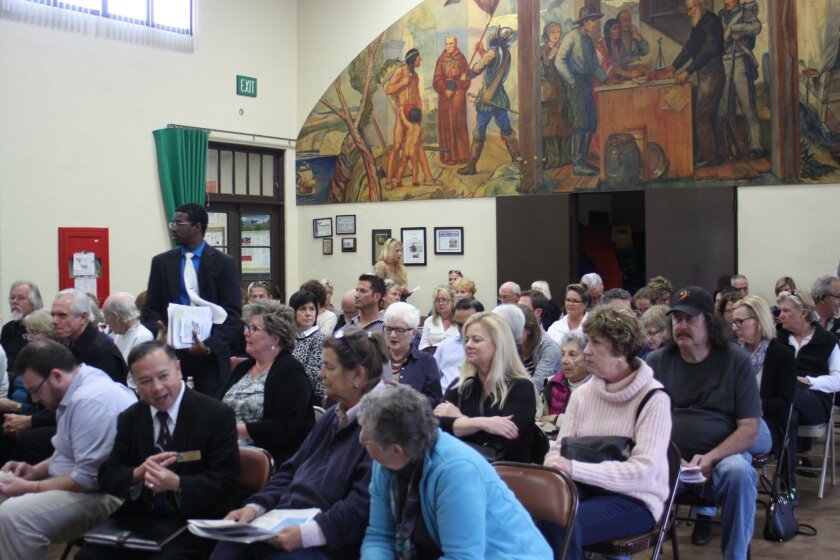 Tensions ran high during the La Jolla Town Council forum on the contentious issue of Short Term Vacation Rentals, March 10. With dozens wearing yellow stickers to show their support for the Save San Diego Neighborhoods (SSDN) association, an organization opposed to the practice of making ones house available for rent to visitors, the La Jolla Rec Center was packed to its edges to hear information and debate.
The Town Council ultimately voted to support SSDN's efforts to prohibit short-term vacation rentals in residential zones, after hearing from SSDN member Ronan Gray and head of the San Diego Vacation Rental Managers Alliance Jonah Mechanic.
The forum was held to update La Jollans on the issue, proposed regulations for which have been explored at the city level for upwards of a year. In December 2015, the San Diego Planning Commission reviewed a plan months-in-the- making by City Councilmember Lorie Zapf, which was intended to create short-term vacation rental regulations that alleviate noise, safety and other community concerns. The proposal was rejected and it was suggested plans be retooled before Commissioners could support it. A date for another presentation has not been announced.
At the La Jolla Town Council forum, both sides presented their positions and answered audience questions, some generating heated emotions regarding safety and community fabric. Many of the questions were presented to Mechanic, from SSDN supporters and others opposed to short-term vacation rentals.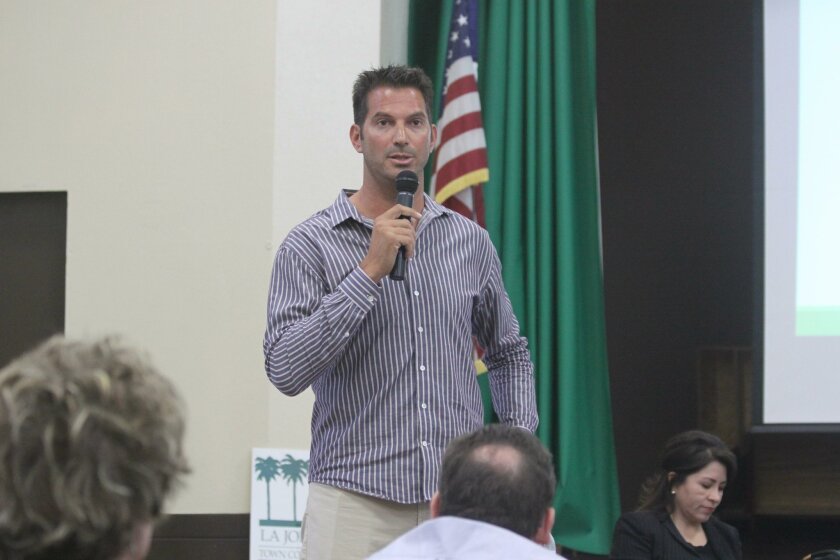 Part of SSDN's mission, according to its website, is "to rid our communities of absentee-owner commercial mini-hotels" by banning them entirely in residential zones.
However, Mechanic argued that bans in other tourist destinations have not worked, and so his group favors regulations that create a code of conduct and enforcement to regulate it.
"If we pass a ban, like they did in Palm Springs … it forces all the good operators out and the bad operators to go underground," he said, noting that in Coronado, vacation rentals of less than 30 days are currently banned, but he was able to find 416 rentals listed. "Clearly their ban is not working," he said.
Instead, he said he would like to see new regulations incorporated in city code that clearly address short-term vacation rentals. Currently, the San Diego Municipal Code has a section labeled "visitor accommodations," but it does not include short-term whole-house rentals (which some have taken this to mean if it is not listed as illegal, it must be legal).
"As divided as you think we are on this issue, we would like to come together as a community, work with all groups involved to come up with common sense regulations that work for everybody," Mechanic said.
These include charging a fee for a short-term vacation rental license, for which the city currently does not charge; mandating that the first line of any rental listing include the license number, to insure the host is registered with the city; designating a 24/7 point of contact when the house is being occupied for both the guest and the host; capping the occupancy at two per room, plus two; presenting a neighborhood code of conduct and imposing fees for those who do not follow it.
The fees collected through licensing and code of conduct violations would fund the enforcement needed to make sure these rules are followed. "Enhanced enforcement (is needed) via additional, dedicated, law enforcement that works nights and weekends, and use the city's administrative citation policy to allow for immediate citations for violators on both homeowners and the occupants," Mechanic said. "This is something we feel very strongly about. Yes there are bad hosts out there, but more importantly, there are bad guests. You could be a great host and have a bad guest. If you have a bad guest, the guest should be fined just as much as the host should be fined."
Unconvinced that the proposed regulations – which have been heard at City Council and other city agencies – would be an effective deterrent, the Town Council voted to support efforts to ban short-term vacation rentals, and requested the city's municipal code section on visitor accommodations to vetted to include or preclude short-term vacation rentals.
Town Council president Steve Haskins said he would write a letter to the City Council and the Mayor's office stating the council's position.
— La Jolla Town Council meets 5 p.m. second Thursdays at La Jolla Recreation Center, 615 Prospect St., La Jolla. lajollatowncouncil.org
••• La Jolla Light's POLL OF THE WEEK:
---