Speaker Emeritus Toni Atkins honored three La Jolla women as part of the Women of the Year luncheon March 18 at a private event in Mission Bay.
"These are extraordinary women doing extraordinary things and we want their efforts to be acknowledged," Atkins said. "I'm so pleased to celebrate Women's History Month by recognizing women for their generous contributions to our communities."
South Park resident Linda LeGerrette, co-founder of the Cesar Chavez Service Clubs, was honored as the 2016 Woman of the Year. The accomplishments and contributions of 26 other local women were also recognized.
La Jolla honorees include: Mary Coakley Munk, who founded Friends of La Jolla Shores and worked on a number of modernizations and improvements to Kellogg Park; Monica Montaño, who is the director of community relations at Scripps Health and chair of the South County Economic Development Council; and Jazzalyn Livingston, a UCSD senior, one of four local college students being honored for the leadership they've shown in their campus communities.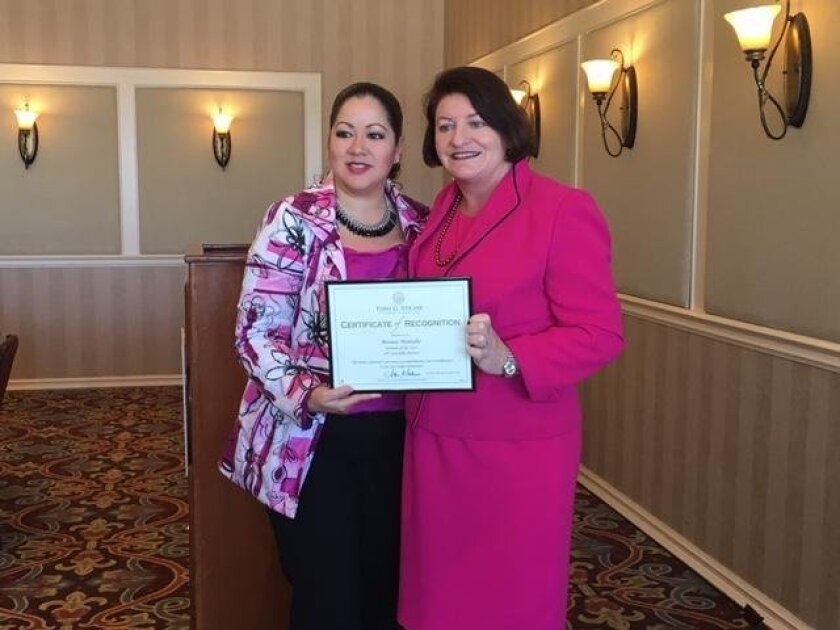 Other honorees include: Carin Canale-Theakston of Mission Hills, Dr. Cecilia Carrick of Point Loma, Alicia De León-Torres of South Park, Melanie Delgado of University City, Andrea Guerrero of North Park, Shana Hazan of Kensington, Roseanne Holliday of Del Mar, Suzanne Ledeboer of Normal Heights, Anne McDaniel of Pacific Beach, Nan McGraw of University Heights, Cheli Mohamed of Hillcrest, Candy Unger of Imperial Beach, Kelly Waggonner of Talmadge, Peggy Walker of Solana Beach, Heidi Wilson of Coronado and Rosalind Winstead of Hillcrest. —Ashley Mackin
---