Building 'Hearts of Compassion'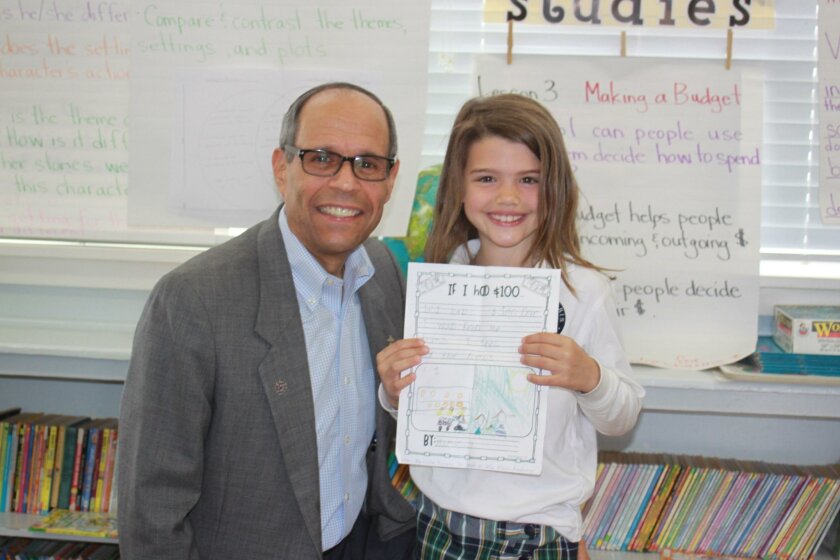 When six-year-old Mariella Smith and her class at Stella Maris Academy were tasked with a writing assignment on the topic: What you would do if you had $100? Mariella wrote that she would give it to help homeless people.
When the first-grader brought her letter home, mom Gina asked her if everyone else in the class answered the same way she did. "She told me most kids said they wanted toys or something from Star Wars or had other aspirations, but this was how she would have used $100," she said.
Moved by her daughter's kind-hearted response, Gina wrote a check to Father Joe's Villages for $100. "She actually wanted to give it to a homeless person directly," Gina said, "but instead we decided to send her letter with a check to Father Joe's. We don't do an allowance yet, but we wrote the check to honor what Mariella likes. I want to nurture this piece of her. That's my job."
To recognize Mariella's compassion, the CEO of Father Joe's Villages and Stella Maris deacon Jim Vargas, stopped by her classroom April 22 to say thanks. After a brief discussion on the many ways to help Father Joe's Villages and in turn, help homeless people, Vargas recognized Mariella and thanked her for her gift.
"For $100 we can feed 50 people for a month, but there are a lot of things we do with donations based on the need," Vargas explained to La Jolla Light post presentation. "We have a therapeutic child care center so we can work with homeless children before they start school. We also have a medical clinic staffed by pediatricians, so $100 could have a huge impact depending on where we use it."
In addition to Mariella's assignment, third-graders at Stella Maris are studying the Seven Corporal Works of Mercy: To feed the hungry, to give drink to the thirsty, to clothe the naked, to shelter the homeless, to visit the sick, to visit the imprisoned, and to bury the dead.
In a group exercise on the first three, the third-graders held a canned food and clothing drive, which was also earmarked for the needy at Father Joe's Villages.
"It's so amazing that at this young age, children are thinking of others. It's so very important because these are our future leaders and we need them to be compassionate people," Vargas said. "They realize that they are blessed, and with that comes certain obligations to take care of those who are not so blessed. They are building hearts of compassion."
---
Get the La Jolla Light weekly in your inbox
News, features and sports about La Jolla, every Thursday for free
You may occasionally receive promotional content from the La Jolla Light.