St. Jordi Jubilee
After experiencing the grandeur and lore of St. Jordi's Day in Barcelona, Spain last year, Nancy Warwick of Warwick's bookstore decided to bring the celebration to La Jolla. On Saturday, April 23 from 10 a.m. to 4 p.m., Warwick's will host a St. Jordi's Day Festival with a day full of traditional activities at 7812 Girard Ave.
The Catalan (in Barcelona) version of Valentine's Day, St. Jordi's Day is celebrated by lovers exchanging books and red roses in the town square. As the legend goes, a dragon terrorized a medieval town, with no hero in sight to save the day. According to one version of the tale, frustrated that the royal family would not send someone to help, the villagers decided a princess would be sacrificed to the dragon. Enter Saint George (Sant Jordi in Spain), a knight who came to save the princess — and the townspeople — by slaying the dragon. After the village was saved, he then plucked a red rose to give to the princess.
In addition to celebrating the heroics of St. Jordi, the event honors literary personalities Michael de Cervantes, William Shakespeare and Inca Garcilaso. As such, the festivities include men giving their sweethearts a red rose, and they in return, get a book. Reportedly, more books are sold on St. Jordi's Day in Barcelona than the rest of the year combined.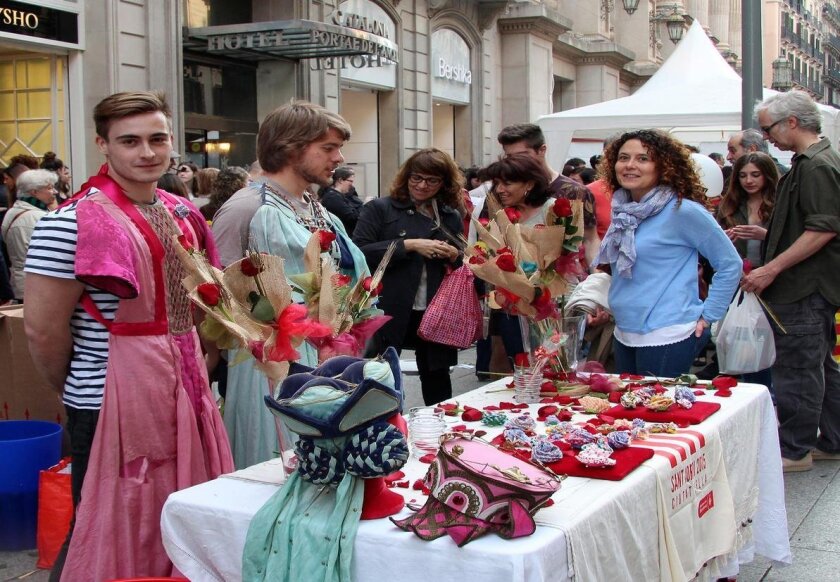 "Nothing can prepare the first-time visitor for the floods of people who take to the streets in Barcelona in an enthusiastic celebration of literature and romance," Warwick said. "It is simultaneously romantic and a celebration of the intellect. How could we not introduce such a festive tradition to Warwick's and our La Jolla community?"
Added volunteer Stacey Haerr, "In Barcelona, they shut down the streets, and booksellers and publishers put booths all up on the streets and sell books all day. They also have people reading sonnets and actors break out into plays. They know how to celebrate and have fun — so we're trying to emulate that."
At the local celebration, representatives from Penguin and Random House publishing will provide their top book recommendations and Adelaide's Florist will sell roses. Throughout the day, music professor and classic guitarist Fred Benedetti will play Spanish music. At 11 a.m. and 2 p.m. costumed volunteers will lead a storytime for children. Starting at noon, Spanish bites (particularly Paella) will be served. Periodically, a gallant knight will read works by Cervantes. Raffle drawings will also be held every half hour from 10:30 a.m. to 4 p.m. There is no charge for admission.
"It's going to be a cultural event we have not had before and an introduction to a Barcelona tradition," Haerr said. "It's a chance for people to share their love of books with those they love. Plus, children will get to participate in a new festival they might never have heard of."
Children are encouraged to come dressed up as a knight or a princess, and Haerr alluded that a few Warwick's employees will do the same. For storytime, there will be a costumed knight and dragon. Because the event will be heralded as "a day of celebrating literacy," 10 percent of proceeds will go to the libraries of La Jolla's elementary schools: La Jolla, Bird Rock and Torrey Pines.
More information at (858) 454-0347 or visit warwicks.com/event/st-jordis-day
▪
When: 10 a.m. to 4 p.m. Saturday, April 23
▪
Where: Warwick's Bookstore, 7812 Girard Ave.
▪
10 a.m. to 4 p.m.: Penguin and Random House will provide book recommendations and Adelaide's will sell roses.
▪
11 a.m. and 2 p.m.: Costumed volunteers will lead storytime for children.
▪
Noon: Spanish food will be served.
▪
Periodically, a knight will read works by Cervantes.
▪
Every half hour, 10:30 a.m. to 4 p.m.: Raffle drawings
▪
Throughout the day: Guitarist Fred Benedetti will play Spanish music.
---
Get the La Jolla Light weekly in your inbox
News, features and sports about La Jolla, every Thursday for free
You may occasionally receive promotional content from the La Jolla Light.