La Jolla High School's boys varsity basketball and soccer teams made it to the CIF championships in their divisions early this month. In a La Jolla square-off, the Vikings competed against the La Jolla Country Day School Torreys March 4 in basketball. Vikings soccer took on – and defeated – Lincoln High School on March 5, giving them their first CIF win in 18 years.
Soccer
Although the soccer season started with its share of issues, Coach Marcos Gonzales said, in the last few weeks, the team turned things around – and just in time for a CIF victory in Division IV, 4-1.
"Discipline and injuries were a factor in the team not being the best they could be earlier this season, but they had the right work ethic," he said. "We had been lacking communication and volume this season; these last few weeks they've been louder and talking about what we need to work on."
Gonzales added, "When we were getting closer to a championship, I told my boys to be greedy and get the wins. They've always been fun, they led by example, and we have a couple of leaders who are the backbone of the team." Gonzales said he relied on these leaders — goalie Tai Nguyen, center-defensive players Jack Barone and Noah Shen, and center-mid player Andrew Estrella.
At CIF, "Our guys on offense did their job and knew what to do. Our defense was strong and held us down so we had a chance to win," he said. The young team is made up of four seniors, six to eight juniors, eight sophomores and one freshman. Credited with playing an organized and strategic game, the Vikings sealed the deal with a penalty kick by Barone.
Basketball
In a high-scoring back-and-forth game, the Vikings took on the Torreys March 5, but the Torreys took home the win 66-61.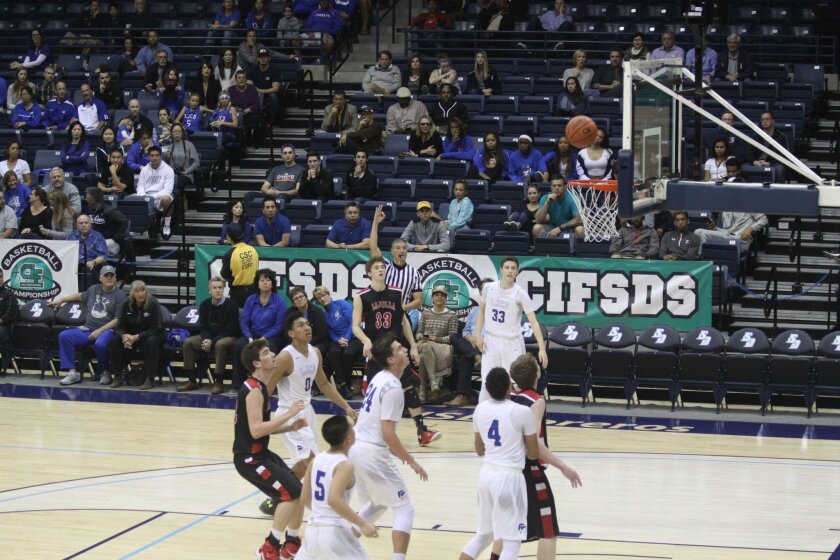 Going into the game, Vikings coach Paul Baranowski said, "The team is completely in this for each other, while there are some designated leaders on the team, everyone has the ability to step up when someone is struggling. They are a nice group to be around."
The team leaders include: Reed Farley, credited with being a coach on the floor with a high basketball IQ; Eddie Parker, a co-captain to Farley; Alex Pitrofsky, who provided a big scoring punch all season; Morgan Albers, who provided a boost from the bench; and Nick Hammel, who had a strong defense presence all season.
In other sports news:
Baseball hosts alumni opener: On March 5, the baseball team kicked off the season with its annual tradition of taking on some Viking alumni. The current players defeated the alumni team (representing seven decades of Viking baseball), 13-3. Seemingly a huge victory, Viking coach Gary Frank said, "This was a very close game until the seventh inning and was one of the best played alumni games we have had. The alums were very competitive and proved to be a challenge for our varsity team." The Vikings started the season March 8 against Mira Mesa at home.
Girls basketball, soccer close seasons: The sister teams to those that made it to CIF, girls Vikings basketball ended its season 7-15 overall and 3-8 in the league; girls Vikings soccer ended the season 5-12-4 overall and 1-4-2 in the league.
Wrestling advances players: The Vikings newly revived wrestling team had "a great season and we are right on track in terms of building our young program," said coach Kellen Delany. "We qualified two wrestlers for the CIF Master's tournament (sophomore Elliot Austin and senior Jake Harvey). We did not qualify anyone for the State tournament this year, but with the young talented wrestlers we have now, the State tournament is the goal for the coming years."
---