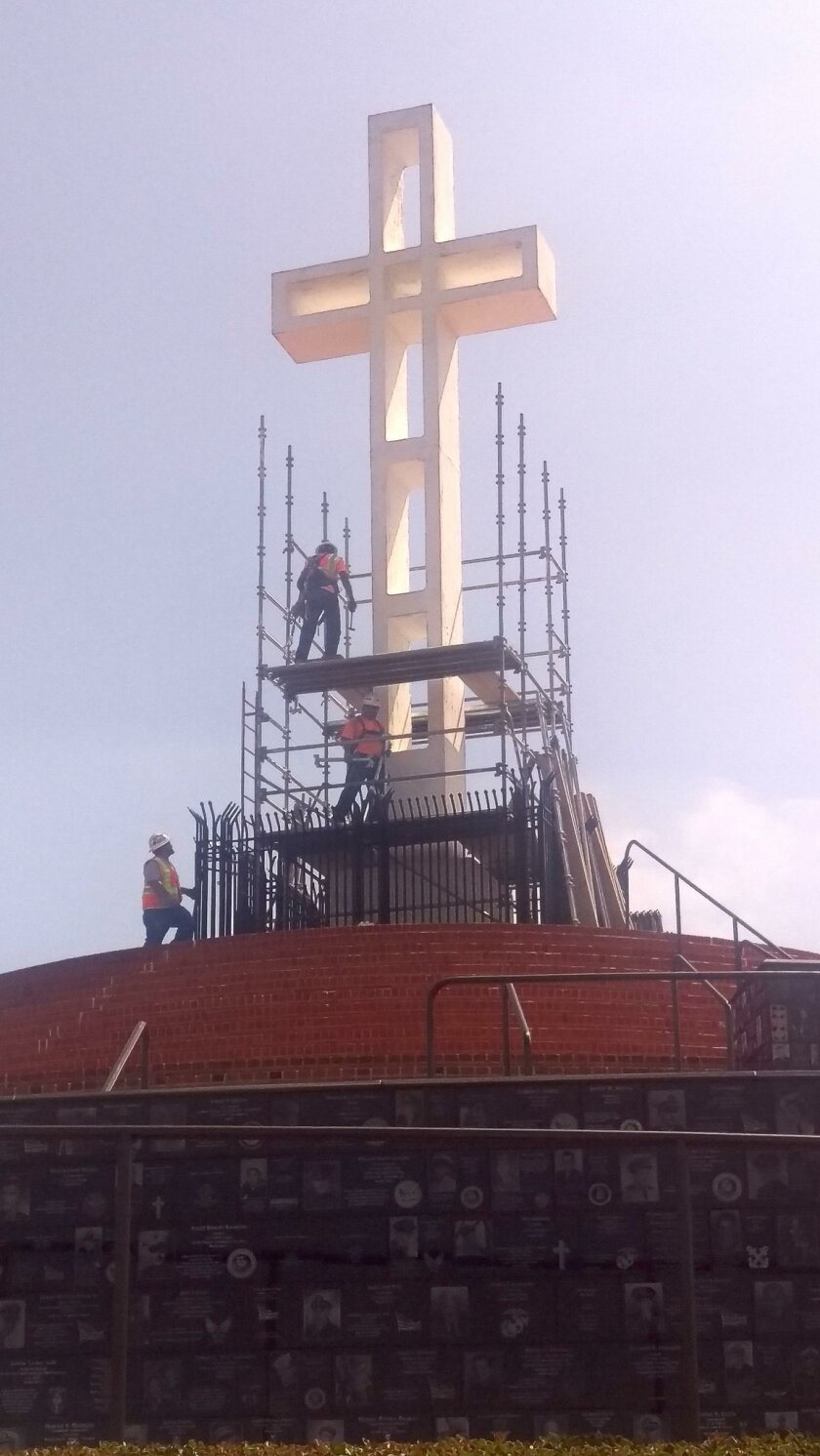 The large white cross atop the Mt. Soledad National Veterans Memorial is getting a much-needed facelift, courtesy of a number of local business volunteers, and the McKinnon Family Foundation, which has given the Mt. Soledad Memorial Association a gift to be used strictly for the maintenance of the cross.
The cross is now surrounded by scaffolding as many years of weathering and wear are being scrubbed away and a new coat of paint is added. It has been determined by an engineering company that after "all these years ... since 1954," the cross is still structurally intact.
The 29 foot-high cross, which can be seen for miles, anchors the Mt. Soledad National Veterans Memorial, where more than 4,200 service members, living and deceased are honored with plaques. It is the only memorial of its kind in the nation, honoring veterans from the Revolutionary War to the present day, and draws more than 70,000-visitors annually.
Several local contractors have agreed to donate their expertise and services for the cross renovation:
▪ Initially, the Cross and base will be scaffolded. This work and the painting portion of the project will be handled by Pecoraro Inc., a San Diego company owned and operated by Nick Pecoraro, whose father started the business in the Little Italy area 42 years ago.
▪ Following the scaffolding and protective covering, R. W. Little, a SanDiego company for more than 70-years, will water-blast the Cross and sandblast the base in preparation for refinishing.
▪ Vista Paint will donate all of the paint necessary for the work.
▪ T.B. Penick & Sons, a San Diego company for more than 105-years, will completely prep the cross, then begin detailed sand and patch application to smooth out and remove imperfections prior to painting by Pecoraro Inc.
▪ SMR Structural Engineers had previously examined and confirmed the structural integrity of the cross.
▪ Rock Electric, a long-time San Diego contractor, contributed significant work in bringing electrical power to the site.
▪ All of the cross rehabilitation work has been and will continue to be coordinated by Harvey Rogoff of MTB Builders Inc., a minority-owned small business general contractor located in Chula Vista.
"This is just another example of the tremendous public support we have gotten," said Executive Director Bob Mulrooney. "The Memorial has become such an important part of the San Diego community, and we're just delighted it will have a new shine to it for our annual Memorial Day event."
That event, set for 2 p.m. on Monday, May 30 will honor President Theodore Roosevelt whose namesake aircraft carrier is now home-ported in San Diego. The keynote speaker will be Captain Craig Clapperton, commanding officer of the ship.
The ceremony will also include music provided by the Marine Corp band and a flyover.
—For more information on the Mt. Soledad National Veterans Memorial, visit soledadmemorial.com
---