'A never ending battle' Shores street work face delays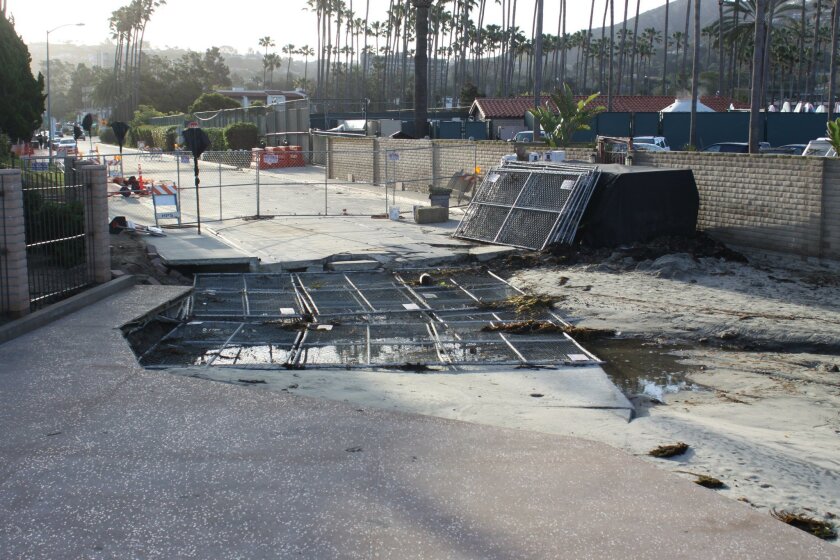 La Jolla Shores residents and business owners hoping for a reprieve from the ongoing street work along Avenida de la Playa and adjoining streets will have to wait a little longer. Make that a lot longer.
Already more than two years in the works – with breaks during the summer and holiday construction moratorium – plans to fix the sewer and water underground infrastructure continue to face major setbacks that will add to the construction schedule. The work was expected to be complete at the end of 2015.
At the March 9 La Jolla Shores Association (LJSA) meeting at Scripps Institution of Oceanography, City of San Diego engineer Steve Lindsay said recent storms tested the mettle of the recently replaced underground storm infrastructure systems, and they did not pass.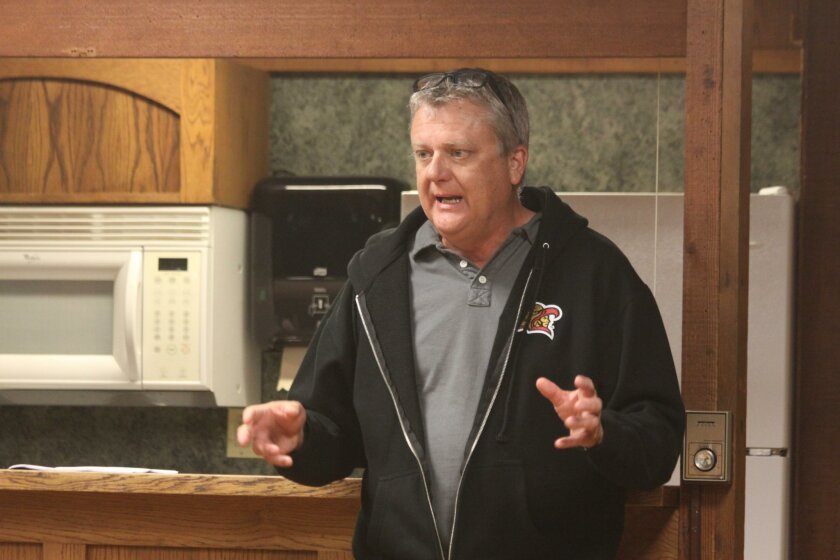 Drain systems such as box culverts, which protect the sewer and water mains; outfall structures, which discharge water from desalination plants to the sea; and water mains, have not held up to the requirements for which they were designed. "We typically design our conduits to withstand a 50-year storm, but the (current systems) can only handle a 10-year event under the best of circumstances. We're having engineers look at that," Lindsay said.
In the storms that have taken place just this year, a sinkhole opened up at the end of Avenida de la Playa and manhole covers have blown off because they couldn't hold up to the pressure. This is coupled with issues from last year, including large structures not being sized correctly and needing to be taken out and replaced, and work taking longer than expected.
"We've hired a new engineering firm and are looking at some form of recourse for the first firm that designed the infrastructure that failed. We already have a claim against them for the first round of issues (from last year and 2014). We're tracking all the changes, how much they will cost and go from there," Lindsay said.
City crews must suspend work on Memorial Day for the summer construction moratorium, and will resume after Labor Day. Not intending to wait until Memorial Day, Lindsay said he and his crew would work to get the end of Avenida de la Playa stabilized and paved as soon as possible, to open the boat launch access point for ocean recreation. During the summer moratorium, he said they would develop a permanent solution.
Crews will also determine whether it would be most effective to work piecemeal to fix problems they've already discovered or take out the recent work and essentially start over.
Lindsay said he expects crews to be working on this project through the winter, but could not project beyond that.
He did note, however, that as soon as the sewer and water main replacement job is complete, SDG&E will move in and begin an undergrounding project for the Shores. "We thought there would be a break in between, but the undergrounding is going to come right after we get done. It's like a never ending battle," he said.
Citywide, overhead power lines are going underground, and all utility providers involved will install their conduits in one trench. The city estimates that nearly all residential areas will be undergrounded within the next 53 years. The Shores area was scheduled for undergrounding, which typically takes 18-24 months, by a drawing of lots. However, SDG&E crews and city crews coordinated to make sure one project would follow the other, rather than working concurrently.
Once the projects are complete, the street will be repaved, initiating a five-year moratorium during which time no work that involves trenching can take place.
---
Get the La Jolla Light weekly in your inbox
News, features and sports about La Jolla, every Thursday for free
You may occasionally receive promotional content from the La Jolla Light.