Engineer discusses Shores street construction setbacks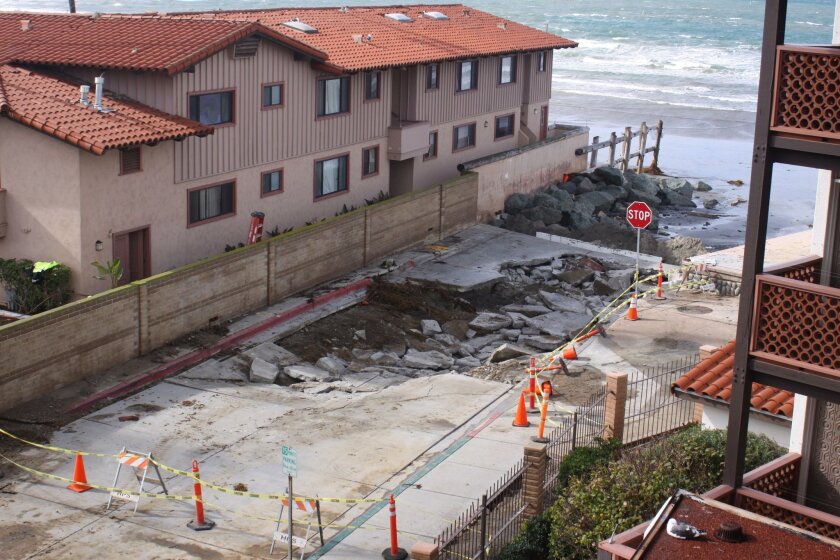 Although the jackhammering and construction vehicles in La Jolla Shores will be temporarily silenced at the start of the summer moratorium (Memorial Day), there will be a lot taking place this summer to get the project to replace underground sewer and water infrastructure back on track.
In progress since December 2013, and scheduled for completion in late 2015, the street work has seen multiple problems that put the project behind schedule. Among them: the sinkhole that opened up at the end of Avenida de la Playa after a storm surge, collapsed storm drains, drain systems not holding up to the requirements for which they were designed and infrastructure not being sized properly (thus needing to be replaced).
During the La Jolla Shores Association April 13 meeting, San Diego Civil Engineer Steve Lindsay said city engineers would take the summer to address these problems and redesign the plans to ensure no further delays and that the work is done right.
The first step in making sure work going forward will not see the same setbacks was to dismiss the former engineering firm Tetra Tech and hire Rick Engineering to draft the designs.
"As far as we can tell, the fault lies with poor planning," he said. "We will have a lot of people looking at this and investigating, we have insurance companies going up and down the street, taking photos and so on. It could be a contractor issue, but I think the problem was the design. But the investigators will find what they find."
He added that a legal claim has been filed against Tetra Tech and more could be coming. "We tracked the additional charges (because of the design errors) and estimated a cost and said, 'you owe us this much.' We will go through the process needed to reclaim any lost dollars," Lindsay said.
Between now and the summer moratorium, he said, "We are working on the temporary repairs at the end of Avenida de la Playa. We hope to take care of a lot of problems and create a mechanism in case the water pressure does come back up, so there is a way to relieve the pressure and not create a sinkhole. We don't expect big storms this summer, but we want to be prepared anyway."
To "button up" the work on surrounding streets leading to the beach during the summer months, the street will be coated with an asphalt layer. "It will be in perfect driving condition, it just won't be as pretty as it could be," Lindsay assured.
Work at the site will resume after Labor Day.
---
Get the La Jolla Light weekly in your inbox
News, features and sports about La Jolla, every Thursday for free
You may occasionally receive promotional content from the La Jolla Light.