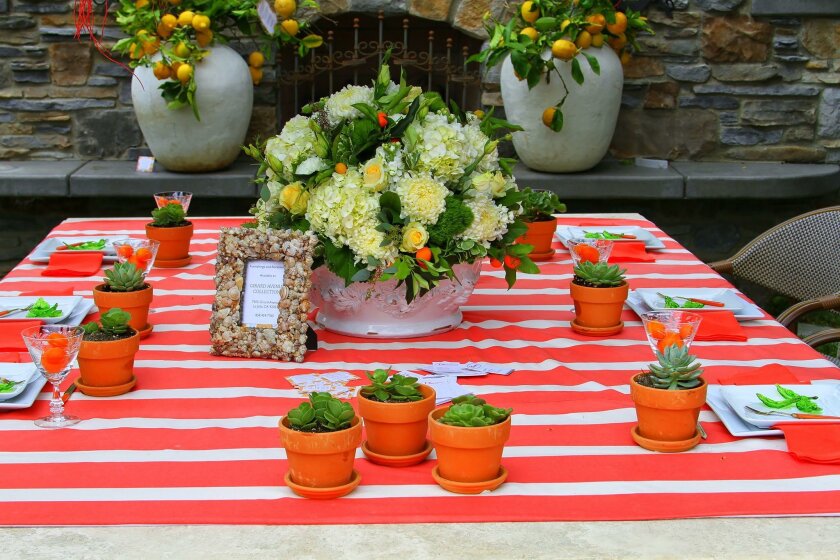 This year's Secret Garden Tour of La Jolla promises to be anything but "garden variety," said Heath Fox, La Jolla Historical Society executive director. Now in its 18th year, the annual tour is anticipated to raise $60,000 for the Historical Society and will provide beauty and inspiration to all who participate.
The tour is set for 10 a.m. to 4 p.m. Saturday, May 14, with six "secret" La Jolla gardens to be revealed the day of the event, open for viewing. The theme is California Living in Outdoor Rooms.
"Different people come for different reasons," Fox said. "Some of the gardens are going to appeal to 'plants' people. Other attendees are going to be interested in design and the way people lay out their gardens. There will be a mix of that on our tour; there will be gardens that have the influence of landscape architects and there will be gardens the homeowner has lovingly built themselves.
"Also in each garden, there will be an artist doing a painting of that location, a musician playing, and a tabletop arrangement done by different designers."
Following the tour, the paintings crafted during the tour will be on display at La Jolla's Riford Library, 7555 Draper Ave. for about a month.
There are three levels of participation on the Secret Garden Tour. Fox said the $150 Platinum Tour ($140 for Historical Society members) starts with brunch at a location to be announced, transports participants to each garden on a small bus, and includes an extra (seventh) garden, exclusive to Platinum Tour Ticket holders.
Alternatively, a self-guided tour is available for $50 ($40 for members). On the self-guided tour, participants drive themselves from garden to garden in the order of their choice. The self-guided tour check-in is at Wisteria Cottage, 780 Prospect St., where participants receive a map of the garden locations and the wristband necessary to gain entrance.
The free level of participation is The Secret Garden Boutique at Wisteria Cottage, from 9 a.m. to 5:30 p.m. Open to the public throughout the day, vendors will be on hand to sell gardening accessories, plants and gifts. A portion of these proceeds will also benefit the Historical Society. "So everyone can participate in some way," Fox said.
In addition to being a fundraiser for the Historical Society, Fox said, "The Garden Tour is also a major community event that brings people to La Jolla before the summer tourist season starts. We like that it provides a little economic activity for our retail and hospitality industries."
The Secret Garden Tour of La Jolla couldn't take place without the help of volunteers, Fox said, adding, "A lot of work has gone into planning this year's tour, and I'm very excited about it. We have great gardens and it's going to be a terrific event for the community."
— Get Garden Tour tickets at (858) 459-5335 or lajollahistory.org/events/secret-garden-tour
---