LET'S REVIEW: Globe's 'Constellations' shines bright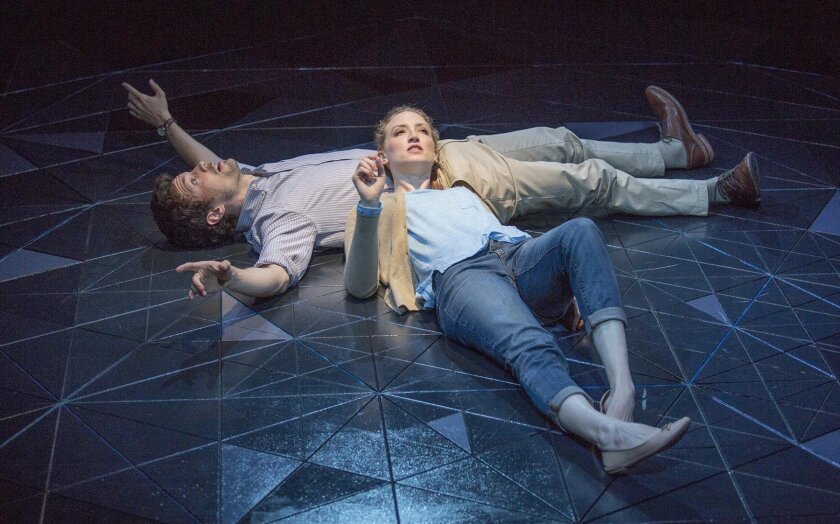 There are many wonderful things about theatrical productions — playwrights can see their ideas, strange or common, come to life; directors can identify with the theme of a play and have a hand in its exposure; actors can stretch their talents in new directions; creative teams can come together to highlight a story that will charm or escape an audience's praise.
Nick Payne's "Constellations" at The Old Globe is an example of this fine art. Marianne (Victoria Frings) and Roland (Christian Coulson) meet at a barbecue and began a conversation. He is a beekeeper, she a theoretical physicist. She approaches him and as a conversation-starter asks if he knows why it's impossible to lick the tips of your elbows.
Roland looks at her as if he can't get away fast enough and says, "I'm in a relationship."
Strangely, after a few moments, the stage lights go dim, they switch places, and then repeat their same conversation. One wonders if perhaps they didn't perform properly. But then the same thing happens again and each time their dialogue and answers change.
They talk about their careers, and Marianne finds Roland's beekeeping interesting. Yet as she makes conversation, she twitches with strange arm and hand movements. Their conversation covers many elements of their situations with short simple statements. She also utters random comments out of nowhere — like asking him if he wants to come to her house — he does, and within minutes she begs him to leave.
Roland is confused and they debate what really is going on. Marianne explains she spends a lot of time analyzing data. He turns the conversation to wanting to spend the night while she talks about String Theory. Roland apparently has one too many drinks. He likes listening to Marianne and tells her that her Quantum Multiverse explanation turns him on.
Time seems to jump and the couple is together with Marianne revealing she has a grave illness. She talks about her recently deceased mother and reveals some admissions to Roland that really upset him. It's not long before he also has confessions to make.
Payne's play is extremely different and complex in many ways. Comments from playgoers varied. Some thought it brilliant, others boring and vain, and still others remarked about its ongoing use of profanity. That's why playgoers are lucky to have theaters like The Old Globe that bring a wide variety of entertainment to audiences and is not timid about going beyond the norm.
▪
IF YOU GO: "Constellations," runs through May 8 at the Sheryl and Harvey White Theatre, 1363 Old Globe Way in Balboa Park. Tickets from $29. (619) 234-5623. TheOldGlobe.org
---
Get the La Jolla Light weekly in your inbox
News, features and sports about La Jolla, every Thursday for free
You may occasionally receive promotional content from the La Jolla Light.