A sell-out crowd, composed mostly of older adults and a sprinkling of students, was on hand at the Price Center East Ballroom at UC San Diego Dec. 4, to hear Tulane University professor of history and economics Michael Bernstein interview bestselling author and Washington Post reporter Bob Woodward and former Nixon White House aide (and Watergate informant) Alexander Butterfield, who is the subject of Woodward's new book, "The Last of the President's Men."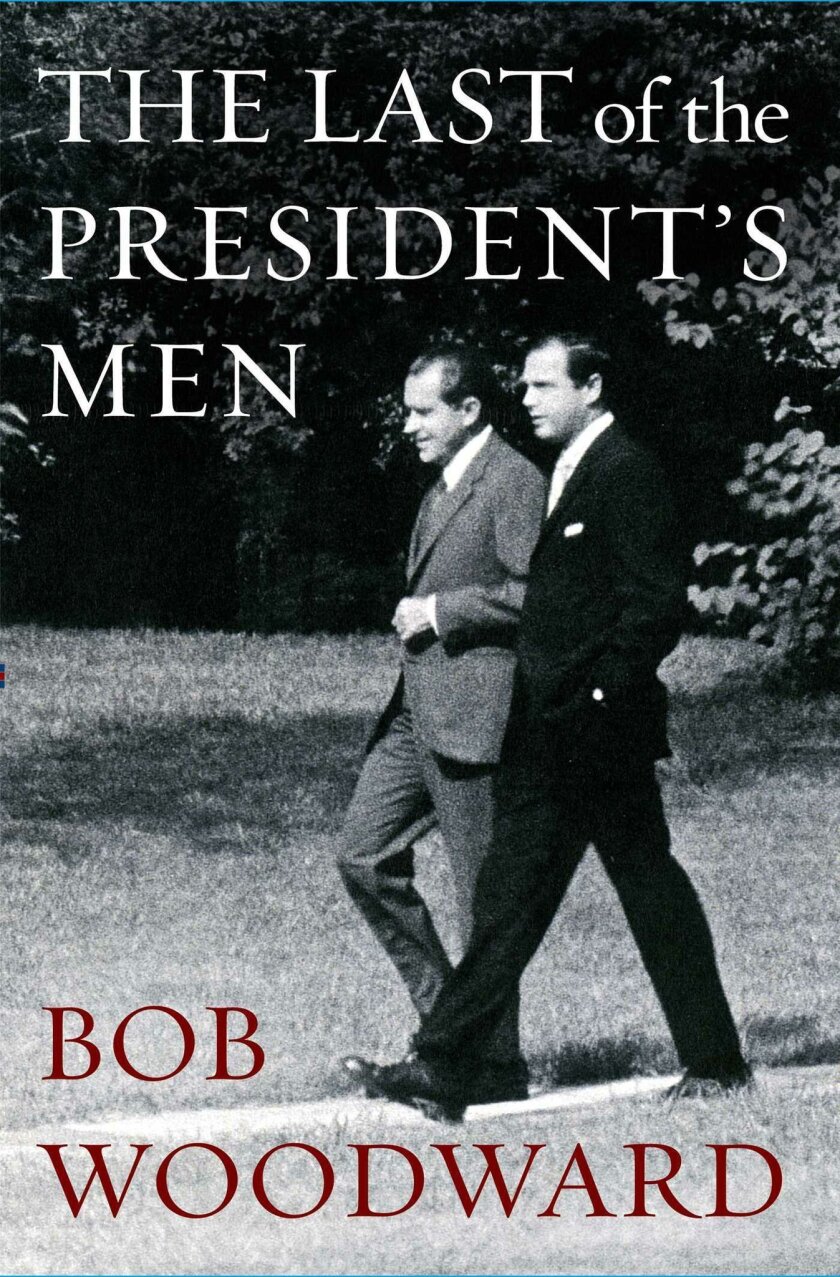 A sequel to the legendary "All the President's Men," written with fellow Washington Post journalist Carl Bernstein, Woodward's new book has been hailed as "the most influential piece of journalism in history" and "the greatest reporting effort of all time." The newspaper articles and book that preceded it, which revealed the Watergate scandal and forced Nixon to eventually resign the presidency, garnered a Pulitzer Prize for the Post.
The UCSD panel discussion, which sold out in a matter a days, came as a collaboration between the Helen Edison Lecture Series, The UCSD Library, UCSD Extension Division, and UCSD TV — the group that last month partnered to bring polio vaccine discoverer Jonas Salk's two sons to campus to help inaugurate a new library exhibit of their father's papers.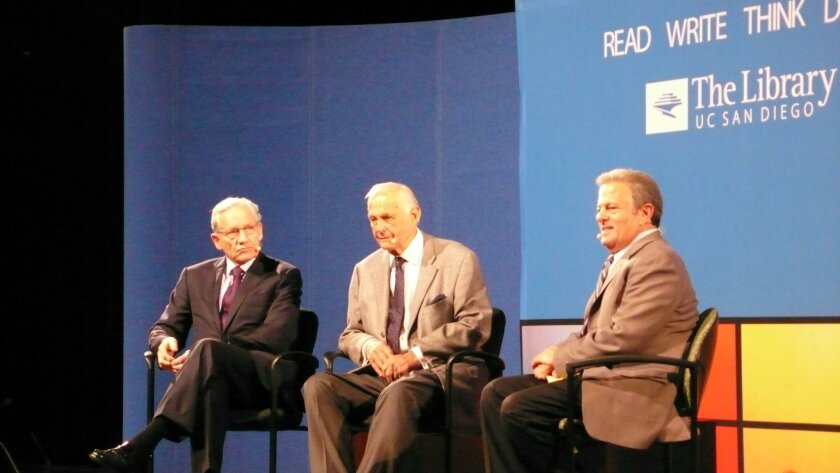 Bernstein, who formerly was a UCSD faculty member as well its Dean of Arts & Humanities, began the evening by introducing Woodward and Butterfield. Woodward, 72, was at the Washington Post for more than 44 years and has written numerous books about the American political scene.
Butterfield, 89, a Distinguished Flying Cross recipient and a Nixon White House aide who grew up across the bay in Coronado, was formerly a graduate student under Bernstein at UCSD. At that time, Butterfield was investigating the role of presidential pardons in American history.
Woodward and Butterfield, who seem to have become good friends, partnered to write "The Last of the President's Men." The book offers further revelations into the personae of Richard Nixon and the Watergate times. The overarching theme is: Do we really know enough about the candidates we are electing? The book also asks us to bring more transparency to the office of the president, which has traditionally been a closed system surrounded by a wall of secrecy.
Woodward made the point that "history is never over." Even though his book clarifies who Nixon was, he said we may never have a final account of the man and his actions.
Woodward continued by explaining how Butterfield brought both his memories of being the one responsible for scheduling Nixon's day-to-day activities (and the one responsible for overseeing the installation of the secret audio-taping system installed in the White House by Secret Service agents under Nixon's direction) — in addition to 20 boxes of White House documents he had secreted away for posterity — to their collaboration.
One incredulous document that came out of the boxes was the "Zilch Memo." In this Jan. 2, 1972 memo, Nixon calls the bombing of Vietnam with 29 million tons of explosives a failure, with the effect of "zilch," even though the day before he went on national TV saying the bombing campaign was a success. Nixon knew the bombing responsible for killing countless thousands of innocent civilians was a failure, yet he continued to order it and lie about its effectiveness because it was popular with some people and helped assure his re-election, the book reveals.
Butterfield said he resigned his commission as a Colonel in the U.S. Air Force stationed in Australia as a career move to work in the White House under Nixon's Chief of Staff H.R. Haldeman. "Although I liked the hell out of Nixon as a person," he said, "the president had a dark and petty side that few people saw, unless you were around him on a daily basis."
He said Nixon was obsessed with his rivals and enemies and would go to illegal lengths to silence them or bring them down. Butterfield also said that Nixon was also a very lonely person who did not even communicate with his wife, Pat.
To illustrate this, Butterfield shared the story of being on a plane with the Nixons. Pat asked her husband if he would like to go to New York with their girls for the holidays, and Nixon ignored her question, never even looking up from the legal pad he was scribbling on.
Butterfield also noted that even though as President of the United States, Nixon could have dinner with anyone in the world, he preferred to retire to his private library in the evenings to have dinner alone, prepared for him by his attendant Manuola Sanchez. Butterfield speculated whether Americans would have elected Nixon if they knew more about how he really was. Woodward followed this point with the overall moral of the story: "We better know who the next President is!" he warned, "and make sure he or she better care more about what's good for the American people and not what is good for him (or her) personally!"
Woodward also reflected on the blanket pardon that Gerald Ford gave Nixon; an act that eventually resulted in Ford's defeat by Jimmy Carter. "I remember that my co-worker, Carl Bernstein, called me on the phone after he heard about the pardon and remarked, 'The son of a bitch just pardoned the son of a bitch!' "
Bernstein concluded the evening by thanking Butterfield for his courage in revealing the existence of the White House tapes to the U.S. Senate, pivotal testimony without which Nixon would probably have been able to remain in office, as Nixon repeatedly denied the existence of the tapes. "You saved democracy in America by answering that one simple question truthfully," Bernstein said. ♦
---