They're On the Same Page: La Jolla Library preschool storytime sees rise in attendance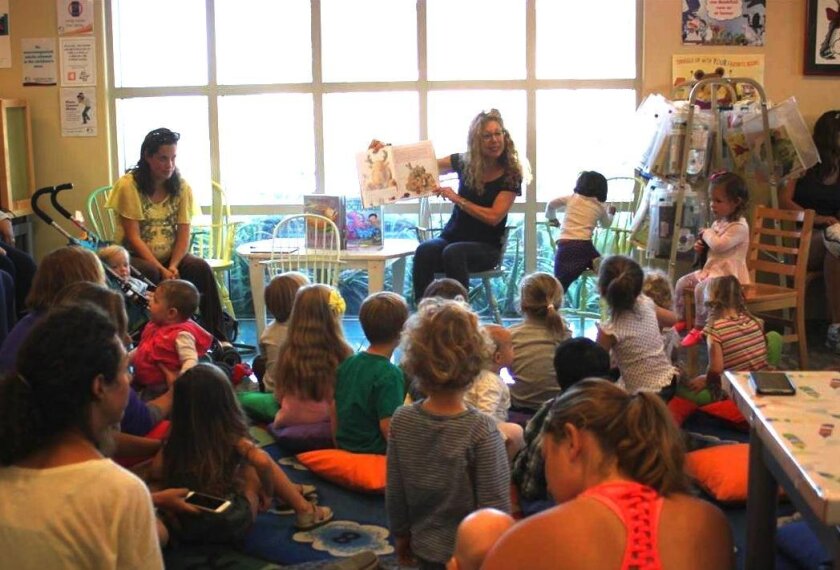 "I cannot overstate the value of having toddlers come together and be read to," said Teri Newlee, who for the last three years has been the host of preschool storytime at La Jolla's Riford Library. "It's wonderful for children to see people reading."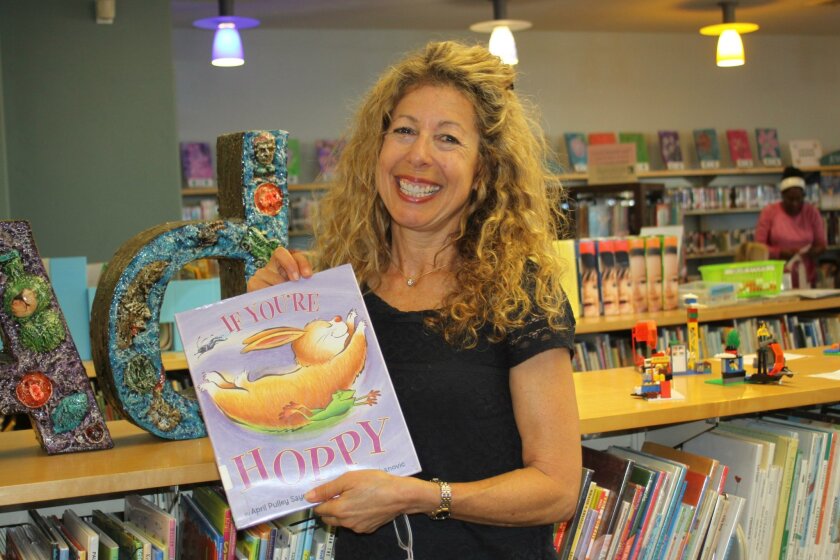 Added branch manger Shaun Briley, "Reading to children encourages the use of their 'mind's eye,' which is different from the visual eye used if you are watching something on a screen. Reading stimulates the imagination and introduces new vocabulary."
Over the years, the number of pint-sized attendees for the hour-long storytime has grown. What started with 10-12 preschoolers, recently capped at 45 children. Every Thursday at 10:30 a.m., Newlee, aka "Miss Teri," reads three, age-appropriate books and then leads the toddlers through a related craft project.
"I pick the books through trial-and-error. Over the years, I've learned to simplify my choices," she said. "Most of the kids are preschoolers, so you need something that keeps their attention. The chosen book has to be simple with a lot of pictures and not a lot of words. But then I like to elaborate. For example, if I come across a word the children probably don't know, I'll ask if they know what it means and we'll talk about that."
To keep children engaged, Newlee also likes to go "off book" every once in a while.
"Today we read 'If You're Hoppy (and You Know It).' Each time an animal was introduced in the story, I'd have the audience make the sound that animal makes. Something fun like that, gets them involved, because they may get bored just sitting there listening — whatever I can do to pique their interest, I'll do."
But the young bunnies don't typically get out of control, thanks to the adults who attend storytime with them. "Some children have more energy than others, but they are all spirited ... I love it," Newlee said.
Further, she said she's seen children learn good manners from one another during the readings. "Some are just 2 or 3 years old, and at first it was hard for them to sit quietly. Their parents would say, 'Oh, I don't think I should bring them yet,' but I'd let them participate, and before the parents knew it, their kids were sitting quietly. They would look around and see the other kids sitting and listening, and they picked up on that."
And it only gets better from there, she insists. Her two grown daughters have had a lifelong love of reading, and Newlee said it all started in their preschool years. "This love of reading helped them through school, college, grad school and so on. … When my kids were little, they would come here for storytime and they loved it."
Newlee said her oldest daughter took to reading to herself when she was 5 years old. At night, she could stay up a half hour later, if she was reading. Her little sister noticed and started reading, too, just so she could stay up the extra 30 minutes, as well.
"My daughters loved this place and I love this place, so I came back to volunteer. Library staff said they needed someone to read during storytime, and I love reading, so it was perfect."
---
Get the La Jolla Light weekly in your inbox
News, features and sports about La Jolla, every Thursday for free
You may occasionally receive promotional content from the La Jolla Light.