Visiting brothers ask for more signs to protect seals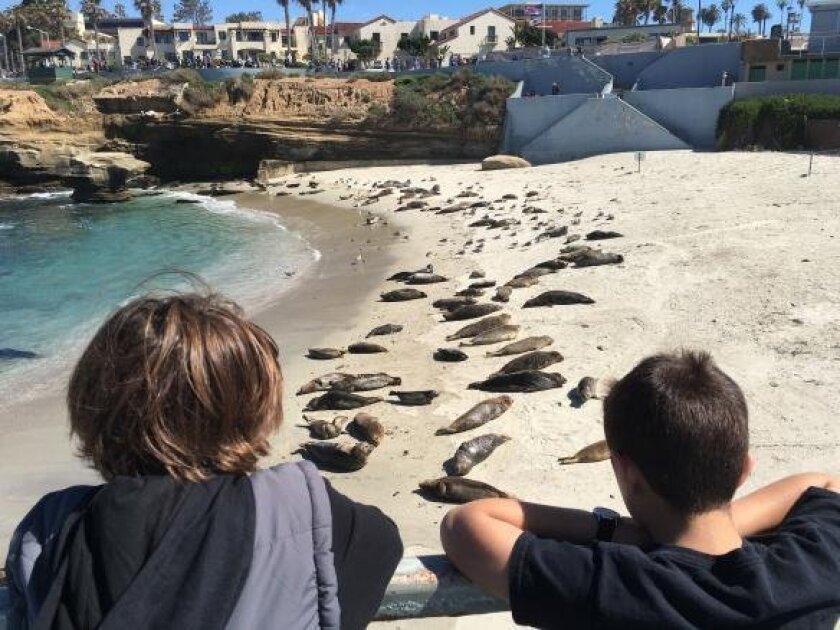 Brothers Joshua, 9, and Josiah, 11, visiting La Jolla from Nevada in March, were watching the harbor seals sunning south of Children's Pool Beach from a 20-foot distance, when a mother seal hauled out of the ocean in front of them and started nursing. They held their breaths to allow the animal to continue.
"It was a very cool experience," said Josiah. His younger brother added, "she probably has to get used to (having so many people around), I don't think she likes it."
The brothers report they were having a great time enjoying the ocean life, but they saw something that horrified them. A crowd gathered and surrounded the group of seals south of Children's Pool Beach and the boys report the "seals and their babies were touched, stepped over, had cameras put in their faces, were not viewed from any distance."
While the north side of Children's Pool Beach (Mencinger Point) features different signs that inform people harassing the harbor seals involves breaking federal law, the south side beach doesn't. A group of 10 to 30 harbor seals can be found on the southern side at most times.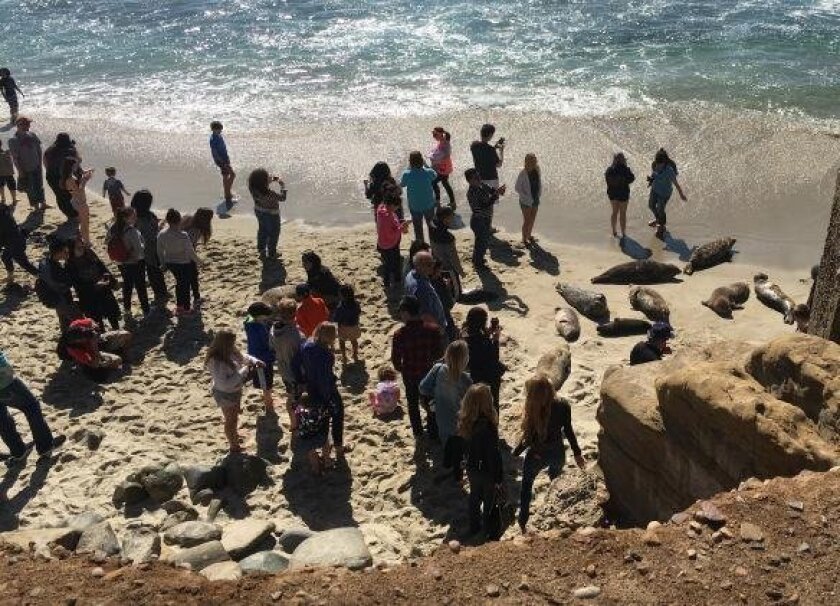 The brothers decided to do something about it and started a change.org petition, which in two weeks has gathered more than 65,000 signatures from people representing more than 81 countries around the world for the installation of south side warning signs.
"It's encouraging to see how many people care about the seals," Josiah said.
Joshua and Josiah sent the petition via e-mail to San Diego Mayor Kevin Falcouner on April 15, and offered to assist the city to make it happen "as soon as possible." The request seeks additional permanent signs to inform people they need to stay at a reasonable distance from the seals.
With a passion for wildlife and conservation, the two homeschooled brothers said they started the website thinkconservation.worpress.com to support zoos, aquariums and marine parks that take responsible care of their animals. The full story of how and why they decided to help the harbor seals of La Jolla can be found there, along with knowledge about how to protect native fauna. Their mother helped them build the website, but the research is all theirs.
An angle the two brothers didn't explore in their online petition is that steering people away from the harbor seals is also a way to protect people from possible bites from the marine mammals. Children's Pool Beach is closed to the public until May 15, due to seal pupping season (December-May).
To read the petition, visit change.org/p/additional-signs-needed-to-
protect-the-la-jolla-seals
---
Get the La Jolla Light weekly in your inbox
News, features and sports about La Jolla, every Thursday for free
You may occasionally receive promotional content from the La Jolla Light.