Permitters reaffirm vote on Zephyr Project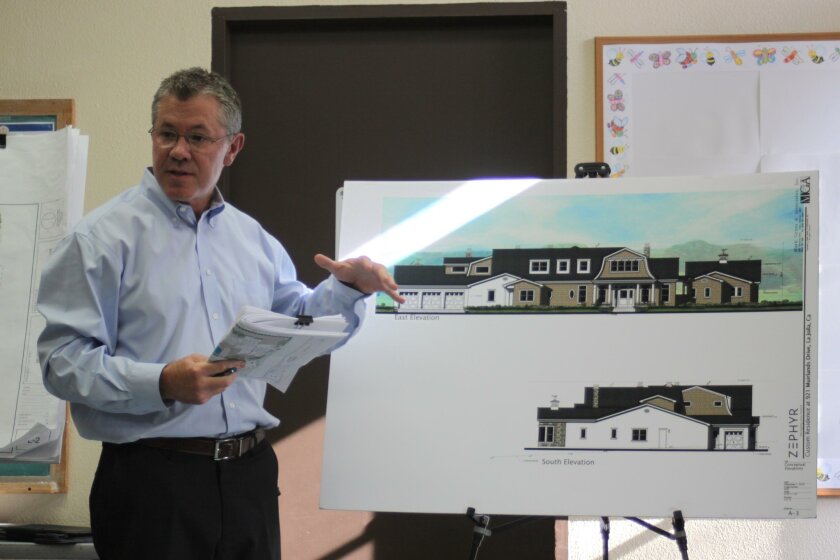 The bulk and scale of the proposed Zephyr Project in the Muirlands came under heated discussion during the April 19 Development Permit Review committee (DPR) meeting at the Rec Center. At issue was how plans for a 8,885-square foot, two-story residence with attached garage and a 703-square-foot guesthouse at 921 Muirlands Drive fit in with the size of surrounding homes and whether that size conformed with the La Jolla Community Plan.
First discussed by DPR in January and February — and approved in March — the Zephyr Project was pulled for review at La Jolla Community Planning Association's April meeting and sent back to DPR for more discussion. At the LJCPA meeting, residents Ruben Islas and John Dyer said the development abuts their properties and would be significantly larger than their homes.
As DPR and LJCPA member Jim Ragsdale explained to the board, "At the LJCPA meeting, the level of concern by the neighbors took me and the applicants by surprise. Their primary issues were the lack of public notification and the size of this project."
In the re-presentation to DPR, project applicants Mike Lake and Mandy Miller said in the months leading up to the April 19 meeting, they met with "a couple of homeowners," and their questions were handled one-on-one. "One of the concerns is the proximity between their house and ours," Lake said, "and I've volunteered to screen the area with plant material and upsize it to something mature, so it will grow taller and thicker."
Miller added, "Our biggest hope is that the focus (of this discussion) is on the code and understanding that we are following all of the code requirements for this project."
DPR chair Paul Benton attempted to set the record straight by stating, "Our mission is the land development code … it is a requirement that we find whether the proposed property will be consistent with the neighborhood in terms of bulk and scale, materials and design elements. In previous discussions, we found it had very good setbacks in relation to the property, and this committee recommended approval. So the question now before this committee is, with the project largely unchanged from previous presentations, whether it still conforms to the community plan."
Although notification issues are not within the DPR purview, residents explained they were not properly notified that the project would be built, nor did they have any idea how large it would be until story poles went up to mark the height at various points.
The project's Floor-Area Ratio (FAR) is .37 where .45 is allowed. Further, the zone in which the Zephyr Project is located has residential lots generally larger than the ones next to it, with Lake reminding the DPR committee that there are 10,000-square-foot lots next to 20,000 (or more) square-foot lots (in town).
One of those living on a smaller lot is Dyer, who spoke at both the LJCPA and the DPR meetings. Dyer said he reviewed the La Jolla Community Plan, and referencing it, he read, "One of the goals is maintain the character of residential areas by ensuring that redevelopment occurs in a manner that protects natural features, preserves existing streetscape and allows a harmonious visual relationship to exist between the bulk and scale of new and older structures. ... For large lots … apply development regulations that limit the perceived bulk and scale differences relative to surrounding lots."
However, based on features such as FAR, setbacks, height limitations and design features, the DPR committee found the project did comply with the La Jolla Community Plan, and member Matthew Welsh noted that based on what is allowable in the area, "they could have actually built this much bigger."
Lamenting that their hands were tied and there was no "transition zone" to ease between small developments and larger ones, DPR member Mike Costello commented, "I moved here from north Pacific Beach 25 years ago and … there has never been a time when someone hasn't torn down a house and built one three times bigger. I hear your pain and know your pain; we've experienced it and see it all the time. But you had a right to build your house and they have the right to build theirs. There is not much we can do."
In conclusion Benton advised those present, "There is nobody who tears down an existing house and builds a smaller one. There is nobody who buys a vacant lot and doesn't put a house on it. This is the way it works and this is the world we live in."
A motion to reaffirm the their original motion to support the project passed 5-1-0.
In other DPR news:
Board OKs home expansion: The DPR determined findings could be made for a Coastal Development Permit and Site Development Permit to construct an addition and interior remodel at an existing single dwelling unit totaling 12,344 square feet at 7348 Vista Del Mar Ave. near Marine Street Beach. The majority of work would be on the second story, and much of the existing landscape would remain, leaving the views of the house largely unchanged.
— DPR meets 4 p.m. second and third Tuesdays at La Jolla Rec Center, 615 Prospect St. lajollacpa.org
---
Get the La Jolla Light weekly in your inbox
News, features and sports about La Jolla, every Thursday for free
You may occasionally receive promotional content from the La Jolla Light.