PDO committee to look into 'sandwich board' regulations in La Jolla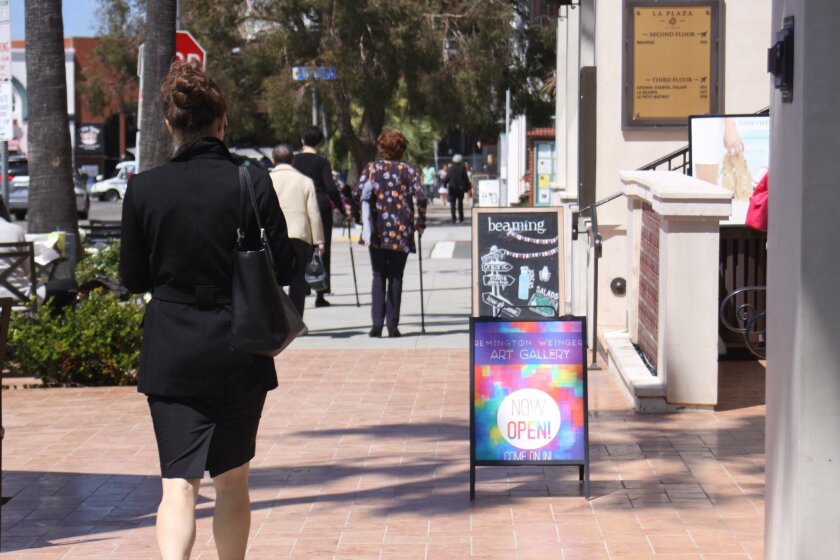 To address the presence of numerous, illegal A-frame signs or "sandwich boards" popping up on the Village's commercial streets, La Jolla's Planned District Ordinance committee has been asked to consider a change in their regulation. The advisory board reviews development applications within the portions of La Jolla related to the La Jolla Planned District Ordinance (PDO) and makes recommendations to La Jolla's Community Planning Association on projects requiring no other discretionary permits (for example, building signs, façade renovations).
Sandwich board regulations were introduced at the PDO board's March 28 special meeting, and slated for a full discussion and vote at the 4 p.m. Monday, April 11 meeting at La Jolla Rec Center, 615 Prospect St.
Although prohibited by the now defunct Promote La Jolla group — whose dissolution gave rise to the La Jolla Village Merchant's Association (LJVMA) — the sandwich boards are being used as marketing materials on the sidewalk right-of-ways to catch the attention of passers-by and announce specials, services and more.
Most areas of San Diego have regulations to keep the boards in check, but Promote La Jolla decided to instead ban them altogether in La Jolla. "We are the only Business Improvement District (BID) that does not have an allowance for that," said LJVMA president Claude-Anthony Marengo. "The other districts have regulations as far as what size the copy area can be, where they can be placed, and their permitting process, so there is a regulatory body that can watch over that at the city level."
Without any regulations in La Jolla, the signs have become more prevalent, to the point that Marengo reports they get lined up and block eight feet of a 16-foot sidewalk. In addition to the proliferation of sandwich boards in front of stores, "What we've seen in the last three to four years is people putting A-frame signs on streets other than where their business is located," he said.
Because La Jolla does not have specific regulations in place, the Merchant's Association attempted to manage the situation by notifying business owners in violation, which has reportedly caused conflicts, so some board members now want to bring the issue directly to the city's Code Compliance Department.
As LJVMA executive director Sheila Fortune explained, "I had someone from the city's Code Enforcement out here for an hour (to assess the situation) and he left because it was too much."
Added Marengo, because La Jolla has not adopted city rules, "The city said, 'you have to become the policing agency,' but that's not what a merchants board does. We don't police our merchants; we support our merchants." Because all merchants are equal, Marengo said, the Merchants Association would not be the appropriate entity to monitor the violations. He suggested adopting city guidelines to regulate the signage, so those in violation would answer to Code Enforcement.
The city's Public Right-of-Way Enhancement Program addresses freestanding sign standards with detailed rules as to where a sign can and cannot be, and what can be on it. For example, only those businesses fronting on the PROW (Public Right-of-Way) and located on the first floor may participate in this program. Enhancements may be placed only in the PROW directly in front of the business storefront. Further, no sign copy referring to off-premise locations (Example: "Visit our main store in Clairemont") shall be permitted and no live advertising (such as character actors or employees holding a sign) shall be permitted.
"Our hope with doing this process this way is that it will put a line in the sand so everyone has an equal chance to comply," Marengo said. "We're not saying get rid of the signs, we're saying comply with the city rules. Whether they have had the signs for 10 years or not, they will have an equal chance to have amnesty and play by the rules or get out."
Although presented at the meeting with a complete package detailing the language used in other areas, PDO chair Ione Steigler said, "I feel uncomfortable asking our board to vote on something they haven't read." Opting to table the discussion, she later told La Jolla Light via e-mail, "We will be hearing it with the full language proposed at the next meeting."
— PDO next meets 4 p.m. Monday, April 11 at La Jolla Rec Center, 615 Prospect St. lajollacpa.org
---
Get the La Jolla Light weekly in your inbox
News, features and sports about La Jolla, every Thursday for free
You may occasionally receive promotional content from the La Jolla Light.