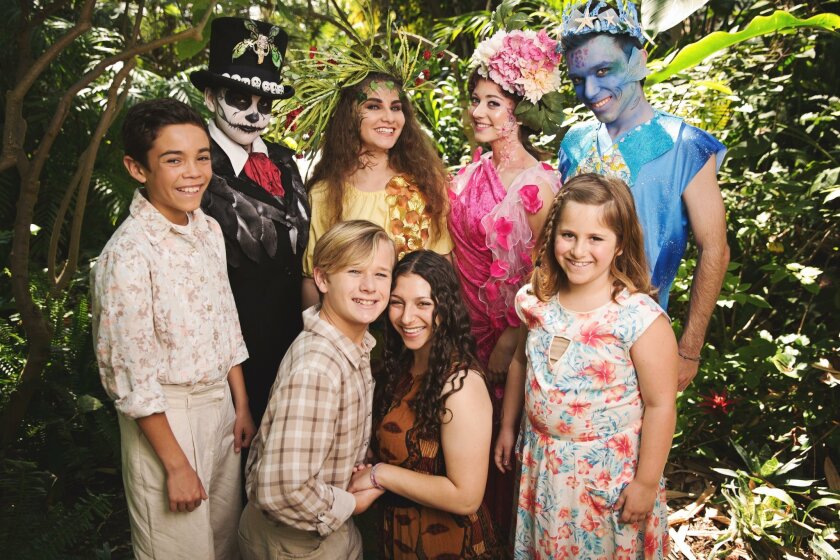 Meet Asaka, Mother of the Earth. She's one of four gods ruling over a Caribbean island in a spirited musical tale about the power of love and breaking down barriers. The show is "Once On This Island," produced by J Company Youth Theatre Group and opening May 13 at the Jewish Community Center in La Jolla. Its Asaka is 17-year-old Noga Tour, a senior at Canyon Crest High School and a seasoned veteran of past JCompany productions including "West Side Story" and "Rent."
Tour calls the role of Asaka "a motherly, sassy part. She's very loving, but it's a behind-the-scenes kind of love." Her big number is "Mama Will Provide," in which Tour gets to exhibit her considerable singing and dancing talents.
She's one of about 50, plus a crew of a dozen, who are part of JCompany Youth Theatre's staging of "Once On This Island," a musical based on Rosa Guy's novel "My Love, My Love: or The Peasant Girl," which happens to be a retelling of Hans Christian Anderson's fairytale "The Little Mermaid." The music and lyrics are by Lynn Ahrens and Stephen Flaherty, the songwriting duo that also composed "Seussical Jr.," produced earlier this year by JCompany.
The director then, as now with "Once On This Island," is Joey Landwehr, the company's artistic director the past 10 years. He acknowledges that a lot of people aren't familiar with the show, which ran on Broadway from 1990 to 1991.
"It won Tony Awards and it's a beautiful piece and people have never heard of it," Landwehr said, quickly adding that "Once On This Island," among other things, delivers a potent message. "The theme of the show is really about how we need to, as a society, not allow ourselves to be sectioned off into silos or different races or classes. It's perfect for what's happening today in the political world. It speaks so well through the ages. We're all one melting pot, especially here in America. We need to embrace that.
"The goal of everything we do here is to try to find what the theme is and how we can bring in what we discover in this play and use it to make the world a better place."
Besides looking for answers to inequities and injustices in the world, J*Company's young performers' athleticism is being tested. "Once On This Island's" choreography is by San Diego luminary Michael Mizerany, who has collaborated on Landwehr productions before. "The dance that Michael Mizerany is doing is challenging these kids in ways they've never been challenged before," said Landwehr. "It's very earthbound and Africana. They walk out of rehearsal and say 'I never knew I had a muscle here!'"
Even with the challenges, "Once On This Island" is proving to be an exciting experience for Noga Tour. "There's a lot of intrinsic joy" to the musical," she said. "The parts are all very bright and large."
On a bittersweet note for Tour, this will be her last time working with Landwehr as her director as she'll be heading off to UCLA in the fall. "He gives us the artistic liberty to find the roles in ourselves," she reflected outside a recent rehearsal, " and (emphasizes) that it should be our production. He's incredibly supportive and he values the ensemble."
"Once On This Island" will run through May 22. Coming up next year for J*Company Youth Theatre Group: productions of "The Wiz" and "Ragtime."
▪
IF YOU GO: "Once On This Island," plays matinees, evenings May 13-22 at the Garfield Theatre in the Jewish Community Center, 4126 Executive Drive. Tickets $16-$18. (858) 362-1348. jcompanysd.org
---