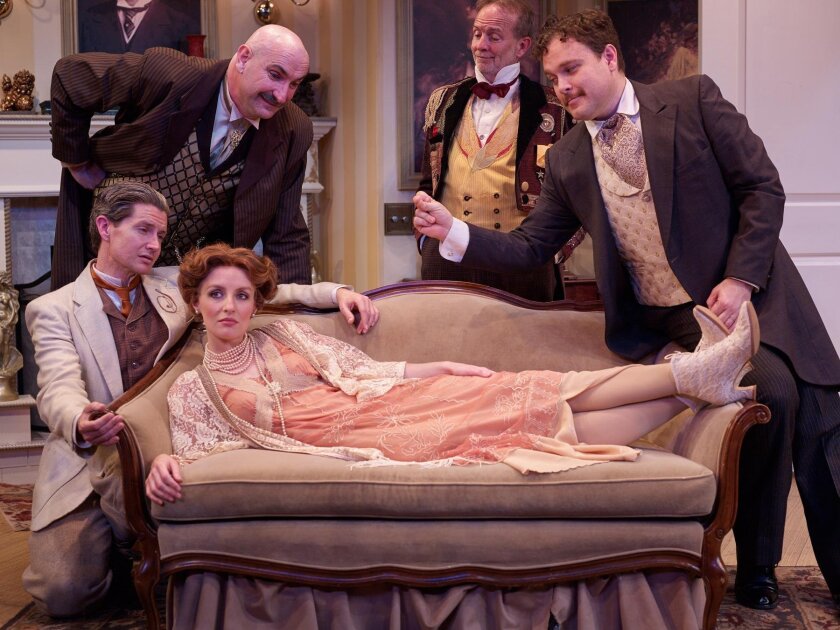 Theater patrons who like farce will definitely want to see North Coast Repertory Theatre's premiere of "Now You See It," a masterful work by France's Georges Feydeau, who must have had a jolly time thinking up what kind of scandals five characters could get into.
Marie-Louis (Allison Minick) is enjoying life with her second husband Summersby (Kern McFadden). Learning about her first husband's trysts from a diary he left behind, she's determined not to make the mistake of trusting that man No. 2 can be faithful — or any man for that matter.
Against a backdrop of birds singing, Oriole (John Greenleaf), the drunken handyman, tries to wiggle his way through their open window. He doesn't want Summersby or Marie-Louis to find him inebriated. But it's too late for that. Summersby chastises Oriole about his appearance and lack of control.
Marie-Louis and Summersby continue to squabble over who used all the milk for the tea, and where he might have hidden his loose woman companion. Marie-Louis wipes away tears and threatens that no man or husband will ever make a fool of her again.
Summersby gets a letter in a red envelope delivered and tries to have Marie-Louis believe it is work related. Not long after that, Marie-Louis gets a note from Oriole who was supposed to deliver it some time ago. Marie-Louis is surprised to find it's from her former lover Shaftesbury – Phipps (David McBean). He's come to propose to her and only to find out she's married. But the heat between the two is instantly rekindled. What can they do?
From this point the play becomes a three-ring circus. McBean is exceptional as an innocent man who will not give up on his true love. His hilarious Shaftesbury characteristics remind me of the late comic Robin Williams. McBean twists and jerks his body parts with the blink of an eye. Before the audience can stop laughing, he's spouting dialogue that makes no sense, but causes hysterics among the audience.
Greenleaf is terrific as Oriole, an erratic goof-off who does magic and drinks and hides a lot. Of course, set designer Marty Burnett helps some of that magic "come alive" with his great stage setting. When a new character, Vole (Ruff Yeager), shows up at the house looking for Summersby bearing proof Summersby slept with his wife, more hysterics play out.
The fun is easy and entertaining to follow. Minick is one reason why. Her Marie-Louis may be a little off after things her husband does to her, but she's a block wall against the four men she must contend with. I enjoyed "Now You See It" so much. McBean had me in stitches the entire time. This is one show I'd see again.
▪
IF YOU GO: 'Now You See It,' runs through March 27 at the North Coast Repertory Theatre, 987 Lomas Santa Fe Drive, Solana Beach. Tickets from $43. (858) 481-1055. northcoastrep.org
---