'I didn't build this just to tear it down' - La Jolla Artist seeks compromise, not demolition, of controversial piece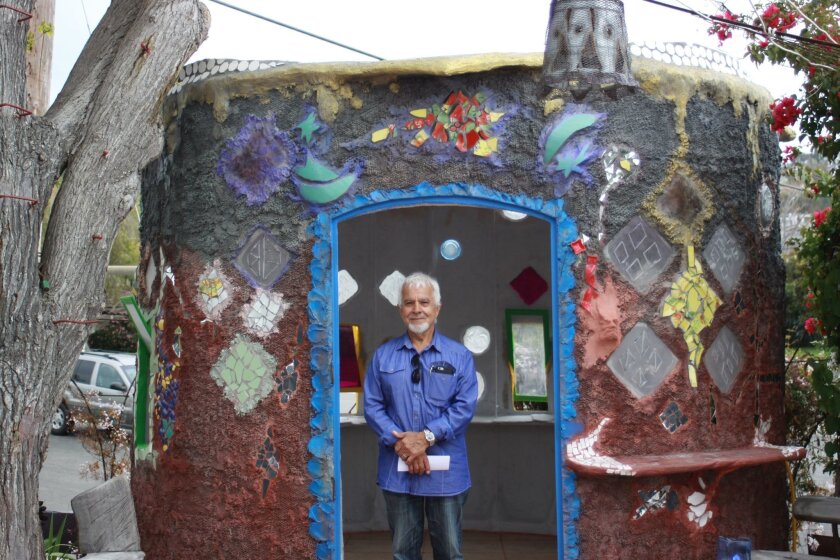 As the deadline approaches for La Jolla sculptor Nasser Pirasteh to either take down an artistic installation on his property at 6706 Avenida Manana, or face fines of up to $250,000, the artist told La Jolla Light he has been seeking a compromise with no avail.
In March, the city issued Pirasteh a notice indicating he has until May 7 to remove a 10-foot dome-like piece fronting Nautilus Street, claiming it is an "unpermitted structure."
"They are trying to force me to tear down this piece of art. I am not going to give up. No one has convinced me yet that this is a 'structure,'" he said.
Counter-arguing the piece is actually a "sculpture," Pirasteh said he does not intend to remove the work from his property. "I'm not disagreeing with the law, I respect and understand the law. But the law says I cannot have a structure or a building and I don't. I have a sculpture," he said. "I never thought when I built my sculpture it would come to this."
The San Diego Municipal Code violations defines a "structure" as "an edifice or building of any kind or any construction built up or composed of parts joined together in some definite manner including a wall, fence, pier, post, sig, or shelter." Further, an "accessory structure" is "a structure attached to or detached from a primary structure located on the same premises that is customarily incidental and subordinate to the primary structure or use. The term accessory structure includes accessory buildings."
The city's notice indicates Pirasteh constructed an accessory structure.
If so, he jokes, it wouldn't be a very useful one. "The sculpture is less than 120 square feet, with openings that cannot be closed, so if it rains, rain is going to get in. If the wind blows, it's going to be windy in there," he said.
Rather than take the installation down, Pirasteh said he has been searching for a compromise the city might find amenable.
"There are plenty of things I see being added to the neighborhood that I don't like, such as balconies, decks or other additions to homes, which I have to look at, but I understand it's their home, so they can do that," he said. Pirasteh added when those home additions are going through the approval process, there needs to be a certain number of people who support it. Comparing that to his situation, he suggested the city poll his neighbors.
"Many others have supported me on this, people have come from the neighborhood to tell me they support me," he said.
An alternative, he suggested, is to have the city provide a location where Pirasteh could move the installation, so it could still serve its artistic purpose.
"I don't have room on the property to move it somewhere else on site (so it doesn't face the street). But if we can find a place for it, I'll move it," he said. "But the city is not offering any other solutions and I'm sure a compromise can be found here."
If no such compromise can be found by the May 7 deadline, Pirasteh said he plans to appeal the city's decision. "I'm going to fight this ... If I lose, I'd want to lose with a solid understanding so I can hold my head high. But I didn't build this (sculpture) just to tear it down."
---
Get the La Jolla Light weekly in your inbox
News, features and sports about La Jolla, every Thursday for free
You may occasionally receive promotional content from the La Jolla Light.