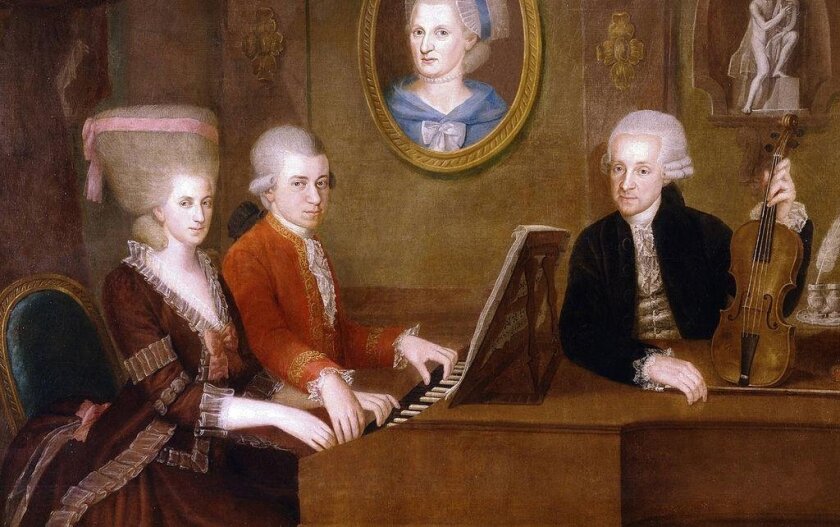 Mozart's sister, nicknamed Nannerl (short for Maria Anna), was a gifted musician/composer who could have been a contender ... if she hadn't been a girl.
Billed as the "Wunderkinder," Nannerl and Wolfi were a pair of prodigies who performed together, touring Europe under the direction of their father, Leopold, until Nannerl turned 18, when she was sent home to her mother to prepare for a proper marriage. She married late, lived more than twice as long as her famous younger brother, and became a stepmother, a mother, and a music teacher, not a star.
In 2013, actress/playwright/musician Silvia Milo brought Nannerl to life in a remarkable one-woman show, "The Other Mozart." Originally staged at the Piccolo Spoleto Festival in Charleston, South Carolina, the show went on to a successful run off-Broadway, winning an award for Outstanding Solo Performance. After three years of touring, it's now coming to the Balboa Theatre, Sunday, June 12, part of Mainly Mozart's 2016 Summer Festival, whose theme is "An Exploration of Prodigy."
Performed in and on an enormous, corseted dress, "The Other Mozart" is based on historical facts and Mozart family letters, and features music by Wolfgang and Leopold, as well as Marianna Martines, a woman composer of the times who managed to have a successful career. There is also original music by Nathan Davis (Milo's husband) and Phyllis Chen, members of the International Contemporary Ensemble (ICE). Using clavichords, music boxes, bells, teacups and fans, they created an award-winning score filled with sounds that Nannerl would have found quite familiar.
Born in Warsaw, Poland, Silvia Milo started playing piano at age 4, moving on to the violin. At 18, she went to study music at NYU, and made New York her home. As an actress, she took on unconventional roles, including Bob Dylan and Hamlet. As an acoustic and electric violinist, she performed with jazz and avant-garde rock bands and composed scores for dance and theater companies. Then, 10 years ago, Nannerl changed her life.
Milo never knew about Nannerl until she went to Vienna for Mozart's 250th birthday celebration.
"I saw a small portrait of Mozart's family," she said. "And there was this young woman seated next to Wolfgang at the keyboard, their hands intertwined. In all my years of music classes, women were hardly ever mentioned. Where were the women Mozarts? When I saw one, it really shook me up. I started researching her story, and found it fascinating. I really thought it needed telling, and since no one else seemed to be doing it, I felt I had to. It's been my mission ever since."
It took two years of research, a year of writing, and the help of director Isaac Byrne to create the theater piece, which has won acclaim in cities like Vienna and London, where the wunderkinder performed, and Salzburg, where the Mozarts lived. It's currently in New York again, where two other actresses, a German and a Brazilian, are taking turns in the role, trained by specialists in period movement and the language of fans. Milo will do one-night-only performances here and at San Luis Obispo's Mozaic Festival in July, then it's back to Vienna, where she first saw that life-changing painting in 2006.
"The Other Mozart" is a chance to watch an unusual performance, learn some little-known socio-musical history, and listen to lovely music. "It's so magical to hear the re-creation of how Nannerl might have heard the world," Milo said. "And then there's the dress! So gorgeous! Made by a designer friend of mine in Poland, and packable, too, so it can fit inside one suitcase! The show is a full theatrical experience, full of beauty and longing, and an emotional experience too, for me and the audience."
IF YOU GO: "The Other Mozart" takes the stage 7:30 p.m., Sunday, June 12 at Balboa Theatre, 868 4th Ave., downtown San Diego. Tickets: $47-$87. (619) 239-0100. See website for schedule of festival events: mainlymozart.org
---