La Jolla's Menehune Surf contest to turn Sweet 16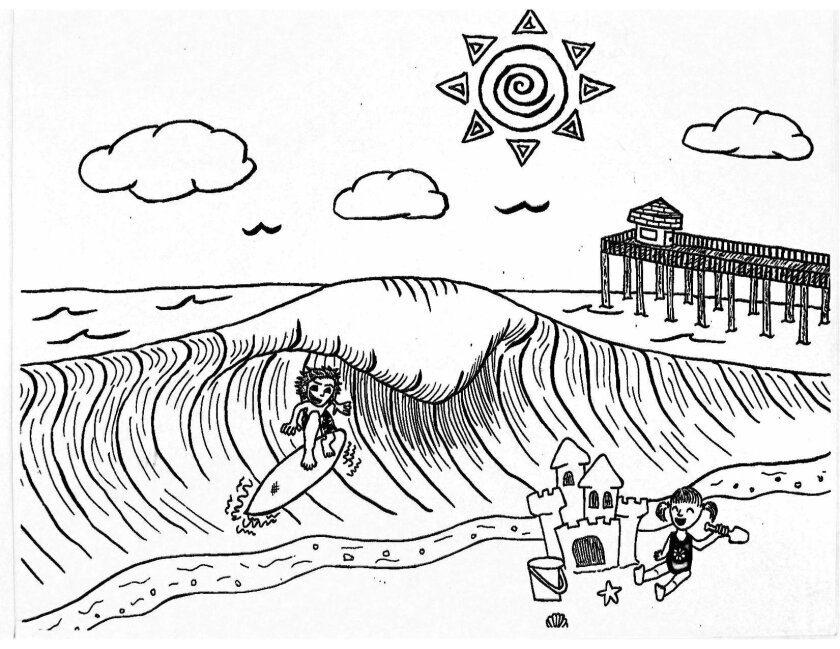 Celebrating its own "Sweet 16," anniversary, the Menehune Surf Contest for children and teens returns to La Jolla Shores 7 a.m. to 4 p.m., Saturday May 7. But over the years, the contest has evolved to become more inclusive and do more to give back. The event now includes divisions for parents and adaptive surfing for challenged athletes, and participants who entered the contest when they were little groms (surf slang for children) are coming back as young adults to volunteer.
The one-day judged event for surfers 18 years and under includes Longboard, Shortboard and Novice divisions, as well as the crowd-favorite "Super Menehunes" division for those 6 years old (non-judged). Heat times based on age will be published Friday before event, and the deadline for entries is April 27. Entry fees are $30, $60 and $90, depending on age, number of entries and categories. The event is free for spectators.
Named for mythic Hawaiian people, said to be "dwarf sized," the Menehune Surf Contest includes a judged surfing competition, and a party with raffles and silent auctions to raise money for beneficiaries. This year's beneficiaries are Scripps Institution of Oceanography, Friends of La Jolla Shores, Junior Lifeguard Foundation of San Diego and Natural High.
"Years ago, the La Jolla Shores Surfing Association was just a group of surfers who wanted to get our kids involved in the principles of community and giving back, while enjoying and appreciating the ocean and surfing," said contest director Stephanie Hoffman.
To recognize the families that have taught their children to surf and encouraged participation in the contest, La Jolla Shores Surfing Association president Lorraine Schmalenberger said organizers introduced judged heats for parents a few years back.
"The Shores is such a family place that through the years, we've started to see surfing families. So it occurred to me to get the moms and dads involved," she said. The dad division is called the DOG (Dads Of Groms) and the mom division is MOB (Moms On Boards).
Since then, Schmalenberger said, "It's been wonderful to see the tables turn so the kids can cheer on the parents. It's also so fun to hear the kids talk up their parents and give them advice – its hilarious. It's become very popular."
Last year, the contest added an adaptive category for those with injuries, whether they be a menehune or a veteran. In its first year, the adaptive standing and prone divisions were not judged. But this year, the challenged categories will be.
"Through our connections on the beach, we learned veterans are returning from overseas, so we've noticed more surfing veterans," Schmalenberger said. "A lot are amputees, but others have less visible injuries such as Post-Traumatic Stress Disorder or brain injuries. Having them participate is a great way for our group to honor veterans."
Hoffman added there would also be division for children with injuries and/or amputations, with many signed up to participate. "It motivates the children to see someone without an arm go out and surf and have a great time," she said.
To help organize the event, Hoffman said she has the help of several menehunes who are not so little anymore. "We see the kids that started surfing in this contest when they were 5 years old that are now teenagers coming back to volunteer the day of the event. More and more, I get calls from them asking how they can help." In recent years, she added, the contest has grown from around 20 to nearly 200 entrants and another 50-plus volunteers.
For the last 10 years, LJSSA has also sponsored an annual art contest, to find original artwork to grace the event T-shirts. This year's winner is Point Loma High School student Katrina Schwartz who received $100 for her winning design. The top 40 entries will be exhibited at La Jolla's Riford Library youth wing until mid May at the 7555 Draper Ave. library.
—More event information at ljssa.org
---
Get the La Jolla Light weekly in your inbox
News, features and sports about La Jolla, every Thursday for free
You may occasionally receive promotional content from the La Jolla Light.