Every year about this time, Lux Art Institute in Encinitas announces its lineup of artists-in-residence for the upcoming season, which starts in September. This season is a big one, marking Lux's first decade with a quintet of artists from around the world.
Season 10 begins on Sept. 10 with a painter from Medellin, Colombia, a city better known for drug wars than art.
Camilo Restrepo integrates Colombia's violent history into his bright-colored paintings, which often include cartoonish characters, some of his own saliva, and distressed paper. The work he creates at Lux will illustrate how the drug culture has affected his country and will go on to ArtBo, the international art fair of Bogata, at the end of October.
Next up is Xawery Wolski, from Poland, who now lives and works in Mexico City. A relentless traveler, he creates articles of clothing out of beads formed from the clay of the different countries he visits. His residency at Lux will enable him to create his first born-in the-USA piece, a dress made from San Diego County clay. It begins Nov. 12.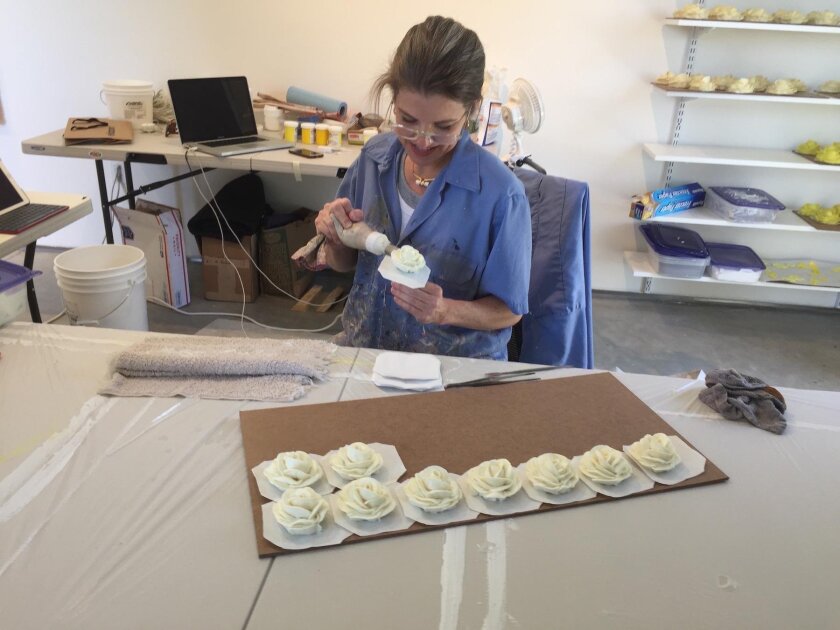 Jan. 21 will lead the New Yyear with the surrealistic visions of Siro, an artist from Sardinia, Italy, whose personal response to the local landscape will give rise to a large-scale, multi-layered oil painting.
April 1 brings Vibha Galhorta, from India, whose huge sculptures — some over 100 feet long — are made from the tiny metal ankle bells that women dancers in India wear to make music as they move. An environmental activist, her themes are water issues and overpopulation, and she'll be working with San Diego Coastkeepers and The Scripps Research Institute to create a piece about the San Elijo Lagoon.
Closing out Season 10 next June will be Jorge Pardo, from Havana, a Cuban artist whose work ranges from murals to home furnishings to collages, buildings, pools and gardens and includes a mix of colors, patterns, and organic and industrial materials. Whatever he does at Lux promises to be a delightful surprise.
IF YOU GO: Lux's Season 9 is ending on a high note: You can still see Angela Kallus in studio, hand-crafting acrylic roses; her rose-covered canvases remain on view through July 30 at 1550 S. El Camino Real, Encinitas. (760) 436-6611. luxartinstitute.org
---