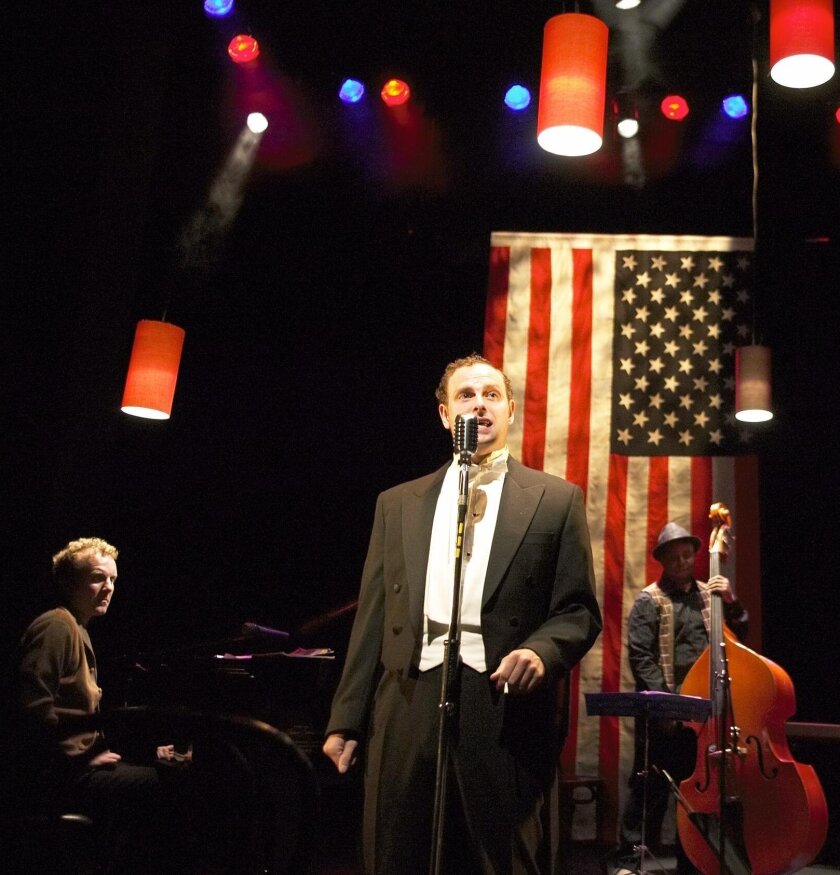 Listen up, all you cats and kitties! If you've got a taste for cool, jazzy language and the music to go with it, make the scene at North Coast Repertory Theatre on March 7 or 8 for a two-nights-only performance of "His Royal Hipness Lord Buckley," with the show's star and creator, Jake Broder.
Lord Buckley (1906-1960) was a comedian who carved out a niche for himself in the original hipster scene more than 60 years ago with a self-bestowed title and a special blend of Brit-inflected English and the verbal equivalent of a bebop trumpet solo. His unique proto-rap style influenced Bob Dylan, Robin Williams and Richard Pryor, and he's all over YouTube these days.
Jake Broder, who lived and worked in London for 15 years before settling down in Los Angeles, is an actor/writer whose credits range from playing Mozart in the London and New York productions of "Amadeus" to co-writing and co-starring in the award-winning two-hander "Louis and Keely: Live at the Sahara" at the Geffen Playhouse in LA.
Broder first discovered Lord Buckley on a record album someone gave him in the late 1990s when he was performing with The Reduced Shakespeare Company. "I loved comedy and the history of comedy, and this guy was funny as hell," Broder said in a recent interview. "He took things you already knew — Shakespeare, Jesus, the Gettysburg Address — and codified them in hip-talk, the language of jazz musicians in the 1940s. He combined comedy and the classics, and his take on them was magnificent."
So Broder took some of the comedian's best-known routines and turned them into a show that won over audiences in New York, London and Los Angeles. "Every show is a little different," he said. "Lord Buckley's humor was subversive, so we update some of the references to make them work today. And we add timely new bits, in his style, to keep the subversive element alive."
Lord Buckley, Broder noted, was a great humanist, too. "He was waving a civil rights flag at a time it was dangerous to do that. He celebrated the language of black musicians, and he was the white guy on the bus with them, opening for their acts, rapping to jazz. If you listen to Kendrick Lamar now, in a lot of ways, it's the same form — preaching to the beat, trying to tell the truth from that pulpit. Lord Buckley did it with comedy, the comedy of love and uplift."
The updated show, including a three-piece bebop band and comedian Mike Lanahan as a one-man ensemble of supporting characters, will be directed by NCRT's artistic director David Ellenstein. Last year, at the Colony Theatre in Burbank, Ellenstein directed Broder as Ira Gershwin in "Words By Ira," and the two are excited to be working together again. Even more exciting, they'll be bringing "His Royal Hipness Lord Buckley" to New York's 59E59 Theatre in December — NCRT's first NYC production — at the same theater the show premiered in over a decade ago.
But why not dig "His Royal Hipness" here at home, while you can? "It's never to late to get swingin' — so get on it!"
▪
IF YOU GO: "His Royal Hipness Lord Buckley," 7:30 p.m. Monday, March 7 and Tuesday, March 8, North Coast Repertory Theatre, 987 Lomas Santa Fe Drive, Solana Beach. Tickets: $30. (858) 481-1055. northcoastrep.org
---