La Jolla Village Merchants Association approves Maintenance Assessment District (MAD)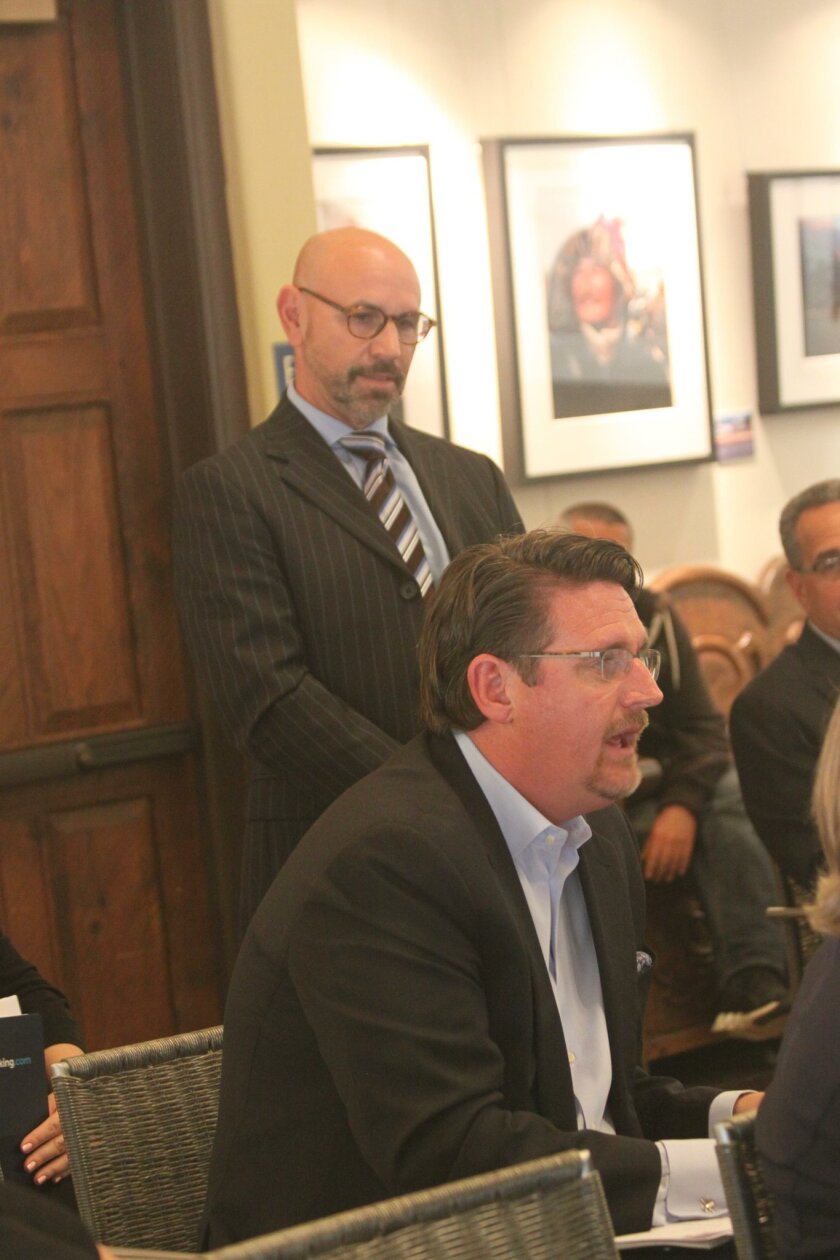 The La Jolla Village Merchants Association (LJVMA) at its March 9 meeting continued discussion on the La Jolla Community Foundation proposal to create a Maintenance Assessment District (MAD) to raise funds for beautifying and improving the Village. After nearly an hour of discussion, a motion to approve the "direction the steering committee is going," passed unanimously, on the condition MAD proponents return to the April meeting to update LJVMA on financial specifics and community interface.
The proposed MAD would be managed by a nonprofit organization called Enhance La Jolla, which would operate under the auspices of the La Jolla Community Foundation. Using an assessment on property owners in the area (along with private donations for capital improvement projects), MAD funds would supplement services above what the city can provide. Resident property owners would be taxed less than $100 annually with the merchants' amount still to be determined.
The proposal has gained approval from every other voting community advisory board in La Jolla to which the Enhance La Jolla steering committee has presented.
Reiterating February meeting discussions, LJVMA president Claude-Anthony Marengo said, "We realized there is a lot we don't know, especially the specific costs to merchants. Then we heard the numbers. We found they are not regulated, just suggested as part of the proposal.
"I think the idea is good, but … I look at this MAD as a vehicle for the larger capital improvement projects. How those decisions are made is going to affect us (merchants in the Village) more than the lighting and flower baskets. I would personally feel better voting for something if I knew exactly what I was voting for, so when it comes time, I can say whether this is something we voted on or not."
On hand to address concerns was John Lambeth, president of Civitas, a group that helps establish districts, such as a MAD, statewide, which was hired by the La Jolla Community Foundation.
"This is a fluid process," Lambeth explained. "We start early, and there was a will to get to this board early, but it is also a changing process, so the engineer is going to have involvement (that could change the terms) … and at the end we are going to go to the City Council and they could change things. So while we have ideas now, they could change over time. … But the City Council does not have the option to raise (the assessment amount) or to expand the territory. The only possibility is they could reduce (the amount) or shrink (the territory).
"We have a chicken-and-egg problem. We want to get to you early and your opinion means a lot to us. But at the same time, we don't have all the dollars-and-cents details you want and there might be changes in the MAD creation process."
Lambeth said the urgency to get support is to keep the process moving along on schedule. As previously reported in La Jolla Light, the Enhance La Jolla steering committee wants the MAD established by July 31 to allow the assessments to be available by Jan. 1, 2017.
As early as next month, the San Diego City Council could vote to approve a resolution of intention to form a MAD, which triggers a vote of affected property owners. The ballot would have detailed information, including verified numbers for how much residents and property owners would be assessed. The results of the property owner's vote would go to the City Council for verification this summer.
Lambeth explained the annual county deadline for forming districts like a MAD is in August. "So if we get all this done and the City Council votes in favor, and we are ready in August, we can begin operations in 2017. If we miss that deadline, we have to wait a whole year. So on one hand, we want to make sure everything is vetted and get as much feedback as we can, but also move forward as expeditiously as possible so as not to miss August deadline."
Steering committee chair Mark Dibella added, "If we miss the deadline, a district would still be formed, but no taxes would be collected on Jan. 1, however, we could collect private funds for capital improvement projects."
Addressing another concern raised, Lambeth said efforts will be taken to ensure baseline city services remain uninterrupted with the formation of a MAD.
"We've been talking with the city to see what services they are providing and the frequencies, and we do the best we can to lock them in and catalog these services on paper," he said. "So many times, these things are left to oral communications or memory, and council members change and staff members change, but when you commit it on paper, we found that works very well. If someone is tempted to move those services away later, we can say 'no,' and show them what we have."
Satisfied by the information provided, LJVMA member Brett Murphy said, "My fear is that we, as a town, are falling behind and this is a perfect way to keep up with the Jones, if you will, because when you have other communities that can testify to the success of a MAD, sure we can thumb through all the details we want, but at the end of the day it has to be right for the Village. I like where this is going conceptually."
The next steps include the project engineer finalizing a report to submit to the City, and from there, the steering committee will begin gathering signatures from property owners within the boundaries of the proposed MAD to indicate their support of moving the process forward.
The steering committee will have more details for the Merchants Association in April.
▪
La Jolla Village Merchants Association meets 3 p.m. second Wednesdays at La Jolla Riford Library, 7555 Draper Ave. lajollabythesea.org
---
Get the La Jolla Light weekly in your inbox
News, features and sports about La Jolla, every Thursday for free
You may occasionally receive promotional content from the La Jolla Light.