La Jolla's Traffic & Transportation group looks at speed limit changes, traffic calming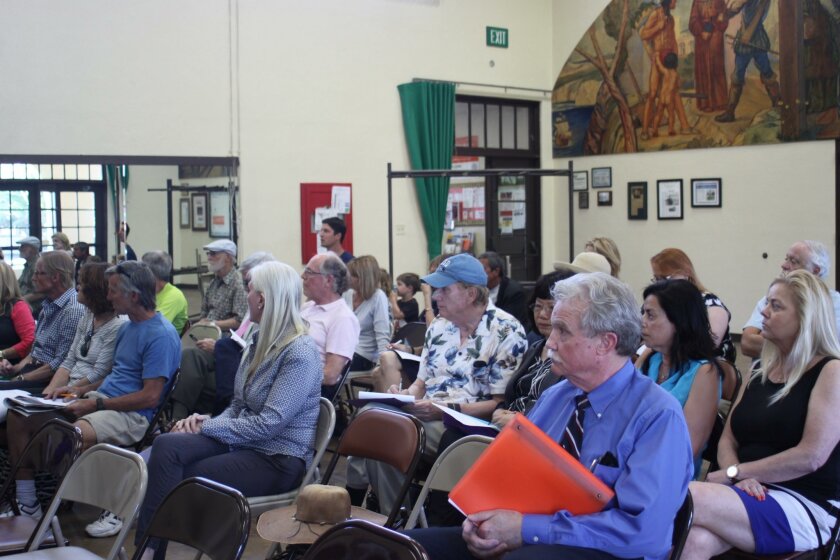 A petition may soon be coming around to residents along Soledad Mountain Road to determine the consensus on the speed limit between Soledad Road and Pacifica Drive. The City of San Diego is recommending the speed limit be increased on that stretch from 35 miles-per-hour to 40 miles-per-hour, but residents have come forward hoping that doesn't come to fruition, due to already overly speedy drivers.
The city recommendation was brought to La Jolla's Traffic & Transportation (T&T) advisory group and approved at its January meeting, but before the findings could be ratified at February's La Jolla Community Planning Association (LJCPA) meeting, the topic was pulled for further review, and ultimately sent back to T&T.
At T&T's April 20 meeting, area residents packed the Rec Center to share horror stories of lead-footed La Jollans and commuters coming up their street, causing near-misses and fears of crossing the street, and it was obvious residents wanted the speed limit kept at 35 mph.
T&T chair Dave Abrams explained to the crowd that the city conducts speed studies on a rotation basis throughout San Diego, and if findings determine 85 percent of drivers are going above the posted speed limit, the speed limit is changed to reflect what the majority of drivers deem a safe speed. Should residents request the current speed limit remain, the police would not be able to use radar enforcement.
Acknowledging that increasing the speed limit to create a safe driving environment seems "counter-intuitive," T&T member Patrick Ryan added, "The reason the 85th percentile system is set up as it is, is that people will drive as fast as they think is safe, regardless of the posted speed limit. So moving the speed limit up from 35 to 40 miles per hour won't actually change the speed that people feel safe driving … the people going 50 are going to do so whether the speed limit is 35 or 40."
So if residents opt to keep the posted speed limit at 35 miles per hour, and drivers speed beyond that, Ryan said, "police cannot do anything about it. If you move it to 40 and someone is going over the speed limit, police can enforce it via radar. But it comes down to the residents. This is your street, the city has said they won't push too much if they get kickback from the residents, and this board typically heeds the residents. If you come to us with a petition saying you do not want it moved, we will try to do what the residents want. You have to decide what you want."
With many in attendance stating they would be willing to circulate such a petition, others said the street merited a slower speed limit, as well as additional traffic calming measures, to deter speeding.
Resident Andy Shorenstein, who credited stories in the La Jolla Light for informing him of the issue, said he was not otherwise notified of the proposed speed limit change. "My daughter's car was parked on that street and was sideswiped, but thankfully, she wasn't in it," he told meeting attendees. "And I have observed postal workers dash across the street like a game of Frogger. What we need to do is slow things down, not increase the speed limit."
Another attendee noted it might cause confusion to have the speed limits alternate along the street. Heading north, the speed limit is 40 miles per hour on Soledad Mountain Road between Garnet and Beryl streets. After Beryl Street, the speed limit drops to 35 miles per hour, where it remains until La Jolla Scenic Drive South. So to add a section in the middle where the speed limit is 40 miles per hour, he argued, might be confusing for drivers.
Resident Robert O'Neill, who pulled the item at the LJCPA meeting and spoke out against it, said the only traffic-calming device in place now is an illuminated speed limit indicator, which has been turned off since last year. "There are traffic-calming devices that can be very effective for most people … such as speed limit signs with blinking lights along the edges," he said.
Agreeing that additional traffic calming could be considered at another date, the T&T board recommended concerned citizens first circulate a petition addressing only the speed limit and report back at a future meeting for a vote.
In other traffic calming news:
To slow speedy drivers on West Muirlands Drive, residents presented T&T with a petition for the installation of speed humps, which the board approved unanimously.
Often used as a feeder street to Fay Avenue and a drop-off for La Jolla High School students, the street snakes through a residential area and along the back of Muirlands Middle School. However, residents report speeding is a frequent issue. In an attempt to slow drivers down, a traffic choker was installed in October 2014, and standing plastic pylons were installed after that.
Deemed ineffective, residents circulated a petition to area residents and the fire department requesting speed humps — which are more gradual than speed bumps — be installed.
It was not known when the humps would be placed, but residents said the city has identified funding for the installation. Once set, the pylons would be removed but the traffic island would remain.
---
Get the La Jolla Light weekly in your inbox
News, features and sports about La Jolla, every Thursday for free
You may occasionally receive promotional content from the La Jolla Light.