Varied Village parking limits to remain 'as is' in La Jolla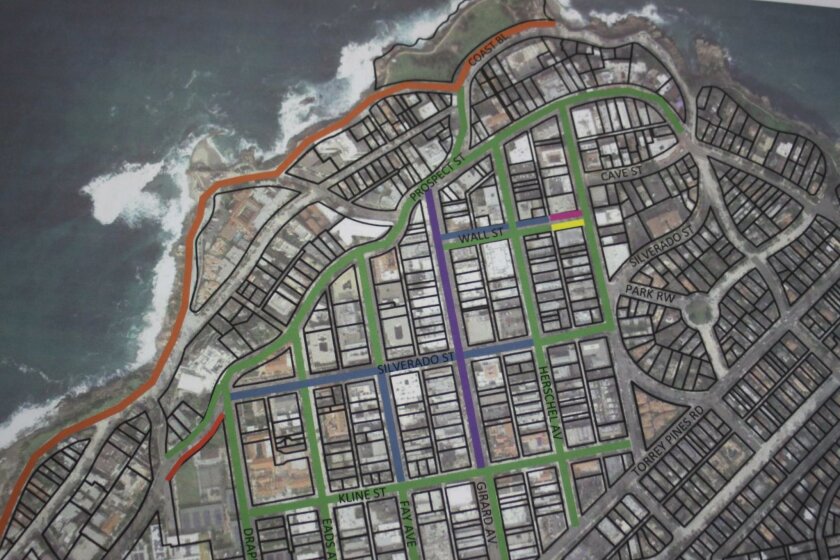 A series of parking and no-parking/street-closure topics came before La Jolla's Traffic & Transportation advisory board (T&T) during its April 20 meeting at La Jolla Rec Center. Among them: The results from a survey on the various parking time limits in the Village, reconfiguration of parking on Coast Walk, two events that require street closures, and the city-required signage for events requiring street closures.
No change to Village parking times
Formed in August 2015 to address the inconsistent and confusing parking time limits throughout La Jolla, a T&T subcommittee headed by Tom Brady subsequently circulated a petition among merchants to see if a change to uniform parking times might be in order. Ninety-four businesses on Fay Avenue were polled to see if they favored a parking time limit of up to 90 minutes, a time limit of two hours, or were unaffected by the varying block-by-block time limits.
But only 32 businesses responded, and the results were close, so the subcommittee felt they did not get a clear picture of what merchants wanted. Further, board members gave each business one vote, whether it was a hotel or a hair salon, and later realized something weighted might have been more appropriate.
"We wanted to see if we could come to a consensus as a subcommittee and present a recommendation on parking time limits to the city," Brady said, "But the results of this survey are inconclusive. However, if any interested party would like to pursue a change in time limits … they could have our information."
The subcommittee took up the issue after resident Deborah Marengo presented the board with the findings of an in-depth study on the ever-changing parking time limits on the streets of the Village. For example, on Wall Street, there is one side of the street with 1-hour parking while the other side has 2-hour parking. At its eastern end, near the post office, the parking limit is 30 minutes. Fay Avenue also alternates between one-hour and two-hour parking.
Along the coastline, parking varies between 2-hour and 3-hour periods. There are also sporadic 15- and 30-minute parking spots throughout the Village. At this time, the various parking times will remain as posted.
Coast Walk turnaround left up to city
After considerable discussion at its March meeting, T&T re-addressed a reconfiguration of parking on Coast Walk off Torrey Pines Road. Spearheaded by La Jollan Melinda Merryweather — but opposed by many residents of that street — the proposal is to remove two parking spaces on the Coast Walk bluff and install a turnaround for cars to make a three-point turn. To account for the two parking spaces lost with the turnaround, Merryweather proposed installing two more spaces somewhere on the street.
"A lot of people take that way thinking they can get to the Cove. … I see cars take that way and then have no place to turnaround, so they have to back out onto Torrey Pines Road and it's scary," she previously said.
Coast Walk — a short street west of Torrey Pines Road between Prospect Place and Amalfi Street — is a paved, residential road that connects to the Coast Walk pedestrian trail and scenic path that starts at Goldfish Point.
T&T chair Dave Abrams said those in favor and against the idea have provided historical and municipal materials that are "conflicting in many ways" and discouraged the board from entering into a he-said, she-said discussion. "It isn't really this board's charge to fare out the facts from historical documents and maps that are very technical. I would advise our board to come up with a concept to recommend to the city so it can move forward on this issue."
Member Patrick Ryan moved to recommend the city remove the two spaces on the bluff and make them a turnaround, conditional that the city secures two alternative spaces on the inland side of the street. The motion passed 9-1-0.
Street closures OK'd for two events
▪
Organizers behind the planned So Fine on Kline block party slated for Sunday Nov. 13, requested and received approval for a temporary closure on Kline Street between Ivanhoe and Girard avenues. Sponsored by Mary, Star of the Sea Church, the block party includes food, music, a beer garden and more, and is intended to be open to the community-at-large. A portion of the proceeds will go to La Jolla Village Merchants Association.
However, the event is proposed for the same day as the La Jolla Merchant's Holiday Open House (which has been held for more than 20 years on the second Sunday in November), drawing concern from Nancy Warwick of Warwick's Books. She reported that last year, when the two events were held on the same day, there was a decrease in attendance and sales at the Open House.
The board recommended that those involved do some cross-promotion, and encourage participants to stop by both events, and the motion to approve the street closures passed 8-2-0.
▪
Street closures for the End of Summer Run mini-run on Aug. 28 also earned approval. A benefit for area schools, the run begins at 8 a.m. on the south side of Prospect Street at Girard Avenue, with staging starting at 6:15 a.m. Applicant Kathy Loper said the run uses a "rolling course" that opens up as the runners complete the race. Affected streets, largely the southbound side of Prospect Street and La Jolla Boulevard, are expected to be completely open by 10 a.m. A motion to approve the street closure passed 10-0-0.
Street closure signs under review
Considering the number of events that come before T&T that require street closures, members Warwick and Ryan argued that city-required signs are not clear. At issue is that current signage, required 72 hours in advance of a street closure, reads in large letters across the top: No Parking, and drivers often do not read further for specifics.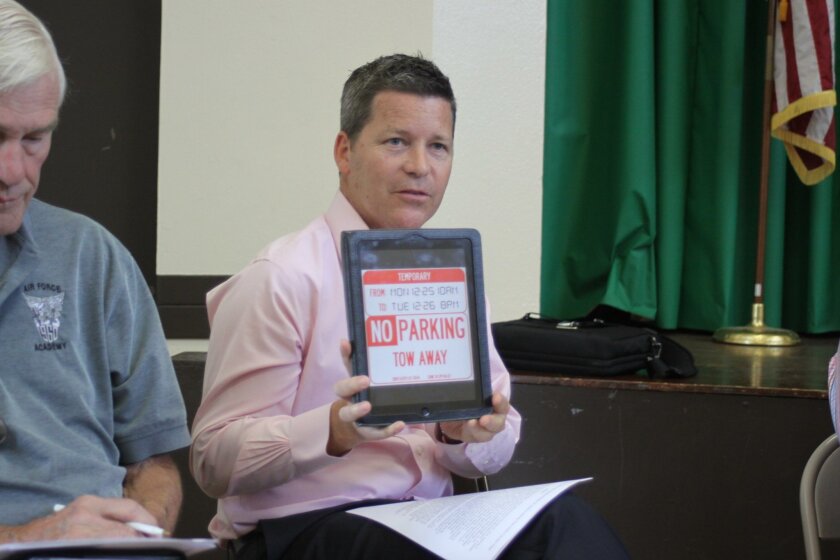 "When we approve a street closure, we want the signage to not have a bad affect on the businesses on that street," Warwick said. "People drive by the sign, see the words 'no parking,' think it is in effect at that time and keep going. We looked at the city code with a staff person and there is the opportunity for some changes, which would have to be approved by the police department, but we would like to put something together."
After reviewing the criteria, Ryan said any proposed changes to signs would have to be simple to produce, comparable in price to what is already the protocol and include all the city-required information.
"There are 10 different ways to do this, but we came up with a tentative concept. Now we have to look at what has to be on the sign and go from there," he said, showing an example that lists the time and date in which parking is prohibited first, followed by the remaining regulations.
Following planned meetings with city staff, more formal sign renderings and updates will be presented.
— La Jolla T&T meets 4 p.m. third Wednesdays at La Jolla Rec Center, 615 Prospect St. lajollacpa.org
---
Get the La Jolla Light weekly in your inbox
News, features and sports about La Jolla, every Thursday for free
You may occasionally receive promotional content from the La Jolla Light.