La Jolla Shores board moves to stop park camping, elects board
To address the growing problem of illegal overnight camping in Kellogg Park during holidays such as Memorial Day, Labor Day and Fourth of July, the La Jolla Shores Association will work with police this year to head-off the occurrences.
The issue was discussed at the March 9 LJSA meeting, when chair Nick LeBeouf explained that for the last several years in the late night hours before these holidays, cars arrive "in heavy, heavy numbers" and tents are set up so people have a prime beach spot the next day. However, overnight camping in an enclosed tent is illegal in the park. In the past, when calls to police started rolling in, Shores residents were told the issue was not a priority.
Noting the need for a new approach, meeting attendee Bill Robbins observed, "It's a Park and Rec issue and a police department issue, but you can't expect one officer or one ranger to walk in when hundreds of people have already set up their tents and say 'you can't be here.' If we have a few officers earlier in the day when people start to show up, it makes a world of difference."
Acknowledging the situation, Northern Division Police Captain Mark Hanten said, "That was our realization last year when we showed up at the park and all the tents were already set up. We saw there was no way we would be able to put that genie back in the bottle. This year, we will try to minimize that from the onset and make sure Kellogg Park doesn't turn into a tent city."
He committed to having some officers onsite when campers begin to arrive, however Hanten cautioned he couldn't guarantee those officers would not get called away in an emergency.
"Over the last Fourth of July weekend, we had 90,000 to 100,000 people come to the beach communities and I have 150 cops. During that time, we get extra help from other officers and the city's park rangers, but it's still and uphill battle," he explained. "We are making a concerted effort in all the beach areas to keep the tents at a minimum. Having fully enclosed tents makes things difficult from a safety and security standpoint, because these tents can be conducive to everything from sexual assaults to drug and alcohol violations." It's the law in San Diego that city parks, tents cannot have all four "walls" down and must be able to be seen through.
To get the word out pre-Memorial Day weekend, LeBeouf said LJSA would use available funds to produce signs at every 100 yards, which state the park rules and prohibitions, and police would release Public Service Announcements. The board will also bank on the power of social media.
"When you shut something down, people post about it on social media and they text each other, saying 'we just got turned away, don't come.' That will have the same impression as positive social media postings," noted meeting attendee John Shannon.
Would a MAD help?
LJSA also discussed establishing a Maintenance Assessment District (MAD) to raise funds for park cleanup and maintenance beyond what the city can provide – and possibly contract for private security on peak-use days.
La Jolla resident Joe LaCava helped form and run the Bird Rock MAD, and spoke to the LJSA about whether a MAD would be good for the Shores. Reflecting on the summer holiday situation, he said, "We had a big problem in Bird Rock during Halloween with people vandalizing and acting inappropriately … we were able to hire extra security for that day with the MAD funds."
LJSA member Mary Coakley-Munk asked whether MAD funds could be used to hire a ranger dedicated to Kellogg Park. LaCava said, "it's worth looking into because the local group that manages the MAD could define the scope of what it covers." However, he noted, a MAD is chiefly used to provide funding for additional maintenance services such as landscaping, trash pickup and sidewalk cleanup.
To form a MAD, he explained, property owners vote to create a tax on themselves to fund additional services. "It's called 'an assessment,' but it's really a tax," LaCava joked. "So there has to be a vote of the affected property owners." Explaining the lengthy process, which includes public outreach, petitions, fundraising or loans, and a vote of property owners, he shared his experience in establishing the Bird Rock MAD.
"Most of the MADs in urban areas are managed by a legal entity. The city could manage it for you or you can have local control. In Bird Rock, we voted for local control so the Bird Rock Community Council took ownership of that and ran it. LJSA could certainly be qualified to do that," he said. "Everyone who owns property pays in, including the City of San Diego, which must pay its fair share. The tax goes to the county, and the county gives it to the city, which keeps it in a lock-box. The local control spends the money and gets reimbursed by the city."
By having local control, LaCava added, there is a point of contact in the immediate area. "People liked that if there was a problem, there was a local person they could call who would be responsive. Whereas with the city, you are competing with all the other calls the city is getting."
The item was listed for discussion only, but it generated excitement among the board, and was slated for additional discussion at a future meeting. The idea came about following the presentations being made around town for the establishment of a MAD in the Village of La Jolla. (See related story on page A1).
In other LJSA news:
• Shores board elects seven members: At the March 9 meeting, ballots were collected and counted to determine the new members of the 2016 board. Although nine seats were up for grabs, seven candidates came forward and were subsequently elected. They are: Shahar Compton, Mary Coakley-Munk, Jenny Feinberg, Dolores Donovan, Richard "Monte" Montemarano, Terry Kreszewski, Susan Tschirn.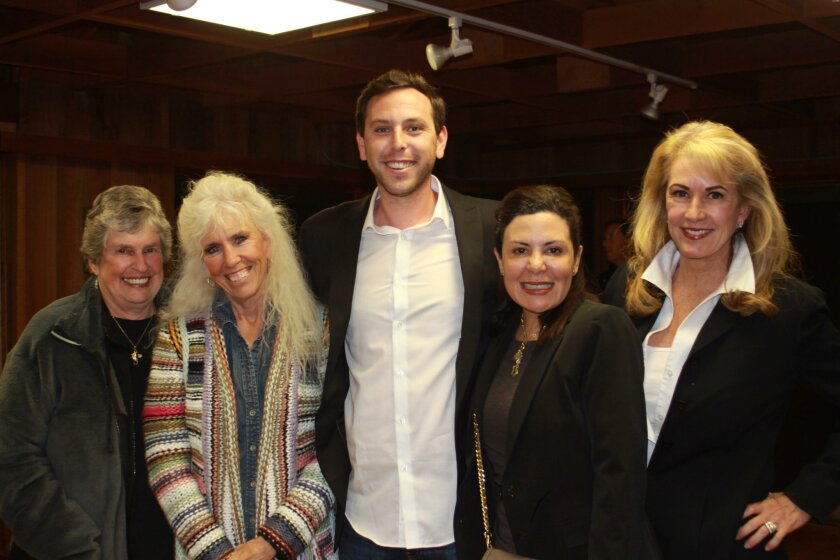 Additional board members may be appointed to fill vacancies. Those interested can contact LeBeouf at LJSA.org@gmail.com for eligibility requirements and information.
— LJSA meets 6:30 p.m. second Wednesdays at Scripps Institution of Oceanography, Martin Johnston House, 8840 Biological Grade. ljsa.org
---
Get the La Jolla Light weekly in your inbox
News, features and sports about La Jolla, every Thursday.
You may occasionally receive promotional content from the La Jolla Light.