La Jolla Planners OK Torrey Pines wall replacement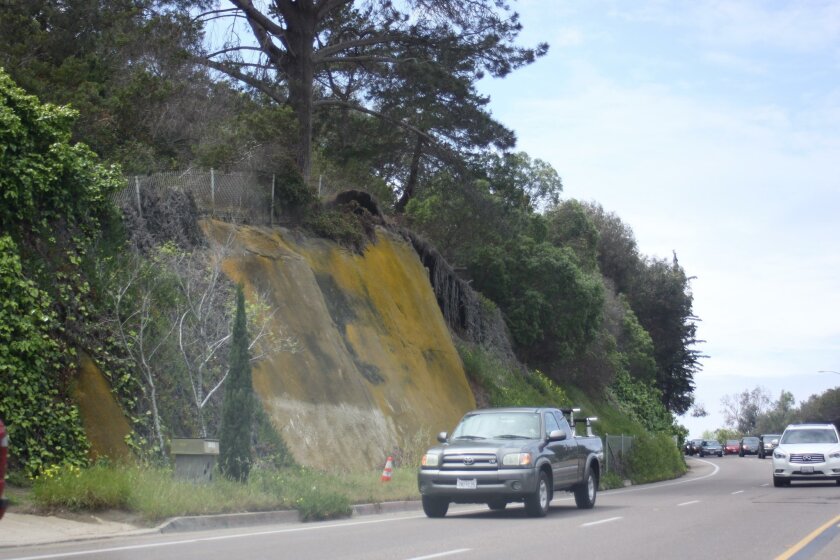 Just shy of one year after the La Jolla Community Planning Association heard (and roundly rejected) plans for a retaining wall on Torrey Pines Road, city engineers returned to the board with new plans — this time with more favorable results.
At the April 7 LJCPA meeting at La Jolla Rec Center, the board approved plans for a wall to assist with slope restoration on Torrey Pines Road.
The proposed wall, as presented by San Diego Senior Civil Engineer Jamal Batta, would be in an arc-shape at 350 feet long and vary in height from three to nine feet, between Lookout Drive to Roseland Drive. Batta said the new wall would mimic the one along Fay Avenue, across from La Jolla High School, in terms of materials and features. The pricetag is $2.2 million, which has already been set aside for the project.
In May 2015, the board heard an earlier incarnation of the plans, but was displeased with the wall's stark, unnatural appearance and peak height of 25 feet. The wall, which would replace the current (and weathered) concrete retaining wall, has been on the city's infrastructure bucket list since 2001.
San Diego City Council president Sherri Lightner, in attendance at the April 7 LJCPA meeting, said she is in support of the new proposed wall. "This is a project that has been in the works for quite some time … and in its third revision. This project is a key step in the overall improvement of Torrey Pines Road and is closely aligned with the upcoming Torrey Pines Road Corridor Project Phase II."
Pending full environmental review, construction would being in fall 2017, following the summer construction moratorium, and would likely take four to six months. Batta said he is "very familiar with projects in this area of La Jolla," having managed projects near La Jolla Cove and a storm replacement project under Torrey Pines Road, and he assured the board that traffic would not be impacted.
He said two lanes of traffic in both directions would remain open, with the center lane used for equipment storage. "We have experience with that area and with traffic management, so things should run smoothly," he said.
Hopeful for some form of terracing or plant-life, several members questioned vegetation options. Plans currently call for some type of climbing vines that would grow up the wall to "break up" the appearance. But because of its close proximity to a public walkway and the fact that other projects would be taking place along Torrey Pines Road in the coming years, Batta said there was not enough room to accommodate the sidewalk, the wall and additional greenery.
The Torrey Pines Road retaining wall is a proverbial "Phase One" of the next Torrey Pines Corridor Project installment. As such, Batta said, "Any delays on this project would delay further the corridor project and other improvements along Torrey Pines."
Intended to ease pedestrian activity, the Torrey Pines Corridor Project Phase II would see the installation of an asphalt concrete overlay; a buffered bike lane and a non-raised, decorative median pedestrian; and a pedestrian-activated crosswalk mid-block between Amalfi Street and Princess Street. The system would be a pedestrian-generated crosswalk that uses light signals to dictate who can proceed in traffic. When not in use, the system is dark, and traffic flows uninterrupted.
A motion to approve the revised plans as presented passed.
---
Get the La Jolla Light weekly in your inbox
News, features and sports about La Jolla, every Thursday for free
You may occasionally receive promotional content from the La Jolla Light.