Our Readers Write: Ready for Sunday half marathon?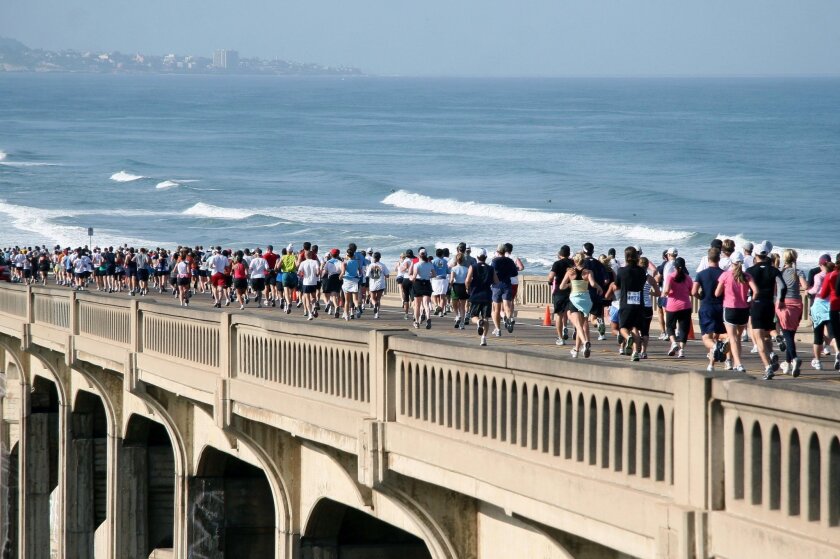 Are you ready for La Jolla's 35th annual Kiwanis La Jolla Half Marathon this Sunday (April 24)? This historical Del Mar-to-La Jolla run starts at the fairgrounds, runs through the resort town of Del Mar, along Coast Highway with spectacular views of the Pacific Ocean, through the beautiful Torrey Pines State Park, then south by Torrey Pines Golf Course and the campus of UCSD to La Jolla Shores Beach before finishing at picturesque La Jolla Cove. More than 7,000 runners and 8,000 spectators each year experience either the Half Marathon or the 5K. The La Jolla Shores 5K starts simultaneously with the Half Marathon and proceeds along the final five thousand meters, roughly 3.1 miles, of the Half Marathon course.
It's not too late to get involved as a volunteer or participant, visit lajollahalfmarathon.com and follow the prompts to register. See you at the Expo and Packet Pickup (Friday, April 22 and Saturday, April 23 at the Del Mar Hilton), and Del Mar Racetrack or La Jolla Cove.
Trenton Bonner
Eat sustainably to save the planet
With the 47th annual observance of Earth Day April 22, it's a great time to explore more effective ways of slowing climate change and conserving Earth's natural resources for future generations. A 2010 UN report charged animal agriculture with 19 percent of man-made greenhouse gases (more than all transport) and recommended a global shift to a vegan diet. A subsequent World Watch study placed that contribution closer to 50 percent.
A report from Oxford University found that global adoption of a vegan diet would reduce greenhouse emissions by two thirds. The 2015 U.S. Dietary Guidelines Advisory Committee has recommended reduced meat consumption and an environmentally sustainable diet.
Just as we replace fossil fuels by wind, solar and other sustainable energy sources, we must replace animal foods with the more sustainable vegetables, fruits and grains. Being mindful of this can help us make better choices at the supermarket.
Sheldon Daniels
Dogs don't belong in Vons
People, please stop bringing your pet dogs to Vons! Our only Village supermarket is small and crowded enough without undisciplined dogs getting underfoot and long leashes blocking the aisles. Of course, I am not referring to ADA-trained service dogs that accompany people with disabilities. But the rest of you, please use common courtesy and leave your dogs at home while grocery shopping.
According to the U.S. Department of Justice: "Service animals are working animals, not pets. The work or task a dog has been trained to provide must be directly related to the person's disability. Dogs whose sole function is to provide comfort or emotional support do not qualify as service animals under the ADA."
Joanie Connell
It's time to establish City of La Jolla
I'd like to respond to two recent letters. First, in regards to forming our own City of La Jolla via the State of California Special Reorganization process, I've been part of that effort for many years, as have many cities up and down the coast of California, and we see that some cities have become too big and can no longer take care of all the communities within them.
The beauty of becoming your own city is you can contract the services needed, so instead of paying $80 for a pothole repair you could pay $8. That's why when you look at Del Mar, Solana Beach and Coronado, they are beautiful with no potholes and no cracked sidewalks.
We can and must become our own city, and to that end, we are putting out a request for $75,000. That sum will fund two things: an updated Fiscal Analysis to show we have enough money to become our own city (the initial study done years ago ended in the black) and we need to define La Jolla's boundaries using the ZIP code 92037. To learn more about us, visit independentlajolla.org It's all there — questions and answers, how to donate, and what the process is. I'm sure there is someone out there who wants to be the founder of the City of La Jolla.
As to the other letter commenting that the opportunity to incorporate La Jolla has passed, that is incorrect. We are right where we need to be, in line with many other cities that realize their time has come. The State of California has a process in place to do this and we now need to establish our mapped boundaries and prove our financial solvency via a 2016 Fiscal Analysis.
Melinda Merryweather
Enhance La Jolla: A forward-thinking solution
I'm an enthusiastic supporter of Enhance La Jolla, the proposed MAD (Maintenance Assessment District) in the Village. Enhance La Jolla will be a powerful vehicle to beautify and reinvigorate La Jolla, in a sustainable manner. It is championed by a group of community-minded residents, property and business owners, and nonprofit organizations that collectively treasure La Jolla and seek to improve this exceptional town. Like me, La Jollans, who routinely shop, walk and dine in the Village, cherish the Village.
Indeed, many people experience the Village as an extension of their own backyards. It is also true that there is a shared concern that the well being of our community has been undermined by the deteriorating conditions of our sidewalks and landscaping. I was moved by the willingness and generosity of private donors — residents, property owners and business owners — to step forward and participate in the grassroots Sparkle & Shine campaign.
With the establishment of Enhance La Jolla, the vast majority of program costs will be paid for by property and business owners, based on property size. For surrounding homeowners impacted by the business community, the fee will be a flat annual fee, less than $7.50 a month, for inclusion in a program to keep the neighborhood sidewalks and planters attractive and clean.
With 63 MADs in San Diego, it is certainly not an unusual approach to improving a community. Instead it is a proven "big picture" solution, a forward-thinking solution, and the only one that can re-establish a beautiful Village.
Nancy Warwick
Some thoughts for Nasser Pirasteh
Just wondering: If Nasser Pirasteh had applied for a permit to build his sculpture, would it have been granted?
Just wondering: If Nasser Pirasteh actually pays the daily fine up to $250,000, will the sculpture be allowed to stay?
Just wondering: If one person can complain and bring about this removal result, can one person object and have this process halted or reconsidered?
Just wondering: Nasser Pirasteh is an artist whose great imagination, artistry, and dedication produce works that are a joy to behold. His concept of using recyclables alone should cause us all to rejoice. Why would our society choose to punish him and his work in this deplorable fashion?
Deja vu: In 1978, as a new arrival in California, I began teaching piano in my home. At the time, getting a permit was an ambiguous process here in La Jolla. A neighbor soon complained about the "noise" and "traffic," and after a court hearing and fine of $562.50, I was given a Conditional Use Permit by the Zoning Administration. Perhaps such an outcome might be available for Nasser Pirasteh. (See related story A10)
Betty Martin
Black Widow story was well done
Kudos to Maria Jose Duran for a very informative article on "Curse of the Black Widow." Thank you, Maria.
Jack L. Clausen, M.D.
Professor of Medicine (ret.) UCSD
CORRECTION
The April 14 story about the pre-parties for the La Jolla Concours d'Elegance, should have stated that the Friday, April 8 party was hosted and donated by THE LOT (not Scripps Park). THE LOT crew worked hard to make it a great evening.
---
Get the La Jolla Light weekly in your inbox
News, features and sports about La Jolla, every Thursday for free
You may occasionally receive promotional content from the La Jolla Light.