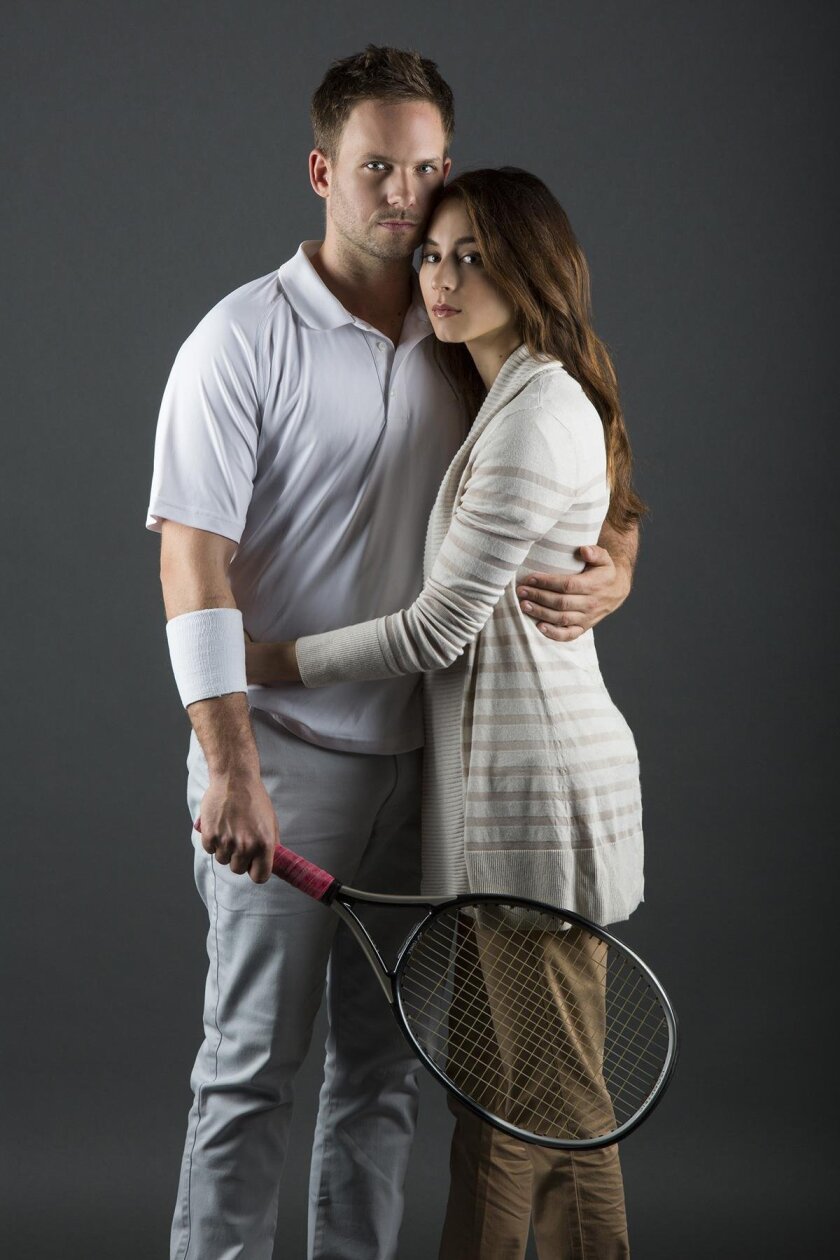 The world premiere of Anna Ziegler's "The Last Match," follows the competition between two tennis players. Directed by Gaye Taylor Upchurch ("Bethany" at The Globe 2014), the play ups the contest components through the involvement of their wives, and looks at how family and everyday life become a major factor of the game.
Sergei Sergeyev (Alex Mickiewicz), representing Russia at the U.S. Open tennis semifinals, faces off against American superstar Tim Porter (Patrick J. Adams). Sitting on the sidelines are their wives – Tim's Mallory (Troian Bellisario) and Sergei's Galina (Natalia Payne). One can only wonder what goes through all of their minds as the matches play out.
Juggling very busy schedules, the engaged-in-real-life Adams and Bellisario said they were delighted to earn roles in "The Last Match." Bellisario has a huge resume of film, TV and theatrical work and is an actress on TV's "Pretty Little Liars." Adams, who plays Mike Ross on TV's "Suits," is a producer, director and actor who has garnered Drama Critics Circle Award nominations and several Ovation Awards for his work.
"This play is brutally honest and both of us were excited to get on the stage," Adams said. "For me, it's the idea that being at the top of your game and successful doesn't mean you get to sidestep all the regular problems people have. My character has had an exciting last five years of his life professionally, but finds a little more money in his pocket doesn't solve everything. (Playwright) Anna did a beautiful job of getting into the heads of two people who were suffering on different sides of that."
Said Bellisario, "Anna captured my character as someone who was once a player and now takes a supportive role to someone who is exceeding at a level she couldn't. There are a lot of elements I connected with and was able to explore."
The plot surrounding Tim versus Sergei, finds one at the end of his career and the other at the beginning. They have led different lives with different struggles. Outside of the game, the challenge is how they connect in the themes of family love, their journey through the game, and the inevitable conclusions. Announcing the production, Globe's Artistic Director Barry Edelstein said its basis in tennis serves as a metaphor that is both witty and probing. Adams, who is reacquainting himself with the game, agreed.
"Tennis is a place-holder with universal themes like success, marriage, mortality, family, children, legacy and things we spend a lot of time focusing on," he said. "What I found most provoking about tennis is how lonely it is. When you read player's biographies you get a sense of how insular they are. Some say it's the loneliest sport in the world. You're not surrounded by teammates; you can't speak to a coach. You're standing far from your opponent, there's no communication or physical interaction. Anna said she always wondered what goes through their minds."
Bellisario added, "I think Anna wanted to examine an athlete's last match and whether an aging athlete could still do what he did when he was younger. It's like real life where people are contemplating the end of their careers and transitioning into late-adulthood and retirement. This play examines two people in these situations."
The actors attest that audiences will enjoy this play for both its sports theme and its ponderings about how we live our lives. "Even though it's about tennis, at its core is happiness," Bellisario said. "Does it make you happy when you get what you want?"
Adams added, "After seeing the play, I hope the audience members start a discussion about their sense of self-worth and value. It made me think maybe we should be pushing our energy toward other things, like grounding ourselves and our family and loved ones, and using guideposts to know who we are rather than looking atexternal things."
▪
IF YOU GO: "The Last Match" plays out Feb. 13-March 13 at The Old Globe Theatre's Sheryl and Harvey White Theatre, 1363 Old Globe Way in Balboa Park, San Diego. Tickets from $29 at (619) 234-5623. theoldglobe.org
---