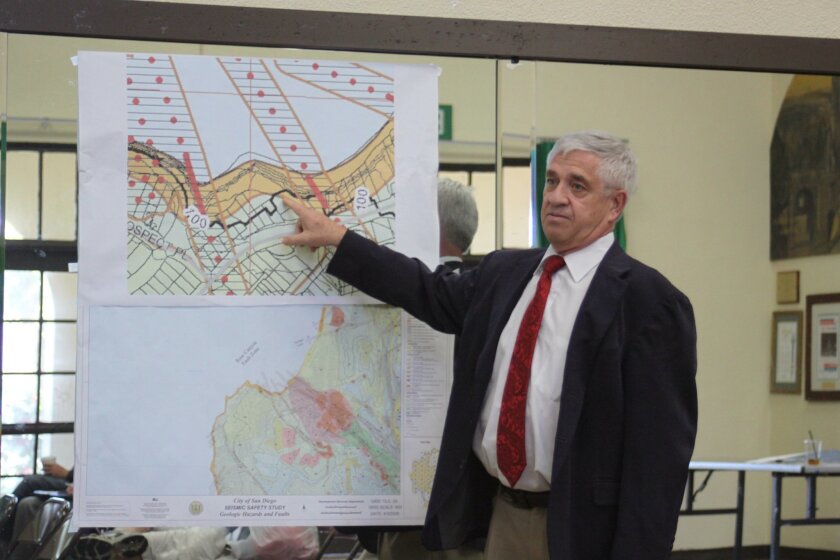 After a thorough discussion at La Jolla's Parks & Beaches advisory board in August 2015, the issue of Coast Walk adjustments came before La Jolla Traffic & Transportation board (T&T) during its March 16 meeting. Docketed as information only, the board agreed to continue the discussion at a future meeting.
At the meeting, Parks & Beaches member Melinda Merryweather said she would like to see a turnaround installed (or a place for cars to make a three-point turn) where Coast Walk meets the pedestrian Coast Walk Trail. To account for the two parking spaces lost with the turnaround, install two more spaces on the street, she said.
"Coast Walk is very crowded and dangerous for cars to get in and out of. I would take two parking spaces currently located on the bluff and move them to the east side of the road to turn that area into a turnaround," she said. "A lot of people take that way thinking they can get to the Cove. … I see cars take that way and then have no place to turnaround, so they have to back out onto Torrey Pines Road and it's scary." City signage has since been updated to announce the Cove access is farther up the way.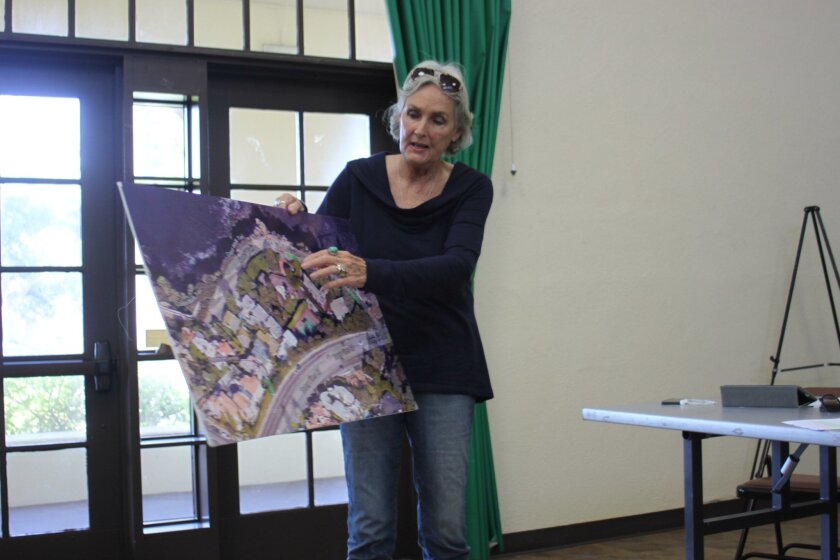 Coast Walk — a short street west of Torrey Pines Road between Prospect Place and Amalfi Street — is a paved, residential road that connects to the Coast Walk pedestrian trail and scenic path that starts at Goldfish Point.
The driveway onto Coast Walk from Torrey Pines Road is narrow with the curbs painted red, except for two segments large enough for two cars each. However, there is no form of turnaround at the end of the paved street, nor is there a way to determine whether there are any parking spaces available.
In 2011, Parks & Beaches sent a letter asking the city to include in an upcoming budget a study that would provide a bluff stability and drainage analysis to determine geological constraints, a map of the lines of the public right of way, and an analysis of traffic safety and fire department access issues to determine whether any adjustments could be made. The issue was revived in 2015 when Merryweather asked that the letter be resent.
Both at the August 2015 Parks & Beaches meeting and the March T&T meetings, land use consultant Michael Pallomary was on hand to represent the residents of Coast Walk that oppose the parking rearrangement. While both sides appear to be in favor of installing a turnaround, they disagreed about whether to replace the two parking spaces that have to be removed.
"This street is better suited for pedestrians – it's called Coast Walk not Coast Drive," Pallomary told T&T meeting attendees. "No one is saying don't use the land, just use is sensibly and safely as a pedestrian walkway."
He added, "The area (in question) is a geological hazard and classified as an unstable bluff. You do not live load that area with cars. It's a real bad idea."
Responding to questions as to whether that would make the area unsafe for the houses on the bluff, Pallomary said, "On these homes, a million dollars might be spent on the foundation by drilling caissons that go down 80-100 feet. The soil could be removed and those caissons will hold it up. But to create parking doesn't make any sense."
The two parties further disagreed on whether the city owns the paved road, which department is responsible for the paving, and their interpretations of a letter written by then-city councilmember Scott Peters addressing the path.
T&T member Patrick Ryan explained, "Historically, T&T does not like to remove parking spaces without adding two spaces somewhere else. … But what we're talking about is reclaiming disputed property. One side says it's owned by the city, the other side says it's not. Resolving that might not happen with this board."
However, the board agreed to hear the issue again at a later date, primarily to address any safety concerns, with any available documentation to support claims and provide context for the board.
In other T&T news:
Athenaeum gala street closure: For the Sept. 9 gala at the Athenaeum Music & Arts Library, executive director Erika Torri requested a temporary street closure and no parking area in front of the 1008 Wall St. venue. "We are the oldest culture institution in La Jolla, as you know, we have been at the same spot on Wall Street for 116 years. And for the last 26 years, we have had held our gala, which is a very important fundraiser for us," she said.
Due to growing demand, Torri would like to use the public space in front of the Athenaeum, on Wall Street, closing off both directions of traffic and both sidewalks to extend the party outdoors.
T&T member Brian Earley, who has attended the gala in the past, said, "It's incredibly crowded in that area, so it's a good idea to close the street, safety-wise. We'll lose some parking spaces, but it will be safer for pedestrians."
The closure will start at 6:30 a.m. Friday and end 2:30 a.m. Saturday to allow time for set up of the fence, stage, tables and other equipment, and subsequent cleanup. A motion in support the temporary street closure passed unanimously.
---