PDO committee approves 'sandwich board' regulations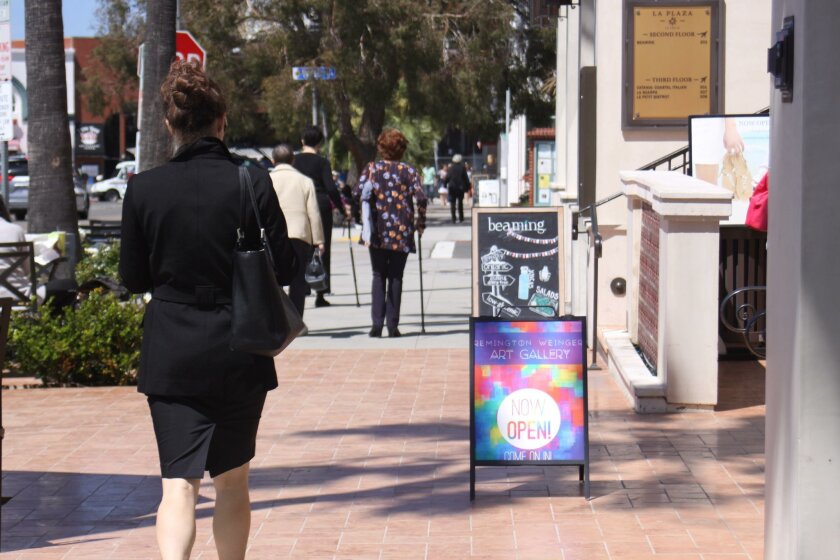 After a lengthy debate April 11, La Jolla's Planned District Ordinance (PDO) review committee voted to recommend adoption of the City of San Diego guidelines on A-frame signs (sandwich boards) to regulate the copious freestanding structures on the commercial streets of the Village.
The idea behind adopting the regulations was to give the city tools for enforcement. These regulations do allow A-frames, but under strict limitations on who may post one, the sign's contents, and where it can be placed.
Sandwich boards were prohibited in any form under the now defunct Promote La Jolla group, which has re-formed as the La Jolla Village Merchant's Association (LJVMA). But in the last few years, the number of A-frame signs has increased throughout town, with no proof of enforcement at the city level.
It's a bit of a tricky issue, as noted by PDO chair Ione Steigler at the meeting, "I still get hung up on the idea that the city is going to enforce the changes but cannot enforce the rules as they are now. It's inane."
At the hands of Promote La Jolla, the sign prohibition was stated simply in the city's Public Right-of-Way Ordinance program: "In La Jolla, A-frame signs are not permitted. However, Promote La Jolla-sponsored signs in the right-of-way (one or two per block) may be permitted." (It was later disclosed the "Promote La Jolla-sponsored signs" referenced the way-finding signs the group tried to establish years ago, before its dissolution.) La Jolla is the only area in the city with such an exclusion.
However, LJVMA president Claude-Anthony Marengo, who pushed for the regulation adoption, argued that it was because La Jolla was unique that there's been a roadblock in enforcement. "I've been told by city officials that if La Jolla were just like every other Business Improvement District (BID), there would be an enforcement mechanism in place," he said.
LJVMA executive director Sheila Fortune added that she walked a code compliance officer through the streets of La Jolla to illustrate the sandwich board proliferation problem, and "the city said to us, 'you wanted to be different, so you enforce the rules you wanted to have.' "
If La Jolla were to have the same regulations as other areas, Marengo argued, code compliance officers would not have to cross-check for any disparities in La Jolla's rules, they could just proceed with enforcing the code they know. Further, because the city's PROW Ordinance is specific with what is permitted, an officer could (theoretically) spot anything in violation and quickly notify the party at fault.
Under the current prohibition, enforcement involves writing a letter to the violator and the city, waiting 30 days, and then writing another letter to the city's code compliance to schedule a visit and confirmation of violation. From there, it is up to the availability of the officer.
"We would prefer no sandwich boards at all, however, we understand that our merchants need them, so we're trying to find a way to control it," Marengo said.
Still, some board members were unconvinced the change would be effective. Gail Forbes said, "I don't see how these regulations will lead to any better enforcement than what we have now."
Joe Pitrofsky questioned whether the discussion of a regulations change was premature, due to a lack of information. "Often, when things come before us, I have a sense of how people feel about it. For example, I know people don't like the smell at the Cove, or they don't want paid on-street parking. But with this, I have no idea. Maybe there's a strong feeling from the citizens or merchants of La Jolla one way or another, but I don't know what that is."
Steigler said after the PDO meeting, the discussion would go before La Jolla Community Planning Association for ratification, and those with opinions could express them there. LJCPA meets 6 p.m. Thursday, May 5 at the Rec Center, 615 Prospect St.
After the LJCPA vote, the item would still need to be approved by the City Council. Should the change be approved, Marengo said LJVMA would do mass informational outreach and every eligible business would be given the opportunity to apply for a permit to have an A-frame sign.
He opined that there would be an immediate decrease in sandwich boards. "You are going to get a certain amount of compliance from this simply from those who say, 'oh shoot, I didn't realize this was against the law.' Plus there are those who will decide whether the fee (for an annual permit to have a sign) is worth it, and will assess whether such advertising is worth it. If they say the fee is not worth it, they will remove the signs," he said.
Further, those who are eligible to place a sign would be limited to where it could be located in proximity to their business, and whether it impedes the pedestrian walkway.
"I'm doing this because I think this is the way to do something to get them regulated. I don't think I'm going to win the war of getting them removed altogether, but it's something to push toward," Marengo said.
PDO member Michael Dershowitz, "It seems to me that we have a problem that has festered and gotten worse and worse over time and has gotten so out of hand that the city can't enforce it, and the only way to remedy the problem is to the point that at least its better, would be this process."
The motion to approve the change passed 5-3-0. PDO meets 4 p.m. second Mondays at the Rec Center, 615 Prospect St. lajollacpa.org
---
Get the La Jolla Light weekly in your inbox
News, features and sports about La Jolla, every Thursday for free
You may occasionally receive promotional content from the La Jolla Light.